"Coach G" Greg Romero and Corben Sharrah have teamed up to bring you BMX Racing Skills DVD. Sure there have been coaching DVD's before, and books for that matter, but this is not just another training DVD by any stretch of the imagination. All other coaching DVD's I have seen have tried to provide for everyone from the absolute beginner to experts. BMX Racing Skills is more targeted for someone with a good basis and is already quite comfortable on their bike, but is looking to milk a little extra speed and skill.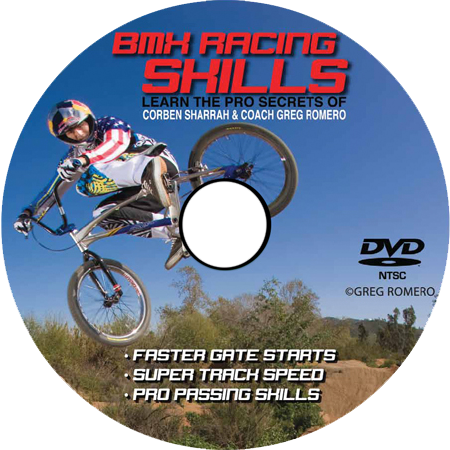 With over 100 pro wins in twelve years, there's no doubt that Greg Romero had some power and bike skills when he was at the top of his game. (You can learn more about Greg's achievements at www.coachgpower.com.) Upon retirement Greg made the natural transition from racer to coach where he was picked up by Red Bull to coach Mike Day and Jill Kitner. Not only did he help them qualify for the debut appearance of BMX at the 2008 Beijing Olympics Mike went on to win Silver and Jill Bronze. Simply put Greg knows BMX inside and out and, importantly, he knows how to get the most out of a rider.
Corben Sharrah has proven himself a contender on the world stage with some of the biggest names in BMX behind him including GT Bicycles and Red Bull. Not only did he win the USA Cycling National Championships in 2011 he also won his first UCI Supercross event in 2011 at Pietermaritzburg, South Africa. Corben has the skills to pay the bills.
Here's the description from the back cover of the DVD:
"The new school has arrived in the sport of BMX racing and the skills have gone to a whole new level. The talented and fast Corben Sharrah is riding on that level, winning his first Supercross race last season. At 20 years old, the 2011 Pro National Champion is here to show you how the new school rides. His coach, Greg Romero, a former professional of ten years, winning over one hundred pro BMX races – shares his methods of BMX racing skills that has made himself, Sharrah, and past Olympic medalist some of the best in USA BMX racing."
The DVD runs for about 35-40 minutes and is broken into three main skills. The gate start, jumping and cornering (but goes much deeper). Through the DVD Corben shows us what to do (and what not to do) while Greg narrates. Even with the HD footage in slow motion with each skill broken down to the finest of detail there is a lot more going on than you would think. Coach G steps through each component so you can get the most out of your skills and your racing.
One of the advantages of such detail is you can look at how your stance should be on the bike at any given time and where it should be to get the most of the next step. The DVD would be great on mobile devices that you could take to the track for comparison. The ultimate set up would be to take a video of your riding and compare to the percision of Corben's movements.
In a time where coaching sessions and training tools are common place with people look for an edge, you better grab yourself a copy of BMX Racing Skills before your competition does.
Here's a preview of the DVD: http://vimeo.com/51953026
A nice litte extra is some footage of Corben in action.
Rating 20/20:
| | |
| --- | --- |
| Value for money: | 5/5 |
| Action: | 5/5 |
| Entertainment: | 5/5 |
| Looks/Finish: | 5/5 |
Comments:
This is an extremely informative DVD that is a must have for any BMX racers collection
The skills that Corben displays are amazing, to think that I would have the skills to combine jumping and manualling in one fluid motion might be a bit far fetched, but Corben shows that it is possible while Greg explains how
Although sometimes it can be a little much to take in, even at only 40 minutes long, I've watched it four times and will need to watch it a lot more to get the most out of it
The video itself is extremely good quality, it's the audio levels that jump around that can be a little distracting, but you simply won't find a better presented training DVD.
The DVD is distributed in Australia by Elite Cycle Imports (www.eciimports.com)
Reviewed by Shane Jenkins/bmxultra.com January 11 2013