I'm really starting to dig the Madera gear, you might have caught that vibe if you've read the review I did on the Madera cassette hubs a little while back. Madera really is a cross over brand, very much like Profile or S&M for example. It's strong enough and light enough to use on your freestyle bike and your race bike. Also, like Profile, the sleek designs appeal across the board. Madera have this maritime theme running through their products in both design and even the names, hence the "Mast" top loader stem.
The Madera Mast Stem isn't just another stem. It looks different to any other top load stem that I have seen on the market. It's CNC machined from 6061 T6 alloy, the Mast stem uses solid cromo bolts. It's stripped right back to use the minimum amount of alloy to reduce weight but it's just enough so it's still stiff and strong enough to cope with the big hits, all the while it still maintains a very distinct Madera look.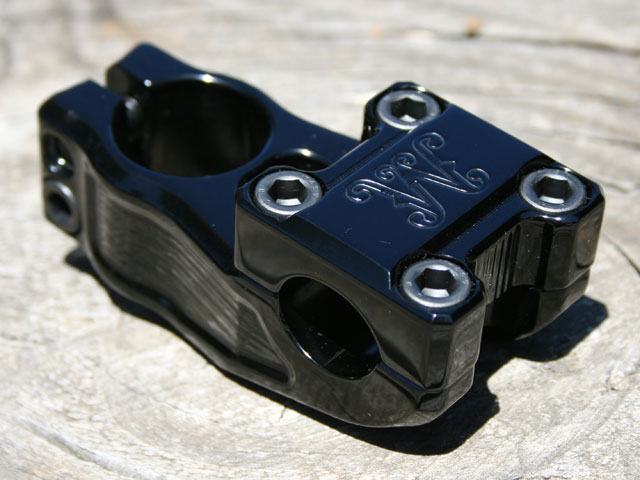 There's no secret that I love Profile race cranks, there are many reasons. To name a few, they are made in the USA, well crafted, stiff, strong, reliable and they are available in a whole lot of sizes. Since I run 185mm cranks there aren't a lot of options out there for me. The Madera Mast Stem shares those same attributes. It's not uncommon to find a stem that comes in two sizes. It's almost rare to find a stem that comes in four sizes. But it's unheard of for a stem to be available in seven sizes. That's right seven! 36mm, 39mm, 42mm, 45mm, 48mm, 51mm, and 54mm!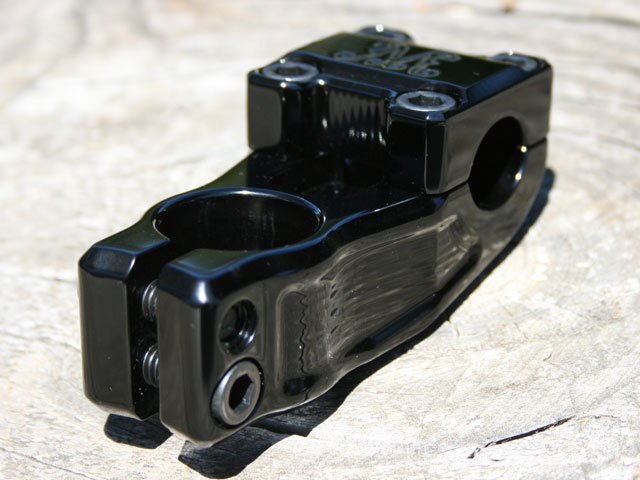 I mentioned earlier the Mast stem is light and stiff. If you would like something to compare to it's approximately the same as the S&M Race XLT stem, in the pro sizes, although the sizes don't quite line up. All of the Mast stems are made to fit a 1 1/8″ threadless fork. The Mast in the smaller sizes are a little heavier than some of the other light weight race brands like LDC or Snap. But you have to compare apples with apples. The shorter Madera stems will be stronger than the others, with no rider weight limits or other concerns. They are litterally a short pro sized stem.
Weights:
36mm: 9.2oz/260g
39mm: 9.4oz/267g
42mm: 9.6oz/272g
45mm: 9.75oz/276g
48mm: 9.9oz/280g
51mm: 10.2oz/289g
54mm: 10.4oz/296g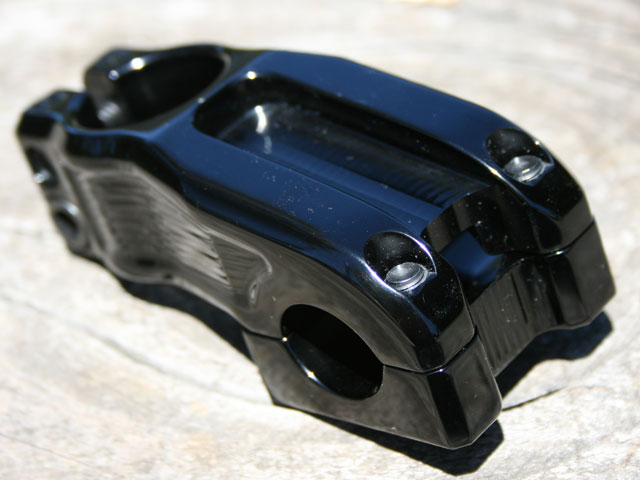 Normally I prefer front load stems over top load stems, there's no real reason for it, aside from the fact I run normally my bars low in comparison with some of the new school guys. That said I have been playing around with my handlebar height a bit lately and rather than mess around with lots of spacers or get new taller bars using the Mast stem gave me the extra height without worry of adding flex to the mix. As a bonus for me it was also an opportunity to try out a new product (which is always a good thing).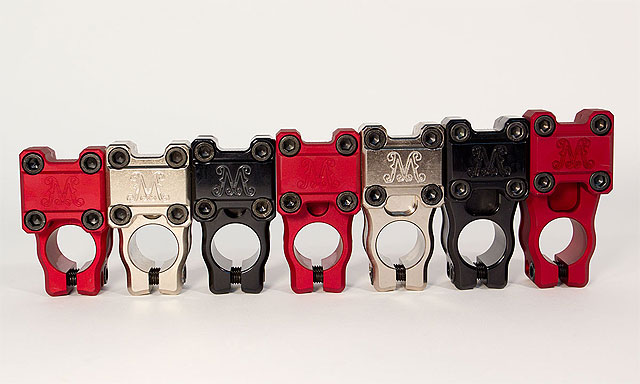 I have raced with many different stems over the years, some of which weighed in at close to twice the weight of Madera's Mast stem, but the Mast is as stiff as any of the others.
Madera Mast stems are available in three colors red, nickel, and black. The colours are all amazing, which made it very difficult to choose a colour.
Rating
20/20:
| | |
| --- | --- |
| Value for money: | 5/5 |
| Weight: | 5/5 |
| Functionality: | 5/5 |
| Looks/Finish: | 5/5 |
Comments:
You should expect the price tag of a high end product, because that's what you will get when you purchase any Madera product
Another great light weight pro stem that can hang with the best of them
You can depend on the Mast stem to be strong, still and keep your bars in place no matter what size you need
The Madera Mast stem looks great in the red, black or nickle
Madera products are distributed in Australia by Elite Cycle Imports (ECI) www.eciimports.com
Reviewed by Shane Jenkins/bmxultra.com February 3, 2013