CCH Racing SuperCup frame
I stumbled across the CCH SuperCup frame in my Facebook feed a while back when they were still in pre-production. They  looked nice, different, stiff, they are USA made from 6061 T6 Alloy, and they come in nice long sizes. The 20″ Pro XXL and the 24″ Pro XL both have a 22 inch top tube, so naturally it caught my attention since I'm tall and there isn't a wide range of bikes available for the taller riders in this great sport of ours. At the time I remembered thinking that I'd like to take one for a ride, but not for a minute did I think it would actually happen any time soon. But before we get into the review let's give you some background information.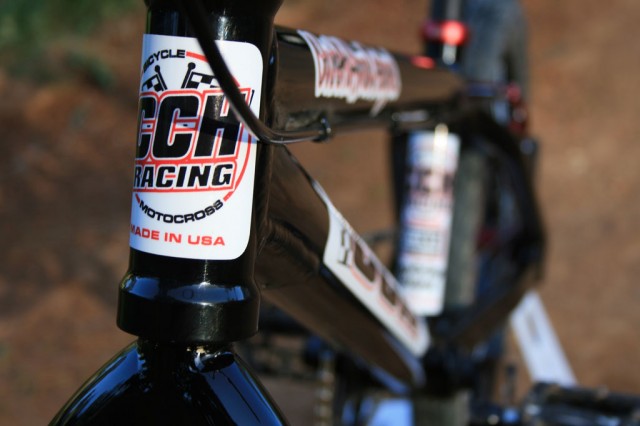 What is CCH? It's the second coming from Cruisen Chris Hoffman. CCH were around in the 90's, the front end of the frame had a similar look to the current model only the rear was tubular with a TNT style loop tail.
Rather than us give you the wrap on what CCH is all about we asked Cruisen Chris a few questions so you get accurate information straight from the source. Here's what he had to say.
"Back in the 90's we were really flying by the seat of our pants. We tried to be too big too fast, we were all in, and it just blew up. Wife and kids required a shift outside the bike industry. We're back now and better than ever! I was really missing BMX, the friends, the travel, the coolness, the creativity, the ability to be productive and make trick parts. Older and wiser now, with some life experience, and the ability to do CCH on the side in more controlled way. No pressure. It's 100% fun."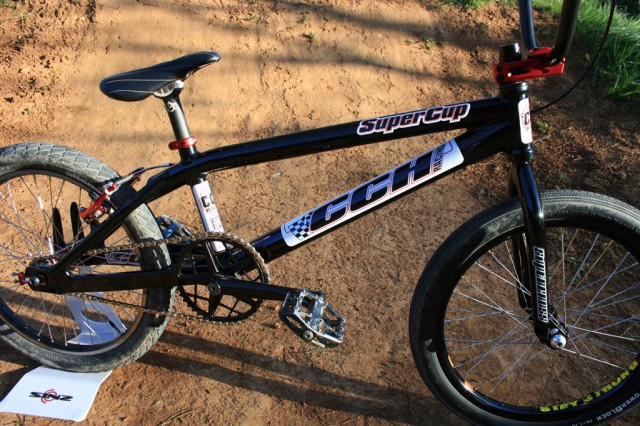 "The frames are hand-built in San Marcos CA By Sal at SC Customs. 6061 presents the ultimate strength to weight ratio, aircraft certified, and can hold up to the stresses of BMX racing. 7000 series aluminum is not heat treated after welding and is arguably TOO stiff, so much so that it can actually break much quicker and easier than 6000 series. 7000 series is cheaper and easier, we don't take shortcuts. We guarantee our frame will NOT break under normal racing conditions."
"The main focus was that we saw all these frames that have formed tubing and butted tubing and all super light, and all made in Taiwan. Many riders complain of flex on the frames, and even cracking and breaking. We wanted to take it old school. Aluminum frames, if engineered properly, should NOT flex, and should be super strong. CCH frames are better, because we have a very unique design that is stiffer and stronger than the competition, but also very light. Quality and strength are our number 1 priority. We want to offer a frame that will perform as it should. None of our products are designed to be the lightest. All of our product are designed to be stiff, strong, high quality, and perform at the highest levels of competition."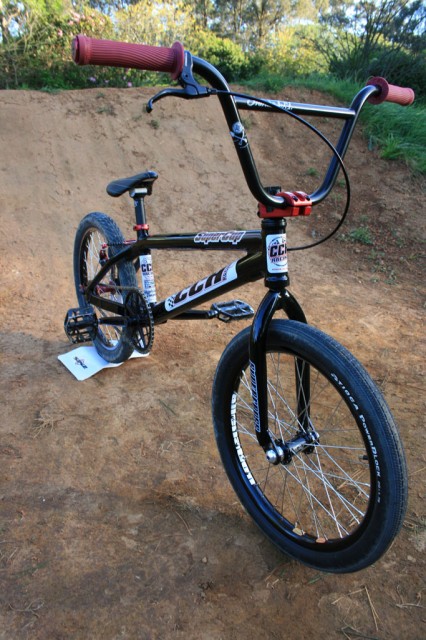 SuperCup features
Super stiff, Ultra fast.
Hand built in Southern California.
6061 seamless, aircraft grade aluminum, heat-treated, stress relieved.
Each frame is checked and re-aligned (by hand) on our custom frame jigs.
100% Pure BMX Race design, features oversized tubing.
Exclusive CCH pierced top tube, wishbone design.
Exclusive CCH Racing "closed loop" rear triangle creates minimal flex for maximum torque transfer to the rear wheel.
The Super Cup features very aggressive racing geometry.
Geometry
| Size | Top Tube Length | Chainstay Length | Head Tube Angle | Seat Tube Angle | BB Height |
| --- | --- | --- | --- | --- | --- |
| Expert | 19.5 | 14 | 73 | 71 | 11 |
| Expert XL | 20 | 14 | 73 | 71 | 11 |
| Pro | 21 | 14.75 | 74.5 | 71 | 11.5 |
| Pro XL | 21.5 | 14.75 | 74.5 | 71 | 11.5 |
| Pro XXL | 22 | 14.75 | 74.5 | 71 | 11.5 |
| Pro Cruiser | 20.5 | 15 | 73.5 | 71 | 12 |
| Pro Cruiser XL | 21.5 | 15 | 73.5 | 71 | 12 |
| Pro Cruiser XXL | 22 | 15 | 73.5 | 71 | 12 |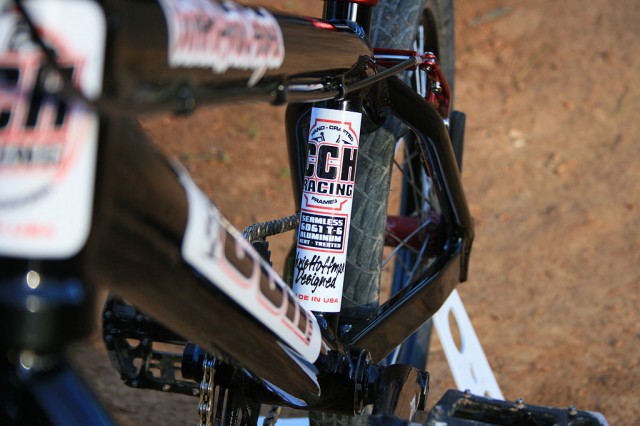 Weight
There's no denying that the CCH SuperCup is a chunky looking frame, but don't write it off just on it's appearance, it's not anywhere near as heavy as it looks. The SuperCup compares well to other popular frames. Check this out.
| | Pounds | Kilograms |
| --- | --- | --- |
| Chase RSP1 | 3lbs 5.9oz | 1.53 |
| DK Professional V2 | 3lbs 8oz | 1.6 |
| CCH SuperCup | 3.7lbs | 1.7 |
| Kuwahara Lachesis | 3.8lbs | 1.72 |
| S&M Speedwagon | 4lbs 2.8oz | 1.89 |
The Pro XXL we tested weighs 3.8lbs or 1.7Kg, but since it's a 22 inch top tube and most other manufacturers stop at 21.5 top tubes we compared the weight of the Pro XL which also has the 21.5 top tube length.
I'd dragged the CCH to a number of tracks with me and hit up a heap of riding sessions with it, people are instantly curious about it and the first thing they ask is about the weight. People are genuinely surprised with how much it actually weighs. And while CCH didn't set off to make a super light frame they did a fine job regardless.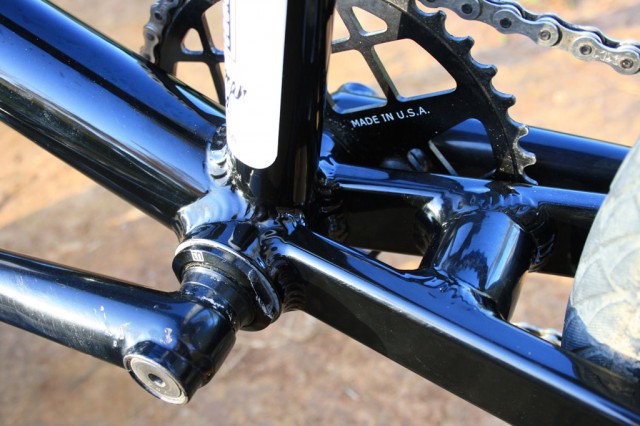 Stiffness
You have probably already noticed the running theme in this review so far, and yes the frame is stiff. There are a number of contributors to this, sure there's the 6061 T6 alloy but there's also a lot of consideration that's gone into the frame design.
Contributing factors include
Box loop rear end
Pierced wishbone
Box chainstays
Oversized top and down tubes.
"The box loop tail is our exclusive design. We like the concept of a loop-tail because the way we configure it and weld against the drop out, this creates significant stiffness form the BB shell to the rear axle."
"Okay the wishbone actually does a lot. Piercing the top tube with the seat tube, creates a much stronger junction then just welding the top tube to the seat tube. Then when you bend the top tube down and weld the seat stays to it, that helps to create a stiffer rear triangle. The wishbone design allows for the seat stays to be shorter, shorter tubes are going to have less flex. So basically the pierced wishbone design helps to create a stiffer and stronger frame, and combined with our unique boxed Loop tail chain stay design – offers optimum stiffness for better gate starts, And maximum torque transfer to the rear wheel…"
When I first started riding this bike I eased into it, just playing on the track at first manualling, jumping, cornering…it felt not too dissimilar to other frames I'd ridden. It wasn't until I did my first gates session on it that the stiffness factor really became noticeable. I've always been an advocate for running stiff and strong parts, when you team up a stiff frame with stiff parts the power to the ground is more direct and more efficient.  It does change the feel however, it's almost as if you have put on a harder gearing or shorter cranks, it just feels harder to get the initial couple of pedals. It took me a while to get my head around it. It wasn't until I decided to race it a week later that I really got comfortable with it. Instead of worrying about how it felt, how it was different to anything else all I was worried about was beating the guys around me out of the gate. That's when everything dropped into place. Those first few pedals felt stronger, it felt like it was less effort to get up to speed. I think this is the key with the SuperCup.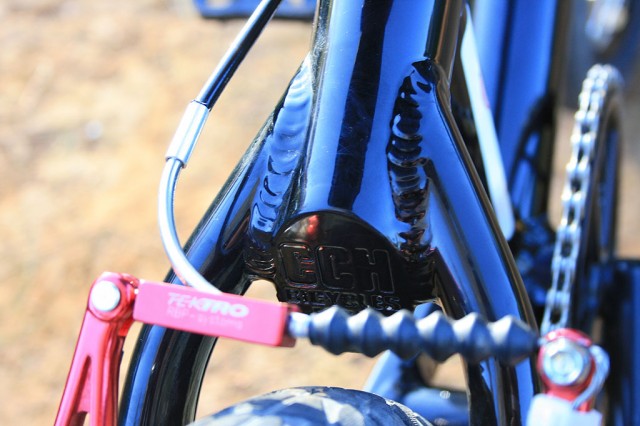 How does it ride?
I love the CCH SuperCup, it's a great ride. The low bottom bracket, short rear end make it very responsive everywhere on the track.
I'm going to go back to the fact it is a super stiff frame, and I can confidently say it feels like the stiffest frame I have ever raced. I normally ride cromo, which has a different feel to Alloy, almost like it's more absorbing over smaller bumps, you don't get to feel the whole track on cromo, on alloy however, it's a different story.
The bike felt great to ride on the track, it's extremely well balanced to manual. When you lift on the front end it only comes to a certain point and never gives you that sensation of going to the loop out point. It's very nice to jump, and that's not just my opinion, I had this thing at many ride sessions and there were a number of riders who also just jumped on it and noticed the very natural feel about the bike.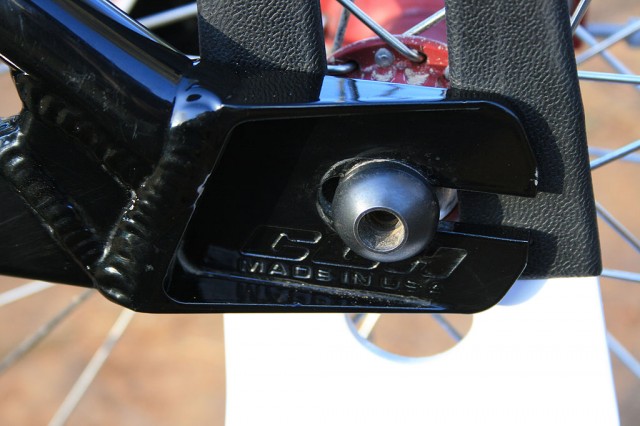 The Future for CCH
"So far the response has been GREAT. 100% positive feedback, establishing some good relationships, taking our time, building the brand,and looking ta things with a long term point of view."
"CCH will continue to produce hi performance BMX products. We have a cromo race frame in the works, 20″ and cruiser model. Cromo forks are coming as well. Aluminum bars in a full range of sizes."
Gallery
Last words
The SuperCup is available in red, white, blue, black, orange but CCH may offer some other colours from time to time.
I have to admit I miss riding the CCH SuperCup. I was really having a lot of fun on it.
Would I recommend the CCH SuperCup frame to my friends or consider buying one myself? Hell yeah! I already have. And based on what I have seen so far from CCH with the SuperCup frame, stem, seat clamp and handlebars, I must keep an eye on these guys, that upcoming cromo frame sounds like a real ripper.
Rating 20/20
| | |
| --- | --- |
| Value for money: | 5/5 |
| Weight: | 5/5 |
| Functionality: | 5/5 |
| Looks/Finish: | 5/5 |
Comments
Price wise the CCH SuperCup isn't the most expensive, but it's getting up there. It's USA made and helping stimulate the US economy. And when it comes down to it, you get what you pay for, a quality product built to win.
The CCH SuperCup is an average weight frame, but there's nothing else average about it. It's strength to weight ratio would be hard to match, and dropping weight would almost certainly impact on the stiffness of the frame.
The CCH SuperCup is an awesome frame to ride it performs well in all areas. I personally found it a real joy to ride!
The SuperCup is nicely finished off with great welds, neat paint, Nascar style stickers and stamps in the wishbone and drop outs.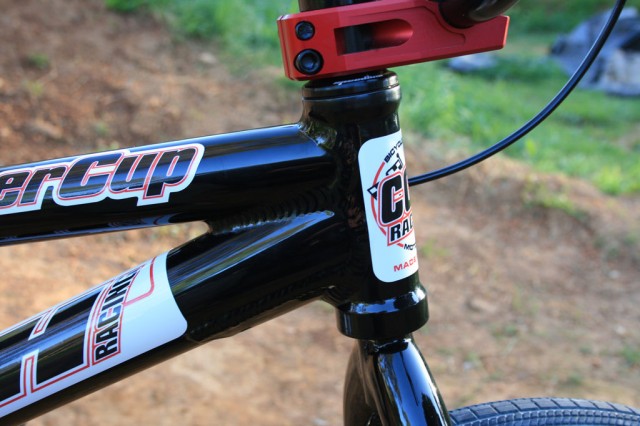 To find out more about CCH check out cchbicycles.com