Greg Romero's Faster First Straight DVD
Greg Romero is an accomplished BMX coach and former professional BMX racer, he knows coaching and he knows BMX inside out making him one of the best qualified coaches and a perfect candidate to present a coaching DVD.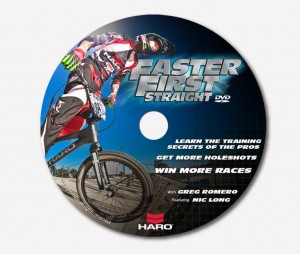 If you are looking for coaching tips to teach you the fundamentals of BMX racing this is not for you. Fortunately Greg has already got that covered in the BMX Racing Skills DVD and there's a good book called the Pro BMX Skills book that Greg helped out with.
I must warn you this video is all about the science of putting together a faster first straight. It's not a DVD you watch if you are looking for entertainment. I found trying to watch the DVD from start to finish late in the evening was a bad idea, while it's jam packed full of valuable and  detailed information I nodded off in no time to Greg's almost soothing voice.  That's not to say it's a snore fest, it's just extremely intense with a whole lot of information to absorb in just under an hour.
The second time I watched the DVD I realised I have the DVD so don't need to absorb it all right away, just to take in what I can and familiarise myself with the content, the scene selection would allow me to go back and focus on specifics later at my own leisure.
There's a theme running through the DVD, at least through the progressions section, where the idea is to retrain the body to complete the techniques correctly and eventually program the body to make everything happen automatically.
The key components of a faster first straight getting you to the first corner in front and giving you a better chance to win races.
The Faster First Straights DVD is broken down into three main sections.
Progressions of the first straight
Through the DVD everything is broken down to the finest of detail with slow motion and lots of focus on the correct/ideal angles and racing posture.
The key elements of a faster first straight include
Reaction time
Acceleration
Top end speed
Agility to jump low
The FFS DVD will help you break everything down into phases and identify, and hopefully correct your weaknesses. I won't get into great detail with the content, as I couldn't do it justice.
Let's just say there's no stone left unturned in getting you to the first corner in front, and if you don't get something out of watching then you haven't been watching close enough.
Sprint training considerations
We all know that one key area of focus for specific BMX training is sprinting, Greg explains the various techniques on how to sprint and improve your drive acceleration. There are various methods and rather than simplify everything there is a lot of important information that can be valuable to ensuring you are doing your sprints properly, effectively and obtaining optimal results.
Strength training considerations
The strength training considerations are very much like the rest of the DVD, in depth.
This section is focused on training without your bike, and includes
Warming up
Strength Exercises
Core Strength
Plyometrics
All of the exercises are carefully explained including their relevance to your first straight.
In conclusion
The Faster First Straight DVD is a valuable training tool for any BMXer who is serious about their own progression and personal development.
While the DVD is aimed at riders of all ages, including the off bike training, it does assume you have a good grasp of the fundamentals. I'd suggest it's perfect for racers of an intermediate level and above
Some key tips from Greg
Use video for analysis of your own technique, to see where you are going wrong or how you are improving
Emphasis on safety. Wear your helmet and other relevant protection, ride with a partner, ride in a bike safe area
Simply put if you don't get anything out of this DVD you haven't watched it.
Rating 19/20
| | |
| --- | --- |
| Value for money: | 5/5 |
| Action: | 5/5 |
| Entertainment: | 4/5 |
| Looks/Finish: | 5/5 |
Comments
The Faster First Straights DVD will help you get Faster First Straights. That's moeny well spent!
Each action, phase or movement that's describe by Greg is broken down and emphasied in high def slow mo and full speed video making it easy to understand and identify the does and don'ts in a racing scenario at the highest levels of competition
As I stated earlier this is not a DVD for entertainment value, even the Haro bonus is just a couple of ads. It would have been nice to see a racing compilation from Nic Long like the Corben Sharrah edit that appeared in the BMX Racing Skills DVD
This is the perfect DVD to help you improve your first straight pull, everything is explained clearly on screen to help you get the most you can out of the examples.
The Faster First Straight DVD is distributed in Australia by Elite Cycle Imports (ECI) www.eciimports.com
Reviewed by Shane Jenkins/bmxultra.com October26, 2013
Posted in: DVDs · Reviews · Training Systems