CCH SuperLite BMX Top Load Stem
If you have read the review I did on the CCH Racing SuperCup frame a couple of weeks ago you would have noticed that CCH make some quality products and it's all done in the good ol' USA. You might have also read that I had stumbled across the CCH SuperCup frame in my Facebook feed, it was the SuperLite stem that first caught my interest and made me an instant fan of CCH. I saw the stem and liked their Facebook page www.facebook.com/cchbicycles right away. It looked the complete package, the shape and style, the colour, and the feather weight 10 oz was an added bonus, but it really leaps out at you. I'm a big fan of the stem pad, old school I know, but it's the kind of stem that would make me take off the stem pad just to show it off.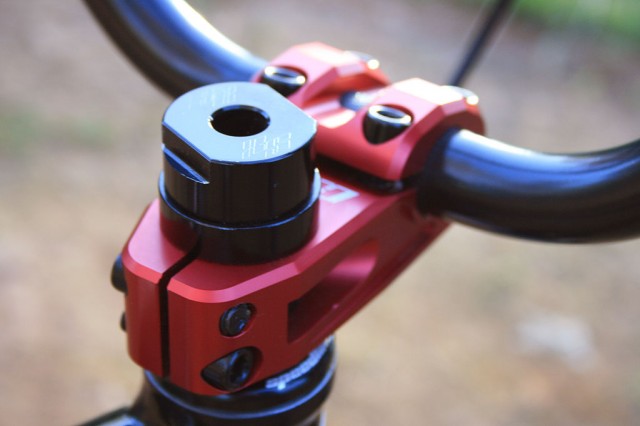 When CCH shipped the SuperCup frame they made sure it was decked out with their stem, bars and seat clamp as well (so there's some more CCH reviews you will see in the near future). The stem has already done the rounds of a couple of bikes and had plenty of use.
I thought I'd ask Cruisen Chris from CCH for some background on the SuperLite stem and what made it different to any other stem, here's what he had to say.
Many of the stems currently available are forged or cast then maybe partially machined. That is a cheaper and easier way to make a stem, but the quality and integrity of the material suffers, no matter the design.
When we decided to make a stem, we wanted to start off right. First we use extruded billet aluminum. Right off the bat, that material is stronger than cast or forged. The basic shape of the stem is extruded, then the width is cut, and then off to the CNC machine.
Each and every detail is precision cut to offer maximum weight savings, but still offer a stiff design. Whenever you go for weight savings there is always a trade-off for strength. But if you're lucky you can achieve a good balance of both. And if your really lucky, it will look cool too!
As with all of our products, quality and performance are our number 1 priority. We're very happy with the final result. Right now we offer this stem in 4 colors (Red, Black, Gold, and the incredible Bad Ass Grey) and 1 size: 53mm Pro Length. But our next production run will also offer more colors (including blue!) and a 57mm Pro XL length.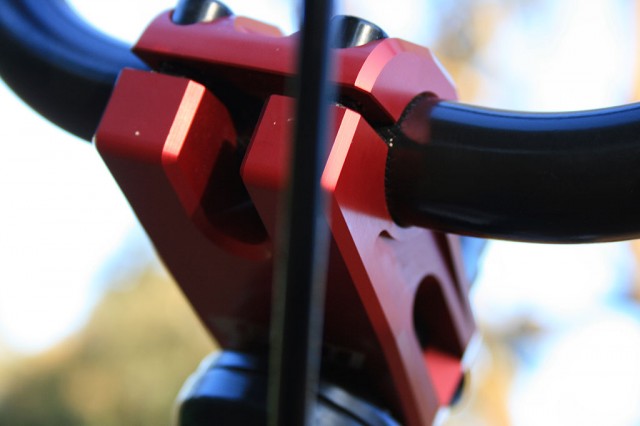 Weight
Unlike the chunky looks of the CCH SuperCup frame the CCH SuperLite top load stem looks "super light", so I thought it's best to illustrate exactly how light it is by comparing it to some of the market leaders.
| | Ounces | Grams |
| --- | --- | --- |
| Profile 40 53mm | 9.9 | 281 |
| CCH SuperLite 53mm | 10 | 284 |
| S&M Race XLT 53mm | 10.2 | 289 |
| Madera Mast 54mm | 10.45 | 296 |
| Snap S2 Pro Stem 53mm | 11.8 | 334 |

Stiffness
When the CCH SuperCup first arrived it was built up with the CCH stem, the frame was stiff, if there was going to be any flex there's no way it was going to be the frame so it was interesting to see where the flex would come from. There was none in the stem, actually none in the front end at all, it was quite impressive.
Once that review was done I put the stem on my own race cruiser, it was feeling a little low in the front end and I'm not one to stack a tonne of spacers under the stem so I changed my front loader for the CCH top loader and it gave me the extra height I was looking for.  No matter what the conditions, road sprints or hitting the track there's still no flex, the CCH SuperLite stem is super stiff.
Gallery
Last Words
With CCH pumping out frames like the SuperCup and stems like the SuperLite it's only a matter of time before people see the brand as it is, high quality USA built pure race machinery, and more people start running their products.
I'm extremely impressed by the CCH products but especially the stem and plan to continue using it, it's just that good!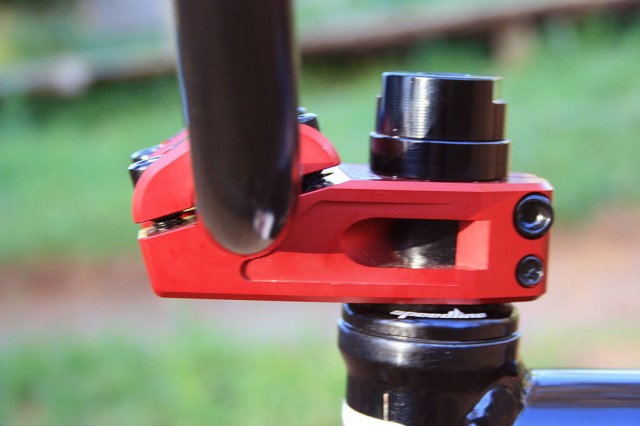 Rating 20/20
| | |
| --- | --- |
| Value for money: | 5/5 |
| Weight: | 5/5 |
| Functionality: | 5/5 |
| Looks/Finish: | 5/5 |
Comments
Price wise the CCH SuperLite stem isn't the most expensive, it is about the same price as a Profile or S&M stem, so it's not going to send you broke and you know you are getting a great quality product.
As you can see from our weight comparison table above, at 10 oz or 284 grams the CCH SuperLite stem is right up there with, and even lighter than some of, the most popular stems in BMX.
The CCH SuperLite stem is not only a great looking stem at a reasonable price, most importantly it does a great job of clamping your bars to the bike. Set this stem up properly and you will never have any problems.
The CCH SuperLite stem is dead sexy. It's eye catching curves and awesome colours make it one of the best looking stems I have seen in some time.
To find out more about CCH check out cchbicycles.com
Reviewed by Shane Jenkins/bmxultra.com 9 November 2013