I first heard about Faith Race products was when riders returned from the UCI BMX World Championships at South Africa last year. Many of them seemed to be more excited about the race gear than the racing. As it turns out they are now being distributed in Australia and everyone can get to find out what all the fuss is about. If you haven't heard of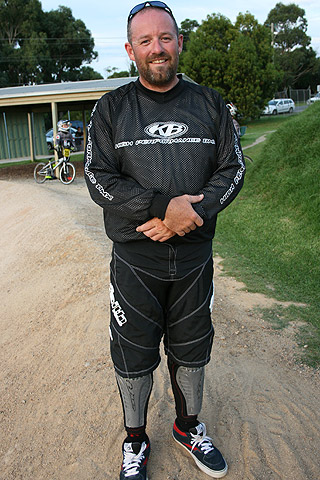 Faith yet, riders like Bodi Turner and Tom Siinmaa have been wearing them for some time now.
Features:
Dura

Industrial strength polyamide yarn in warp direction.
Superior abrasion resistance.
Improved comfort and durability.

Flex

Functional flex polyester rib knitted panels.
(Crotch, Knee, Clave, Waiste)

Lite

Special textured weft yarn.
Light Weight approx. 285 grams.
I was sent a set of the shorts for review in size 40, or XXL as they were marked on the packaging. While they were both comfortable and light they just weren't as generous around the waist and crotch area as other pants that I have used or reviewed. I asked Dean Steele, a handy 35-39 class racer, to help out with the review, since they would fit him a lot better.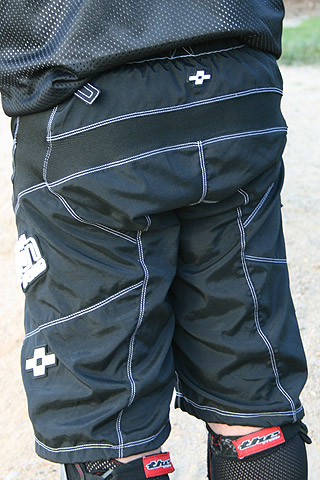 This is what he thought of them:
I had the opportunity to go for a few rides in the new Faith race shorts. First thing I noticed was how light they were. The material is a really light weight compared to other race pants I have worn in the past. You feel like you're about to go to the pool rather than off for a ride. This was especially noticeable on humid nights. The material used in the seat of the pant allowed for greater air flow and is a key element in allowing for flexibility.
The cut of the shorts was not only comfortable, but it meant they did not ride up and become restrictive while riding. Normally at the end of the nite I get changed out of my sweaty race gear, but I have been leaving them on for the drive home. The adjustable waistband is a bonus allowing you to customise the fit and providing even greater comfort.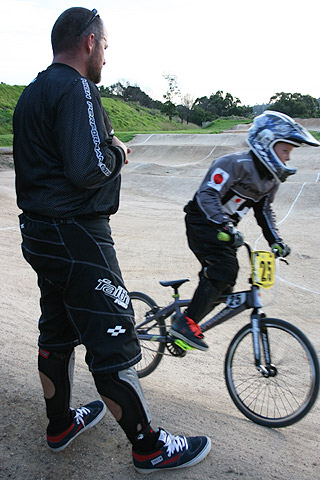 The style of the short and how it has been cut shows that the Faith Race shorts have been developed especially for mountain bike and BMX riding.  The double stitching in all the seams will wear well, and the heavy duty zip will last the test of time. There's also a handy pocket built in that's big enough for your keys or some cash.
Faith shorts are available in kids sizes 24-34 and adults 28-40 the overlap allows for better fitting for riders who are in between sizes with larger legs or a smaller waist.
Currently the shorts are available in black or white, and are available track side.
Rating
18.5/20:
| | |
| --- | --- |
| Value for money: | 4/5 |
| Weight: | 5/5 |
| Functionality: | 5/5 |
| Looks/Finish: | 4.5/5 |
Comments:
At $159.95 for kids and $179.95 for adult sizes the Faith Race shorts are a little pricey in comparison to other brands, some say for the weight and comfort they are worth every cent
Super light weight material makes them super comfortable to ride in
Great shorts for riding or racing in, full stop!
While Faith have thought through their sizing and have over lapping adult and child sizes they could have also looked at making sure the bigger riders are looked after too. Some people don't like the look of the bulky Faith logos on the hip, others love them.
For more information check out http://www.faithwear.co.zw/catalogue/faith-race
Reviewed by Dean Steele & Shane Jenkins/bmxultra.com March 1, 2011
Posted in: Race Clothing · Reviews