Sinz have done a great job over the past few years in coming up with a good quality products with price tags for the budget conscious. They have stepped it up recently with their top shelf Sinz Elite forks, a much higher quality product which competes with the more popular brands. The Sinz Elite range has now grown from forks to include carbon fiber bars, lock-on grips, wheel sets, rims, brake pads and cranks.
First of the rank though, and selling like hot cakes, are the Sinz Elite XXX Cranks.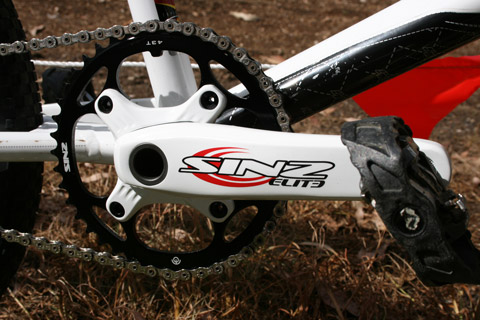 They feature:
Specifically built for BMX
Two piece hollow-forged aluminium
Outboard sealed bottom bracket
Stiff, hollow, 4130 cromo spindle
104-BCD, 4-bolt spider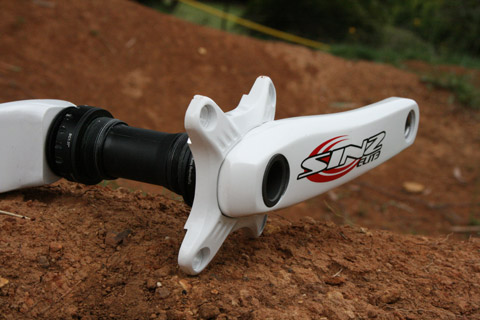 It's obvious that people will look to Shimano DXR cranks for comparisons, since they have been around for some time now and seem to be the leader when it comes to alloy 2 piece cranks. But while the shape might be similar the Sinz Elite XXX cranks are a touch lighter. Shimano DXRs have a published weight of 2lbs 4.2oz which is approximately 1,026 grams.
Sinz Elite XXX Cranks
| Model # | Size | Weight |
| --- | --- | --- |
| SEXXX-165WH | 165 mm | 920 grams |
| SEXXX-170WH | 170 mm | 920 grams |
| SEXXX-175WH | 175 mm | 932 grams |
| SEXXX-180WH | 180 mm | 952 grams |
Speedline/Supercross BMX Australia team rider Maddie Guyers was looking for some strong and lightweight 170mm cranks when these came up for review, so we asked her to help us out. Not only were the size and colour perfect for her, they fit the criteria perfectly of being strong and light. They were strong and light but they had all the advantages of outboard bearings along with crank lengths ranging from 165mm to 180mm, the Sinz Elite XXX cranks were built for everyone from pro riders down.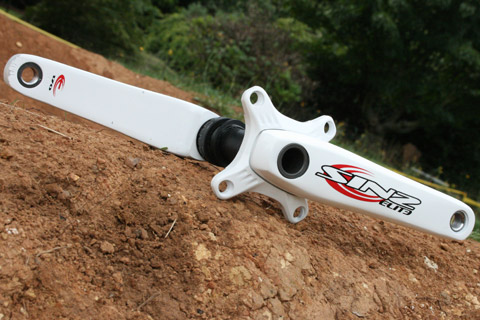 They can get a little tricky to install, there is a special tool for the bottom bracket and there are spacers that may or may not be required depending on the width of your bottom bracket shell. If you are unsure have your local bike shop fit them for you.
Once fitted though they are a very impressive crank set, and so far, have been set and forget. There doesn't appear to be any flex, meaning you should be able to get more power down to your backwheel through the drive train. We noticed a slight change in Maddie's gate starts, she was able to get that little more power out of the gate and down the start hill.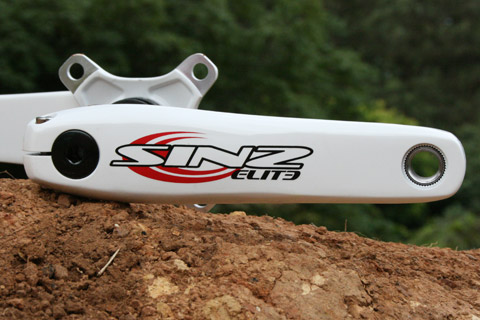 Expect to see a whole lot more of the Sinz Elite cranks in the near future.
Rating 19.5/20:
| | |
| --- | --- |
| Value for money: | 5/5 |
| Weight: | 5/5 |
| Functionality: | 5/5 |
| Looks/Finish: | 4.5/5 |
Comments:
Much more affordable than Shimano DXR cranks but lighter and are proving just as strong
When it comes to 2 piece alloy cranks the Sinz Elite XXX are the lightest we have seen that can still provide this much stiffness
A great crank that will help you milk the most out of your power
As far as alloy cranks go the Sinz Elite XXX cranks look nothing short of impressive. It would be nice though if they would offer at least one more colour option.
Check your local dealer for pricing.
Sinz Elite products are distributed throughout Australia by Elite Cycle Imports (www.eciimports.com)
Reviewed by Maddie Guyers and Shane Jenkins/bmxultra.com February 24, 2011