Snap Chainwheels & Chainrings
Chain rings and chain wheels is one of the most hotly contested market segments in BMX. There are a whole bunch of standout brands. It's difficult to make something really standout but US manufacturer, Snap BMX Products, have managed to do it. Snap's growing reputation of great looking high quality products that are 100% made in the USA finally lands them in Australian stores through A Team Distro (contact a_team_distro@yahoo.com.au for a store near you).
We reviewed the Snap Series II stem a week ago and were very impressed with the complete package, everything from the weight, to the sleek stylings. The chain wheels and chain rings we've checked out are no less impressive.
Series II Chain wheel
I gave bmxultra.com rider and photographer, Jason Bergstrom, the Series II Chain wheel to check out. We was a little hesitant to replace the chain wheel he already had, at first, but after a short time riding he was already starting to see benefits from the Snap chain wheel.
It was the fact that it was dead straight that impressed him most. The way the chain wheel slides straight on to a 19mm (3/4″) profile axel, without the need of step up washers, is one major contributors to Snap's "pure roundness". The way it is CNC's from thick 6061-T6 alloy is another. Pure roundness is hard to find, even from some of the biggest names in the market.
Features:
Light, fast and straight as an arrow with retro style looks.
No hole reducer means pure roundness.
Precision CNC machined out of 3/16″ thick. 6061-T6 alum. plate.
Designed with style and strength and perfectly round with the 3/4″, 22mm or 15/16″ spindle hole.
Fits a 3/32″ chain and is available in Black, Red, Blue Anodized and Polished finish.
Sizes from 38t – 44t.
I must admit, the Series II Chain wheel's retro styling may not appeal to everyone, but no one could afford to ignore a perfectly straight, perfectly round chain wheel.
Series IV Chain rings
Snap's Series IV 4-bolt chain rings really look great and are a whole lot different to the other 4-bolt chain rings I have seen. The mirror polish finish is amazing, as are the other colours.
I was running a slightly thicker chain ring before the Series IV that meant I had to buy slightly wider chain ring bolts initially. When I fitted the Series IV I tried to use the recess for the chain ring bolts but found that the bolts I was using were that little bit too long and it wouldn't fit properly. Switching it over so not to use the recesses fixed that problem. It was an interesting way to find out the differences in thickness of chain rings.
I don't know how snap manage it, but once again they have produced a lightweight, perfectly round and perfectly straight chain wheel. It's going to be difficult for me to find something I would want to replace this with.
I have used the Series IV chain ring for a few weeks now and haven't had a single problem with it. It does make training difficult sometimes though when people try to stop you to ask you about it.
Features:
Snap Series IV 104mm 4 bolt chain rings.
Designed to fit Saint cranks and other Mountain Bike cranks.
Unique slot pattern with beveled edges for a clean, finished look.
This ring is precision CNC machined from 5/32 " 6061-T6 alum. plate and is perfectly round with the 104mm bolt pattern.
Fits a 3/32″ chain and is available in Black, Red , Blue, Gold Anodized and Polished finish.
Sizes. 33t – 46t.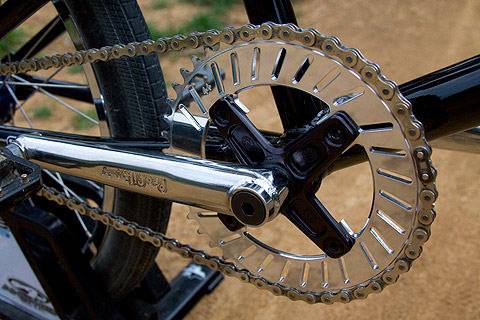 SR Series Chain rings
We are told that the SR Series is Snap's latest offering in their 4 bolt line up. Personally I can't see how they could possibly improve on the Series IV stylings and functionality, but it sure does look different, and again it looks fantastic.
The lightweight SR Series Chain ring runs straight and round and will also win you some bonus style points. It appears to be thicker and stronger than the Series IV, but when the differences are so minute it's difficult to measure.
Features:
This ring was designed for the serious rider.
New center design pattern and built stronger.
CNC machined with the precision you expect from Snap.
Stylish highlighting in Black Anodized, White powder coating and our new Shocker Green powder.
Available in 41t-46t.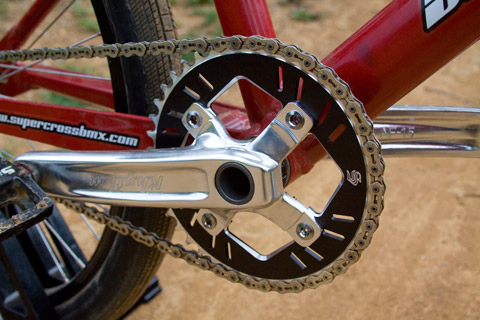 Rating 20/20:
| | |
| --- | --- |
| Value for money: | 5/5 |
| Weight: | 5/5 |
| Functionality: | 5/5 |
| Looks/Finish: | 5/5 |
Comments:
A perfect chain wheel or chain ring for around the same price as other big name brands, definitely worth considering
Lightweight and and still very strong and reliable
It would be difficult to find an alternative that will do the job this well and look this good at the same time
Perfectly crafted, designed not only to be the lightest, fastest and strongest. Designed to impress.
Check your local dealer for pricing.
Snap is distributed throughout Australia by A Team Distro (a_team_distro@yahoo.com.au). For more information about Snap Products check out their website at www.snapbmxproducts.com
Reviewed by Shane Jenkins/bmxultra.com February 18, 2011
Posted in: Chainrings · Reviews