Troy Lee Designs Sprint Short & Jersey
Sprint Shorts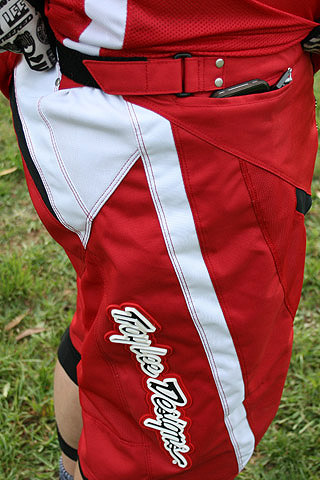 It doesn't get much hotter than February in the Australian summer. That's where the UCI BMX rule allowing for shorts and knee/shin guards is a God send.
There are a whole lot of shorts available on the market. Even in the Troy Lee Designs range there are four different models, but few can match the size range and price of the Troy Lee Designs Sprint shorts.
Suggested Retail $112.00 (Australia)
Colours: Black, Red, White, Yellow/Blue
Sizes: 26, 28, 30, 32, 34, 36, 38
From the minute you put the the TLD Sprint Shorts on they are very comfortable. The material might look a little heavy for a hot day, that's where the breatheable mesh panels in the front and back come in handy. The heavier 600 denier polyester material is only where it's needed and that's to provide durability to hold up to any falls you might have and to provide protection against harsh track surfaces.
There are a number of contributors to the comfort of the Troy Lee Designs Sprint shorts. Firstly the pants are a generous fit, I am normally a sized 40 waist but size 38 in the Sprint shorts fit perfectly. They are nice and loose around the knee area to allow plenty of room for knee/shin guards. There's the velcro side straps which allow for a large range of waist adjustment. There's the stretch liner in the waist. And the 4 way ribbed spandex in the crotch and rear. You will be hard pressed to find something more comfortable.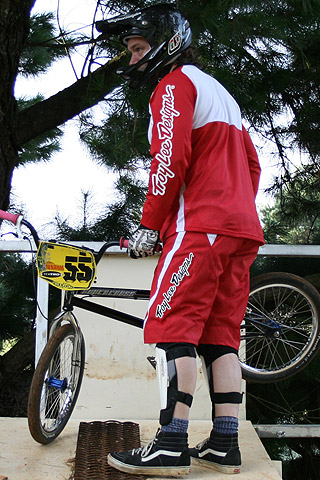 There are two press button fasteners with a little velcro for back up and a heavy fly in front so you won't have to worry about your pants coming undone in the middle of a race, or ride. (Believe me, it happens.)
Another bonus you get from the Sprint shorts is a generously sized pocket in front, with a zip, to keep your keys, money or maybe a mobile phone. I often ride with my iPhone in my pocket to listen to music. The pocket is just short of the length of an iPhone, but I I have never had any concerns of it falling out.
Sprint Jersey
To compliment the Sprint shorts is the retro inspired Troy Lee Designs Sprint jersey. Quite fitting for this old school BMXer.
The Sprint jersey is also a comfortable fit, with micro mesh on the arms and the lower body there is plenty of airflow to keep you cool under sweaty conditions.
The logos look like they are screen printed, but apparently hi square rubberized print was used, so the logos are there to stay.
Again the jerseys are a generous fit, I normally race with a XXXL jersey and the XXL TLD Sprint jersey fits nice and loosely on me.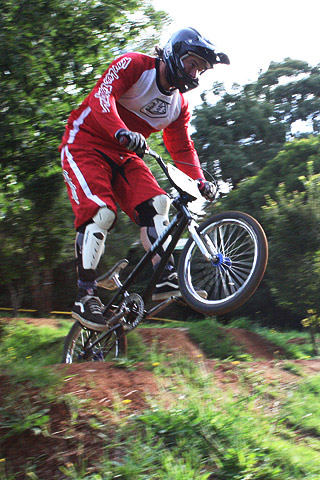 Suggested Retail $69.95 (Australia)
Colours: Black, Red, White, Yellow/Blue
Sizes: Small, Medium, Large, X Large, XX Large.
In summary
There's no doubt that Troy Lee Designs gear looks great. The Sprint gear is no exception, no matter what colour combo you are looking at.
What I really like about the Sprint gear is that it's so comfortable. There is no restriction of movement, no tight cuffs or collars, the materials don't stick to your skin, and it really breathes. After riding I'm normally in a hurry to get my race gear off and get into something more comfortable, not with this gear though. It's feels cooler on than my casual gear.
The red gear in the review looks great but red isn't my colour since bmxultra.com colours are blue with some white and black, so you probably won't see me racing in the red gear. That said, I have upgraded my training gear from cargo shorts and an old bmxultra.com jersey to the TLD Sprint gear and I'm going to have to place an order for atleast some shorts that do match my race gear.
At the price of this gear and the size range available I'll bet this will be the most popular pant/jersey combo at the 2011 Australian Championships in the tropical heat of Cairns. From the junior riders to the, ah, more experienced, anyone can look the goods and keep cool in Troy Lee Designs Sprint gear.




A note to our Aussie readers: Remember to buy local and support the Australian BMX industry. We do! Thanks to the Australian distributor, Steve Cramer Products, the price of Troy Lee Designs products is very competitive. Support those who support you.
Rating
20/20:
| | |
| --- | --- |
| Value for money: | 5/5 |
| Weight: | 5/5 |
| Functionality: | 5/5 |
| Looks/Finish: | 5/5 |
Comments:
The Troy Lee Designs Sprint gear is a lot cheaper than it's rivals and great quality
Light weight material makes it great summer wear, would also work in winter with an extra layer or two underneath
Awesome protection, ventilation, comfort and style. That is Troy Lee Designs!
Once again Troy Lee Designs have got you covered when it comes to a great looking product that looks perfect to the last stitch.
Troy Lee Designs is Distributed in Australia by Steve Cramer Products. For more information about Troy Lee Designs check out www.troyleedesigns.com
Reviewed by Shane Jenkins/bmxultra.com February 15, 2011
Posted in: Race Clothing · Reviews