US manufacturer, Snap BMX Products, have been around for some time now and support some of the biggest names in BMX, including the likes of Olympians Jill Kintner, Mike Day, Maris Strombergs and the Free Agent team. It's really saying something when riders of that caliber put their reputation and titles on the line. Snap's growing reputation of great looking high quality products that are 100% made in the USA finally lands them in Australian stores through A Team Distro (contact a_team_distro@yahoo.com.au for a store near you).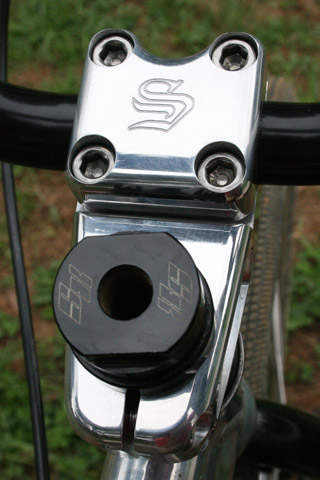 Snap products include
Chain wheels
Chain rings
Chain tensioners
Cranks
Seat post clamps
Stems
We first got a good look at some of the Snap products earlier this year at BSX where A Team Distro were very generous and donated hundreds of dollars worth of product that were quickly snapped up at the auctions (pun intended). Snap products are truly a great looking product and it's great to see their distributors are very community aware helping out with charity events like BSX.
This review is on the Snap Series II Pro stem, it's the stems and chain rings that Snap are most well known for. 100% USA Precision CNC machined out of 6061-T6511 billet aluminium. The stem comes with 18-8 stainless steel bolts, so no more rusting, a nice touch which also looks great…especially on the polished stem. The one thing I found a little strange about the bolts though is they are the first I have come across on a stem in a while that are non-metric, no biggy, just unusual.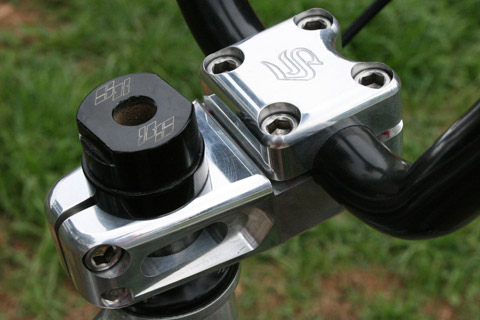 I like the look of the Snap Series II Pro stem, rather than just stripping the stem back to bare minimum to satisfy the weight weenies they have also been able to maintain a stylish curvy look that's quite unique. The top loader is quite versatile, designed to also work flipped upside down, much like a front loader stem, you should be able to find a height that suits you.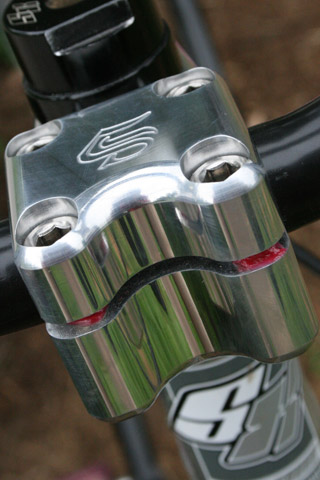 The Snap Series II Pro stem with a 44mm reach weighs 10.84 oz. (310grams), the 57mm reach weighs 11.95 oz. (340grams). That's just a little heavier than the S&M Race XLT, but it's only a matter of about 20grams and if you ask me the Snap stem kicks ass in the looks department.
The big question here is "how does it feel on the bike?". I can answer with confidence that it feels great and stiff…very stiff.
The Snap Series II Pro stem is available in Black, Red, Blue Anodized, White, Shocker Green powder coating and Polished finish.
Most top loading stems from other brands come in 3 to 4 sizes with 5mm increments. If you are looking for finer increments, check these options out: 44mm, 51mm, 53mm, 57mm, 60mm and 63mm reach.
Rating 19.5/20:
| | |
| --- | --- |
| Value for money: | 5/5 |
| Weight: | 4.5/5 |
| Functionality: | 5/5 |
| Looks/Finish: | 5/5 |
Comments:
If you are just looking for a cheap stem to clamp on your bars, the Snap stem isn't for you. But if you are in the market for a high end race stem that looks great and is built to last do check out the Snap Series II Pro stem
It's not the lightest on the market, but it's still light and still very strong and reliable
The stem does all you would expect of it, it locks to your bars and forks and stays locked, but damn it looks good doing it
I love the mirror polish, but the other colours look just as awesome. The stem is jam packed full of style and it's one of those products you would be proud to have on your bike.
Check your local dealer for pricing.
Snap is distributed throughout Australia by A Team Distro (a_team_distro@yahoo.com.au). For more information about Snap Products check out their website at www.snapbmxproducts.com
Reviewed by Shane Jenkins/bmxultra.com February 10, 2011