Profile outboard bearing bottom bracket
From the moment I heard about the Profile Racing outboard bearing bottom bracket I knew I had to have one on my bike. Over the many years of using the various euro bottom brackets for my Profile Cranks I have had more problems with the shells and bearings than I have with consumables like chains and tires. It's not a big surprise when you consider there are two sets of tiny bearings in each cup and it all fits inside the bottom bracket shell. Add to that that I am one of the heavier riders on the track and use my race bike a lot.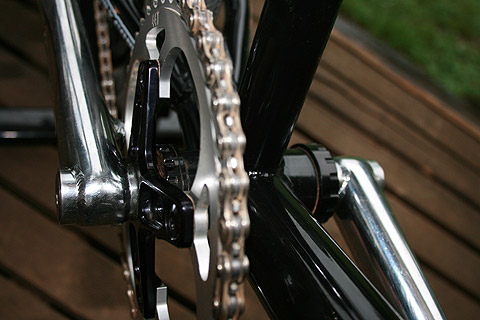 Outboard bearing bottom brackets have only one much larger set of bearings in each cup, this is possible as the bearings are now outside the bottom bracket shell. Because of that they are smoother, there is less resistance, and they will stand up a lot better to the constant abuse dished out on a BMX track. To put it simply they will spin more freely. It's also said the greater distance between the two sets of bearing contributes to stiffness, but you would expect nothing but that from Profile cranks and spindles anyway.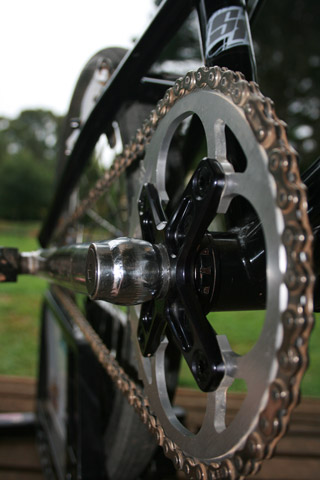 The set back with the outboard bearings, which is also the major reason they are of benefit, is that they are external to the bottom bracket shell. If you are just thinking of upgrading your bearings, there is more to it than that. The first issue it creates is it takes up more room on your spindle which means you would need a wider spindle than you would with a standard euro bottom bracket. On top of that the chain alignment won't be like it was. Instead of using the standard old chainwheels you are now looking at a spider that comes back towards the bottom bracket shell to bring the chain back into alignment. Profile have two spline drive options, either four bolt (104bcd) or five bolt (110bcd). None of this is a problem if you are buying new, but the additional costs should be considered if you are upgrading from a standard euro bottom bracket kit.
The spline drive spider is "machined from a thick plate of aluminum, the Spiders have a Heat Treated CrMo Steel insert pressed into them to mate with the splines on your Profile BB Spindle." What does all that mean? Well you have the weight benefit of an alloy spider but where the spider slots into the splines of your spindle it has the strength and durability of heat treated cromo. The most significant change with spline drive is the boss is now redundant (the boss is the bolt that holds a standard chainwheel or spider in place). I must admit the first time I took my bike for a ride after fitting the spline drive spider I was unsure if it would hang on. But second lap was all out and it doesn't feel any different. I have done many races now with this set up and must admit I am more confident in the spline drive than I am with a boss that might snap or come loose. I always found the boss would drive into the chainwheel and damage it over time. There is none of that now.
I haven't done a weight comparison between the new bearings, spindle and spider and the old bearings, spindle and chainring, but I imagine they are very similar. The major advantage is the bigger bearings that spin more freely and are more reliable than the standard euro bottom brackets. While the euro bottom brackets are quite affordable and would suit younger and less powerful riders the outboard bearing kit has obvious benefits for everyone but is the only real option for the bigger, heavier and stronger riders.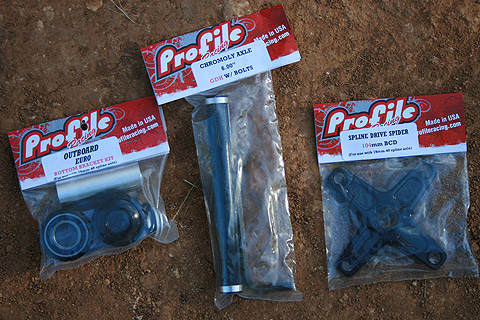 After months using the Profile Racing Outboard bearing bottom bracket kit there is no doubt this system is far superior to any other option and I am ready to upgrade my other bikes too. Not once during the review period have I had any problems with the bearings and my cranks have never, ever, spun this well.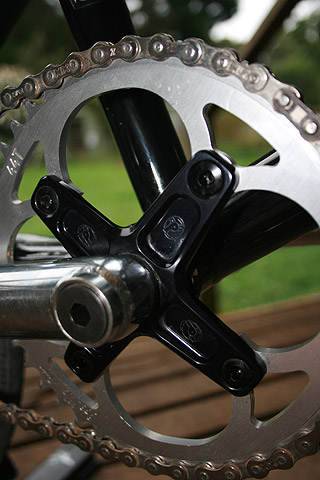 The Outboard bearing kits are available in Black or polished cups and the spline drive spiders are available in polished, black, blue, red, gold and purple.
Rating 20/20:
| | |
| --- | --- |
| Value for money: | 5/5 |
| Weight: | 5/5 |
| Functionality: | 5/5 |
| Looks/Finish: | 5/5 |
Comments:
A much better bottom bracket than of the other alternatives. It spins more freely, will last longer and is more reliable. A great investment in my eyes
The outboard bearing option is pretty much on par with the internal bearings weight wise, but when you look at the benefit of the outboard bearings there is no comparison
The outboard bearing bottom bracket spins more freely than the standard euro bottom bracket and will last a whole lot longer
As per all Profile products clean finish, and perfectly manufactured
Check your local dealer for pricing.
Profile Racing is distributed throughout Australia by Elite Cycle Imports (www.eciimports.com)
Reviewed by Shane Jenkins/bmxultra.com February 4, 2011