Troy Lee Designs Lopes Signature Kneeguards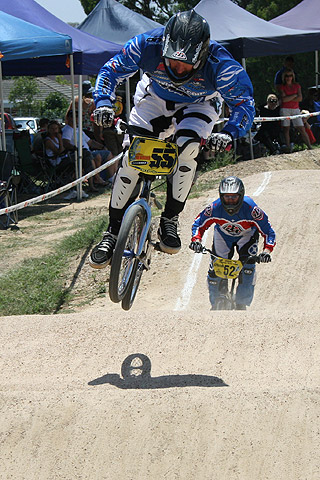 It's always a pleasure to check out products from Troy Lee Designs, when it comes to style, comfort and functionality TLD gear is hard to beat.
When I first received the Lopes kneeguards I was a little reluctant to wear them. The two piece design just made the kneeguard look over engineered. I prefer to keep my kneeguards simple, so they are quick and easy to remove.
When looking for the ultimate kneeguard, for me, the priority is protection, freedom of movement, comfort then style. So are the Lopes kneeguards the ultimate kneeguard?
There is no doubt the Lopes kneeguards look great but the big question is how do they function?
The two piece system sounds like overkill until you try them out. To put the kneeguards on you first pull on the inner neoprene sleeve over your knee which is quite snug fitting, but very comfortable and allows a full range of movement. There is some light padding around the knee area surrounded by velcro, this is where the outer shell of the kneeguard attaches to the inner. Then there are two straps that go around the lower leg to secure them in place. It's a little fiddley fitting them the first time to make sure the knee cap protector fits over the knee properly. But once they are fitted they won't move around on your leg. I did find the calf straps on the XL/XXL kneeguard could have been a little longer for guys with big calves like myself and our red kneeguard model Shaun Collins. They do fit at a stretch though, and once the velcro was fastened it didn't come undone.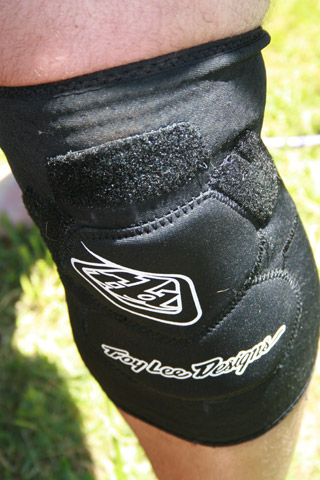 The Lopes kneeguards are a pleasure to ride with. They allow full range of movement, they are comfortable to a point you don't notice they are on while you are riding, and there are no straps or tags hanging off and flapping around. The only way to truly test the functionality is to crash in them. No one wants to crash, especially when it usually means the product could look a little second hand afterwards, but I was fortunate enough… or is that unfortunate …to have a couple of offs with the kneeguards on. They did a great job of protecting my legs, firstly they didn't move from their original position and secondly I would hate to have seen the mess if I wasn't wearing kneeguards, not only would it have been like I had taken to my leg with a cheese grater, I am guessing I would have been off the bike for a while too. While the hard plastic shell copped a shredding, structurally the kneeguards are fine, there are no tears in the material and no cracks in the shell, so they are ready to go again.
Lopes Signature Kneeguards:
TLD was privileged to work with 9 time NORBA champ Brian Lopes to develop this unique knee guard system
Created from Lopes' personal handmade knee guards which he used with great success
Unique two-piece system, combining inner neoprene sleeve and custom molded outer polycarbonate plastic guard sewn to ventilated foam
Breathable, ergonomic fit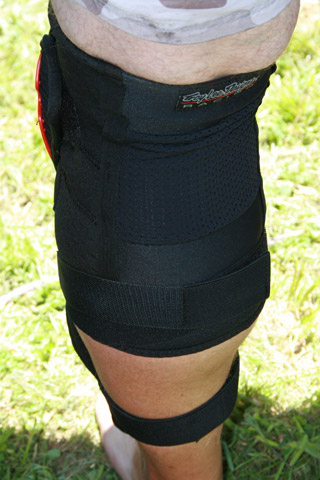 Are the Lopes kneeguards the ultimate kneeguard? Just about. The only thing I found wrong with them is they can be very hot and sweaty, but hot and sweaty is something I can put up with, because let's face it, you are going to be hard pressed to find a knee shin guard that provides perfect protection and a lot of airflow. Besides, it's easy to remove the outer shell between motos to cool down.
The Troy Lee Designs Lopes Signature Kneeguards are available in white or red (new for 2011) and come in XS/SML, MD/LG and XL/XXL sizes.
A note to our Aussie readers: Remember to buy local and support the Australian BMX industry. We do! Thanks to the Australian distributor, Steve Cramer Products, the price of Troy Lee Designs products is very competitive. Support those who support you.
Rating
20/20:
| | |
| --- | --- |
| Value for money: | 5/5 |
| Weight: | 5/5 |
| Functionality: | 5/5 |
| Looks/Finish: | 5/5 |
Comments:
The Troy Lee Designs Lopes Kneeguards will keep you comfortable, protected and looking great on the track. They are a little more expensive than most other kneeguards on the market, but they are built to last and will survive the big impacts.
The Lopes Kneeguards are surprisingly light, it's easy to forget you are wearing them.
Amazing protection, comfort and style, what more could you ask for from a kneeguard?
As expected Troy Lee Designs have created another amazing product which looks great.
Troy Lee Designs is Distributed in Australia by Steve Cramer Products www.stevecramerproducts.com.au. For more information about Troy Lee Designs check out www.troyleedesigns.com
Reviewed by Shane Jenkins/bmxultra.com January 26, 2011
Posted in: Race Clothing · Reviews