Troy Lee Designs D3 Helmet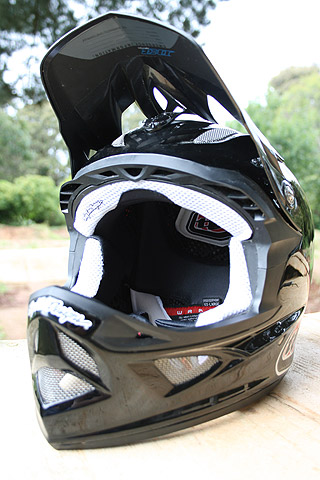 There was a time where the price of Troy Lee Designs helmets put them out of reach for many people, it was almost as if they were more of a status symbol. Sure TLD helmets have always looked great and have lead the BMX helmet market since they first hit the scene many years ago, but it was the cost thing that kept me from looking at them for a very long time. When they started to become more affordable I tried on the largest size available and it simply wasn't big enough, or my head was too big, depending on how you want to look at it.
Until earlier this year I had stuck with my old trusty Answer ACF helmet simply because it fit. I shattered it in a heavy fall and found myself in the market for a new helmet that suit a simple criteria, it would need to fit well and provide plenty of protection, because as I get older I just keep crashing harder.
While selecting a new helmet the idea was to start with a clean slate, any brands I have dismissed in the past would have to be reconsidered. First round of eliminations would be to find a helmet that fits, and since my head is, apparently, unusually large, no one tends to keep those sized helmets in stock. Brands like 661 and Fox are pretty common and I have seen that they make larger sized helmets, so that was to be my starting point. However I checked out the 661 helmets at a trade show and they were way too small. I couldn't find a store that had the Fox helmets so I just kept searching. I started to look at the Troy Lee Designs helmets and found a model that I liked. It was the Pistonbone Blue/Chrome, so I checked out the sizing and the XL/XXL looked like it was going to be too small, so I started to look at their other helmets when I noticed that the D3 helmets have an XXL that is a much larger fit.
I jumped on the D3 mini site http://www.troyleedesigns.com/helmets/d3/ and tried to work out what style I would want, when I noticed the Pinstripe, a glossy black carbon shell with some traditional TLD pin striping. It's a lot plainer than the designs that Troy Lee Designs are known for but it's just my style. Not only that, the D3 is jam packed full of safety and design features that leaves other helmets in it's dust.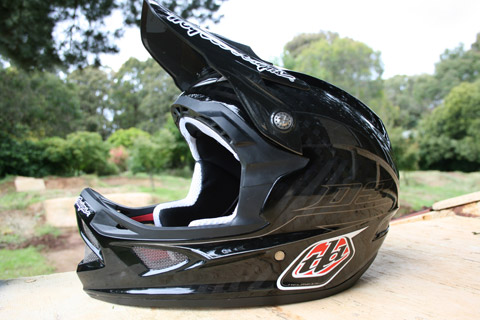 D3 Features:
Carbon Fiber shell and titanium hardware gives the D3 a featherweight feel
20 high-flow intake and exhaust ports
Dual Density Shock Pad System™
Removable, Washable MX-style padded liner
Coolmax™ and Dri-Lex™ moisture-wicking materials
Quick-release cheek pads for emergency helmet removal
Purpose-built internal cavities for audio integration
Full incremental sizing based on motorsports provides greater range of fitment
Exceeds bicycle and snow safety certifications: CPSC 1203, CE EN1077, CE EN1078, ASTM F1952, ASTM F2032, ASTM F2040
I didn't get to try on a XXL, but I did get to try the XL, it has the same size shell but with different lining and cheek pads. The XL was very snug, and with padding that's a little smaller would be great. It was recommended that I get the XXL lining and the fit would be perfect. It was. Changing the pads over was quick and easy, as they are designed to be removed for washing..
(Note: Just as we found out that an XXL helmet is an XL shell with XXL lining and cheek pads an XS helmet is a S helmet with XS lining and cheek pads.)
Let me tell you there is nothing more comfortable than a helmet that fits perfectly right off the bat, and the D3 does just that. I remember when I had previously purchased new helmets, it would take weeks of riding, and pain, for the helmet to shape to my head…or my head to the helmet which is how it felt most of the time.
Not only was the D3 comfortable but it offered greater peripheral vision than any other helmet I have used in nearly 30 years of BMX racing. The D3 really checks the boxes when it comes to a quality helmet. Add to everything else a lightweight feel and you have what I call a perfect helmet. Something that doesn't distract you from your riding or racing, and let's you get on with getting to the finish line as quickly as possible, or even over the jumps as high as possible.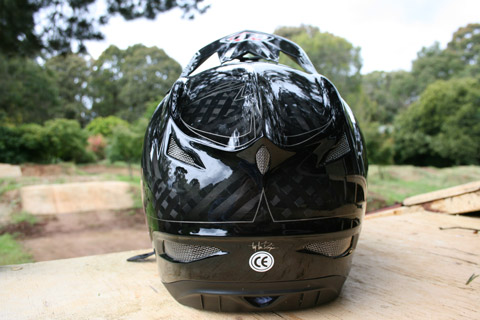 The only one problem I had with the helmet was using the chin strap and the D shackles. The chin strap was probably a little shorter than I needed it to be with big clumsy fingers so it made it a bit fiddly with doing it up and undoing it with gloves on. After using the ECHO helmet clips for so long it's just easier to use the after market clip, so the first thing I did was invested in a new ECHO helmet clip which also meant I got a little more length out of the chin strap.
Like any other piece of high-end BMX racing equipment you will get more life out of it if you take care of it, don't throw it or drop the D3 on the ground and it will be there for you when you need it most. We also noticed that mud and goggles don't mix well with a nice shinny helmet, make sure your helmet and goggle strap are clear of mud to prolong the glossy look of your helmet.
I have to mention the ventilation. It's simply amazing how well it works. Even with a black helmet on a hot day the air flow and the materials in the lining work wonders on keeping the sweat and heat down.
A few of additional things we should mention; The side screws for the visor are titanium, so unlike the soft alloy side screws in other helmets these aren't going to get out of shape after a couple of adjustments. Under the visor is an emergency information sticker, a nice to have in the case of emergency as are the emergency cheek pad removal tabs which allow easy removal of the cheek pads aiding in easier removal of a helmet from an injured rider.
The D3 helmet is one of the more expensive helmets that can be used on the BMX track and may still be out of reach for some, but when you need to put a price tag on your head, what is it worth to you? Troy Lee Designs helmets are a lot more affordable than when they first hit the market but still very high quality. We highly recommend them and wish we had looked into them much earlier. While reading through the Owner's Manual we found a crash replacement policy where if the helmet was damaged in a crash you get a 30% discount off the retail value of a replacement. Not a bad deal.
The D3 helmet comes with 2 visors (1 spare), a bowling ball style bag that's just big enough to fit the helmet – a nice touch I must add.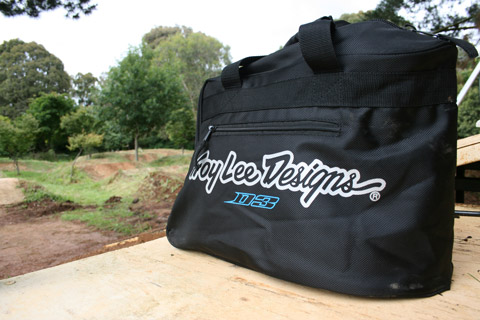 For the weight conscious, the D3 is a little heavier than a D2. My XL shell with XXL pads weighs in at 1.2Kg.
Available sizes: X-Small (52-53cm), Small (54-55cm), Medium (56-57cm), Large (58-59cm), X-Large (60-62cm) & XX-Large (63-65cm).
I'd like to take the opportunity to thank Troy Lee Designs for considering the big heads, and recognising that we need protection too.
Check out the D3 mini site http://www.troyleedesigns.com/helmets/d3/ for the latest designs and additional information.
A note to our Aussie readers: Remember to buy local and support the Australian BMX industry. We do! Thanks to the Australian distributor, Steve Cramer Products, the price of Troy Lee Designs products is very competitive. Support those who support you.
Rating
20/20:
| | |
| --- | --- |
| Value for money: | 5/5 |
| Weight: | 5/5 |
| Functionality: | 5/5 |
| Looks/Finish: | 5/5 |
Comments:
The Troy Lee Designs D3 is state of the art protection for your head that has to be worth every cent
The D3 is one of the lightest race helmets on the market
Unbeatable protection, vision, weight, ventilation, comfort and style, what more could you ask for?
There's no doubt Troy Lee Designs set the standards when it come to helmets, no stone is left unturned to make sure the D3 helmet is perfect in every way.
Troy Lee Designs is Distributed in Australia by Steve Cramer Products. For more information about Troy Lee Designs check out www.troyleedesigns.com
Reviewed by Shane Jenkins/bmxultra.com December 21, 2010
Posted in: Race Clothing · Reviews