Formula Bicycles are an American company that have been around for some time now and made popular by the little man with the big heart, Donny Robinson, who is no longer with the team. But with riders like Warwick Stevenson, Jonathan Suarez, Alise Post and Arielle Martin in the crew you can be assured they have what it takes to get champions across the line.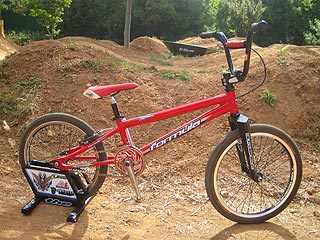 I asked Jamie "Trash Can" Bullows to check out the Formula because he has a habit of breaking bikes, and well basically he needed a replacement. If anyone was going to find a fault in the Formula Nucleus it would be him. Since it would be his ride I asked him to pick his colour scheme and size, there are a whole lot of combinations. For starters there are 30 sizes (from ultra minis to Pro XXL in both 20″ and cruiser), then you have three frame colours (white, black and red – custom is also available), then there is a choice of five decal colours (silver, red, blue, pink or gold).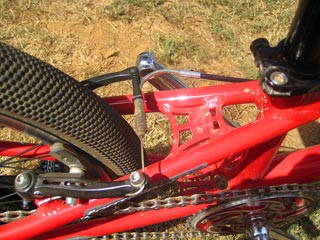 Created out of 6061-T6 Aluminium which is heat treated and includes a CNC'd headtube, boittom bracket shell, and rear drop outs, the Nucleus is fully loaded. Just to add to the level of customisation you can buy either Taiwan or US built.
Jamie loved the look of the frame, and why wouldn't he?He basically designed it when he ordered it. His opinion changed a little when he built it though. He was a little worried about how low profile it looked so it took him a while to make the plunge and start riding it full time. After a few rides he realised that there was no problem it just looked super low. Now he swears by it.
Jamie is very comfortable with the Nucleus now, whether it be jumping, gates, racing or even dirt jumping.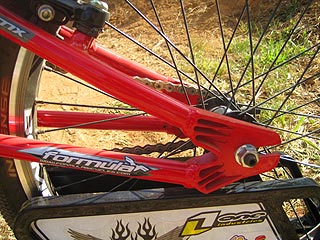 When you take a look at the frame it is designed to minimise flex. The CNC'd seat stay and chain stay are a nice touch, minimised to the point to keep the weight off but big enough to keep everything nice and stiff. The 3D CNC'd dropouts look over engineered, but will certainly keep the flex out of the rear of the frame.
Whether you are after a US or Taiwan made alloy frame the Nucleus might be worth considering.
Rating
17.5/20:
| | |
| --- | --- |
| Value for money: | 5/5 |
| Weight: | 4/5 |
| Functionality: | 5/5 |
| Looks/Finish: | 3.5/5 |
Comments:
A frame that you can customise and if you want to save $$ you can buy Taiwan made
The weight is comparable to other alloy frames
She'll do the trick
Looks a little weird at first with the low profile, but it will grow on you.
Check out www.forumlabicycles.com for more info
Reviewed by Jamie Bullows and Shane Jenkins/bmxultra.com Mar 27 2008