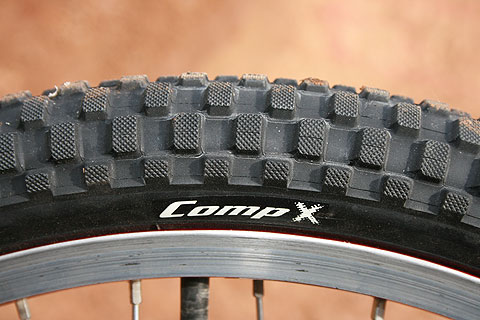 Over twenty five years ago Tioga produced the most innovative tire in BMX, the Comp III, which is still relevant today and often found on current model complete bikes. Recently Tioga produced the Power Block, a racing specific tire that focuses on power transfer and stability through corners while still providing superior grip in most conditions. In between the two very different designs there have been various other tread patterns come out of Tioga none of them made the same impact as the Comp III or the Power Block. There is the quiet achiever though, the Comp X, which seems to have been hiding in the shadows.
I first came across the Comp X tire about 4 years ago and was pleasantly surprised with what it had to offer. As we head towards the wetter part of the year, here in Australia, it's time to put the Power Block tires away, they provide great grip, when it's dry, which is what they were designed for. The Comp X is an all-rounder, marketed for dirt jumping, street or park, but is as good as any other tire on the race track, no matter what the conditions. After slipping a couple of times on a damp track with Power Block tires on I knew it was time to switch to a chunkier tread. I was time to get back on Comp X tires. Right away there was a noticeable difference, grip and reliability was all I needed and the Comp X provided great grip regardless of the surface; clay, granetic sand or cement. Ok so there is no special tread technology for increased power transfer, the Comp X was designed well before the Power Block, but when it comes to being able to ride, or even race and still be competitive in looser and wetter conditions the Comp X didn't let me down.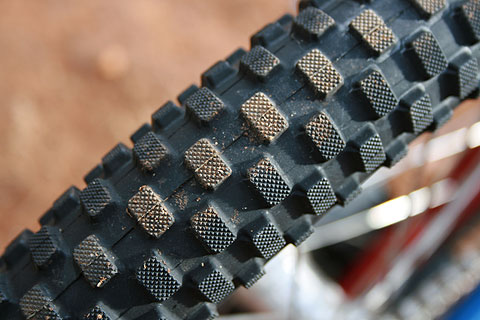 The block pattern is well spaced, so it's unlikely that you would get a build up of dirt or mud, meaning you would always have clean tread and good traction. The tire is also directional to allow you to get good bite into the surface both with the crisp edge on the front side of the tread block and the extra tapered or ramped support on the back side of the tread blocks. The tread pattern is low profile enough so you don't feel any movement through the tread and are reliable if you are powering out of the gate or hammering through a corner.
Although rated to take 35-65 psi the Comp X tires seem to cope well with my preferred 80 psi where some other tires tend to warp.
If you are like most other BMXers and don't want to have to change tires, or even if you are looking for a good tire tread for poorer conditions the Comp X is well worth considering.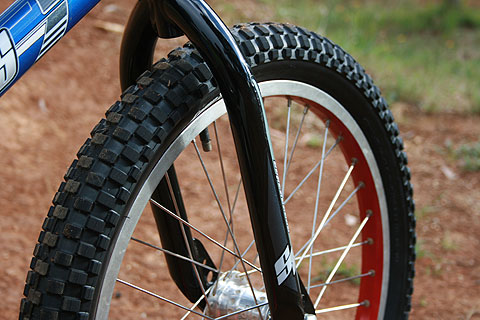 Sizes:
24 x 2.10 (20.81 Oz; 590g)
24 x 1.75 (18.34 Oz; 520g)
20 x 2.10 (17.64 Oz; 500g)
20 x 1.75 (15.87 Oz; 450g)
20 x 1.50 (14.29 Oz; 405g)
20 x 1-3/8 (10.94 Oz; 310g)
20 x 1-1/8 (9.52 Oz; 270g)
Rating 19.5/20:
| | |
| --- | --- |
| Value for money: | 5/5 |
| Weight: | 4.5/5 |
| Functionality: | 5/5 |
| Looks/Finish: | 5/5 |
Comments:
A great all-rounder
A great mid-weight tire with plenty of grip
Did I say great grip? In Comp X we trust
The Comp X look more like a tire a dirt jumper would run, but they are superb on the race track
Reviewed by Shane Jenkins/bmxultra.com April 17 2008