DVD: Jackass presents Mat Hoffman's tribute to Evel Knievel DVD
Ok let's think just for a minute, the name of the DVD "Jackass presents: Mat Hoffman's Tribute To Evel Knievel" conjures up all sorts of chaos and carnage, or maybe that's the Jackass involvement. Well it's not the entire Jackass crew, really it's just Johnny Knoxville, the king of the crazies. It's less of the sort of Jackass antics that we have come to expect and a lot more of a dedication to a legend. That said Knoxville does add to the entertainment. Mat Hoffman is a great presenter, but I don't think the DVD would be quite the same without Knoxville's "f*&k it, I'll try anything" attitude.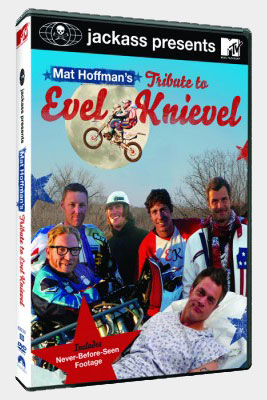 Ok so here's the deal, Mat Hoffman was a friend of Evel Knievel's so to pay tribute to his friend and the legend that inspired a generation of extreme sports enthusiasts Mat pull together a motley crew of absolute lunatics, we've already mentioned Knoxville. But how does this star studded cast sound? Travis Pastrana, Trigger Gumm, Scott Palmer, Allan Cooke, David "Psycho" Halford, Jeff Schneider, even hollywoods own Spike Jonez makes an appearance and it's hard to forget Midget Mike who steals the show. Well that is until Knoxville pushed things a little too far, more about that later.
Jeff Schneider attempts to pull off a backflip into a foam pit on a Harley not unlike the bike that Evel used to use. In the same session we see Spike Jonez trying a backflip on a fast 50 into the same foam pit. Knoxville was bighting at the bit to get in amongst the action and didn't let the fact that he can't ride a motorbike get in the way. After a couple of piss funny failed attempts at keeping the fast 50 vertical he finally hits the ramp, the fact that he even got that far outweighs how far he managed to pull the flip around.
Allan Cooke and David "Psycho" Halford represent the BMXers, they get towed in to a huge kicker ramp originally to attempt record distance jumping. After throwing in the towel on that idea, they set records for the worlds longest back flip, longest tail whip, I think Phycho even managed to pull the longest jump to face grind, there were some massive jumps and, yes, massive crashes too.
Trigger Gumm tries to break Robbie Maddison's motorcycle distance jump record only to find the weather and the under prepared run up wouldn't allow him to do the speed required for that kind of distance. Run after run Trigger gets further and further until he finally pulls the pin, keep an eye out on this guys though, he desperately wants his distance jump record back. He used the opportunity to take Midget Mike on his bike and set a record for the longest tandem jump.
Scott Palmer is a skydiver who tries something new, jumping "from a perfectly good plane without a parachute", that's not all there is to Palmer though he gets amongst it when Pastrana hits the back flip ramp.
The massive jump fest ends with Travis Pastrana and friends back flipping and trying to pull off a whole bunch of other unusual tricks. Not many of them are landed but look super cool. Midget Mike saves the day again jumping on Pastrana's bike for a record breaking tandem back flip. Knoxville gets the run down from Pastrana, even Midget Mike gives him a few pointers, and has a go on the big bike. It was all fun and games until Knoxville really messed up and the bike landed on top of him, the results were serious enough for Knoxville to get dragged off to hospital for a short stay with a torn urethra. The quote of the show was when Knoxville was in the ambulance and said "I've just injured the only body part that means anything to me".
If that wasn't enough for you the special features on the DVD provide you with a whole lot of Jackass style antics that went on behind the scenes or ended up on the cutting room floor. There's a nice little interview with Mat Hoffman about his career in BMX and inspiring short documentary about Stephen Murray based around his devastating crash and how it's affected him, his family and his friends.
The feature runs for 47 minutes with over an hour of bonus content.
Oh and I should point out this is an uncensored version of the DVD, so there should be a language warning for all parents looking at buying this for their kids.
The DVD is set for release in the US on May 27, 2008 with a suggested retail price of $US24.99.
Rating 20/20:

| | |
| --- | --- |
| Value for money: | 5/5 |
| Action: | 5/5 |
| Entertainment: | 5/5 |
| Looks/Finish: | 5/5 |
Comments:
Crazy stunts, crazy crashes, crazy athletes and Johnny Knoxville, it's a DVD I'll be watching over and over again.
There's plenty of action for everyone crammed into a great show.
You will be riveted to the TV by this Evel Knievel tribute.
Awesome angles, great editing, you don't miss a second of the action or the carnage. I don't know how you could expect anything else.
Check out http://www.jackassworld.com/blog/category/evel-tribute/ for more information, there's plenty of sample clips and images.
Reviewed by Shane Jenkins May 19, 2008