Tektro Donny Robinson Signature Brakes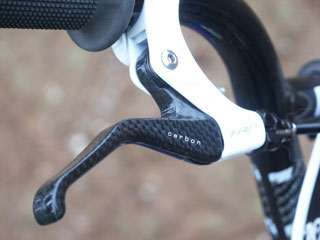 Tektro have gone through a minor rebranding, refering to themselves now as TRP. Short for Tektro Racing Products.
With this new branding comes some new designs in their product range and for the first time that I can rememeber a signature range of brakes for BMX racing. The Donny Robinson box set.
The DR box set has all the latest features that TRP offers:
The new hollowed out, almost skeletal, forged alloy arms. Designed to reduce weight but maintain the maximum possible braking power.
Weight: 154grams
Kool Stop cartridge brake pads for maximum grip on your rims.
Titanium bolt kit.
Choice of brake lever with either a Carbon Fiber blade or Magnesium.
Weight: (Carbon) 80g or (Mag) 83g.
The box set comes with a high quality brake cable that's pre-cut.
Ok, so, Donny Robinson is a little man, but don't think for a moment that these are little brakes, for little bikes, they are full size two finger brake levers. The levers also feature a hinged clamp so you don't need to remove your grips to get the brakes off.
Limitations
Right brake lever only.
Only available in White.
The pre-cut cable is a little shorter than usual.
I did a little checking and it seems that the DR box set is only special because it comes as a complete kit, painted white with the DR signature graphics. The lever and the brake arms are sold seperately and are available in a Silver colour. All the other features are exactly the same. If you prefer silver or would like just the brake lever check out TRP's BX4-Carbon or BSX4-Mag levers and if you are after the arms the M920 arms come in black.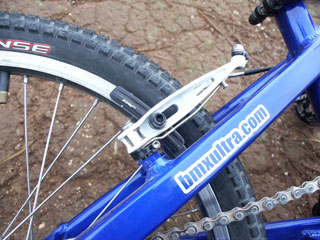 After all that how do they perform? Well I'm glad you asked. Because, out of the box, these are the best performing brakes I have used. I was impressed with more basic Tektro model brakes, but the cables needed stretching at first and the brake pads required a bedding in period. Not with the DR box set though, the better quality Kool Stop brake pads and cable made a world of difference.
Rating
19/20:
| | |
| --- | --- |
| Value for money: | 5/5 |
| Weight: | 5/5 |
| Functionality: | 4/5 |
| Looks/Finish: | 5/5 |
Comments:
You could buy some cheaper brakes put in some good pads and a cable and might get similar braking power, but will you get the weight savings too?
You would be struggling to match this weight for a BMX racing brake.
Perfect reliable braking right off the get go. If you don't use a right lever you will have to consider other options.
Very clean, slick and functional design. The white really stands out.
For more information about TRP brakes check out www.trpbrakes.com
Reviewed by Shane Jenkins/bmxultra.com June 30 2008