There are few products I will see and instantly think I have to get my hands on it. The S&M Motoman chainwheel is one of those things. When I did get my hands on one it went straight on my race bike.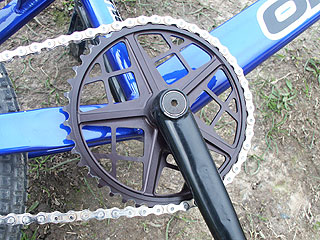 While installing the sprocket I noticed there is a whole lot more to it than the old school Mongoose Motomag stylings. It had a 15/16″ center bore, but came equipped with 19mm and 22mm steel hat washers to adapt the chainwheel to pretty much any crankset. Not only that but the Motoman was actually quite light and comparable in weight to the popular Profile sprockets. The Motoman is built to last as it's 3D cnc'd from 7075 T-6 alloy.
One problem I have had over the years with chainwheels is the chainwheel bolt chews out the hole, leading to movement and eventually requiring replacing the whole chainwheel before it's actually worn out. It looks like S&M have addressed this issue by making the chainwheel bolt hole the thickest part of the chainwheel.
The most important thing to any serious BMXer is the Motoman runs straight. Dead straight.
This sucker is a must have for old school BMXers or for anyone who wants a damn good chainwheel.
The S&M Motoman is available in 39,40,43 and 44 tooth and a choice of black or silver.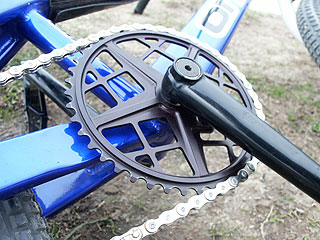 I love the Motoman, I want one for all my bikes.
Rating
20/20:
| | |
| --- | --- |
| Value for money: | 5/5 |
| Weight: | 5/5 |
| Functionality: | 5/5 |
| Looks/Finish: | 5/5 |
Comments:
Made in the USA with the best quality materials, what more could you ask for?
The 44 tooth weighs in at 5.5oz (around 156grams)
A straight chainwheel from a brand you can trust, perfect!
This is the coolest looking chainwheel on the market right now
For more information about S&M Products check out www.sandmbikes.com
Reviewed by Shane Jenkins/bmxultra.com July 10 2008
Posted in: Chainrings · Reviews