The S&M Redneck stem has been around since 1993 and has always been highly regarded. Like all S&M products the Redneck stem has undergone many refinements, the result – so far – is the Redneck XLT.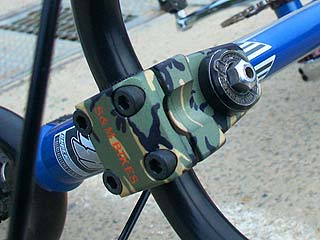 The front loading Redneck XLT stem is made in the USA out of CNC'ed 6061 alloy and has high grade (grade 8) allen head bolts. It comes packaged with a 6mm allen key and a S&M sticker, a nice touch.
Since the release of the Redneck XLT stem there have been various limited edition colours available, like the inferno, camouflage (as seen in photos) and the patriot (a must see for any red blooded American). The standard colours are black, gold, red, raw or flat silver.
The Redneck XLT comes in just one size. It has a 8.5mm rise and 53 mm reach which should suit pretty much any BMXer over the age of 14. The stem is designed to be run either way up so if you are looking to lower your bars 8.5mm this stem has you covered, you just need to flip it.
Weighing in at 11.3oz (320grams) isn't the lightest stem on the market, if you are looking for light check out the S&M race XLT stem. It has the same 53mm reach a 24mm rise (it's a top loader) and weighs 10.5 oz (300grams).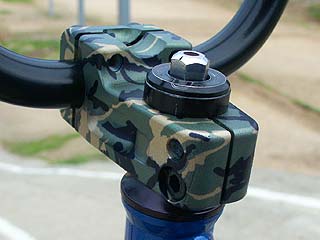 When doing gates, jumping and just generally riding I found the stem stiff and stong, exactly what you would expect from a quality product. This is a stem you can depend on. Though if you aren't confident that you can do the bolts up tight enough yourself, have your local bike shop fit it for you.
For a strong and reliable front loading stem check out the Redneck XLT.
Rating
20/20:
| | |
| --- | --- |
| Value for money: | 5/5 |
| Weight: | 5/5 |
| Functionality: | 5/5 |
| Looks/Finish: | 5/5 |
Comments: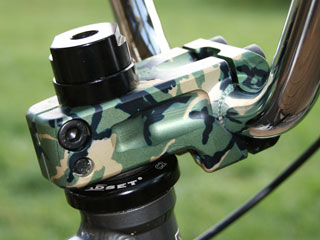 Made in the USA with high grade materials, built to last
A great weight for a front loader
There is no doubt about it, this is a stem you can rely on
The finish of this stem is second to none, it looks fantastic, and if the colours aren't up your alley check out the limited edition runs. You are bound to find something that suits your style.
For more information about S&M Products check out www.sandmbikes.com
Reviewed by Shane Jenkins/bmxultra.com July 14 2008