Supercross ENVY BLK Carbon frame
I've been around the sport of BMX racing for a very long time, since before the dawn of time some would say. Over the years I have tried many products created from a wide range of materials. For me personally, I'd found the ultimate ride in my Supercross 450z cromo frame which has 15mm dropouts and I run a 20mm cromo fork. It's a stiff and strong set up that looks great, essentially it's a modern spin on cromo. The frame was released for Supercross' 25th Anniversary, which is about the same time the Supercross ENVY BLK hit the market. I've said this many times before but it's the smoother ride of the cromo frame that I like, so when the carbon ENVY BLK hit the market the two frames shared the same geometry so I just saw the ENVY BLK as a carbon version of what I have. I didn't get caught up in the marketing hype, I didn't let curiosity get the better of me, and I didn't take the time to ride one to see and feel the difference for myself. Nothing against Supercross specifically, it's a carbon thing. I've always been more interested in function over fashion and, well,  carbon just seemed to be the "flavour of the month" (or so) to me.
When I saw Australian powerhouse Anthony Dean on board a Supercross ENVY BLK carbon frame and was later joined by two time Olympic Champion Latvia's Maris Strombergs, that's when I knew it was time to try to figure out what they saw in the frame that I'd missed. Although plagued with injury and bad luck for a lot of this year Anthony has been riding the paint off his frames, which is the only reason I could think that he would change colours so often. Until this point it just seemed to me that the ENVY BLK was a rich kids toy with a bonus social status attached to it. I was to find out that I couldn't have been more wrong.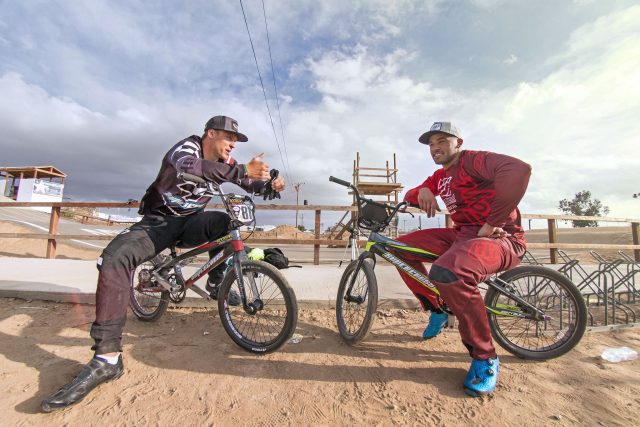 When offered the opportunity to review an ENVY BLK frame I never expected to be left questioning everything I believed.
First Impressions
My first impression out of the box is the Supercross ENVY BLK is a work of art. The detail in artwork is, as always with Supercross, is flat-out awesome! I've always been a strong believer that Supercross kill it with their decals and artwork, you will be hard pressed to find someone else offering more colour options for any frame let alone a carbon frame. I landed the Cyan Blue/White/Cabon colour way which is the original colour combo from when the ENVY BLK was first released. It still looks great and if given a choice it's probably the colour I would have selected anyway given it's very much in line with the bmxultra.com colours. The frame itself doesn't feel much heavier than the box it comes in. Let's absorb that for a moment. This sucker is super light! The basic shape of the frame is very much along the lines of the classic triangles you would expect to see in very traditional frames.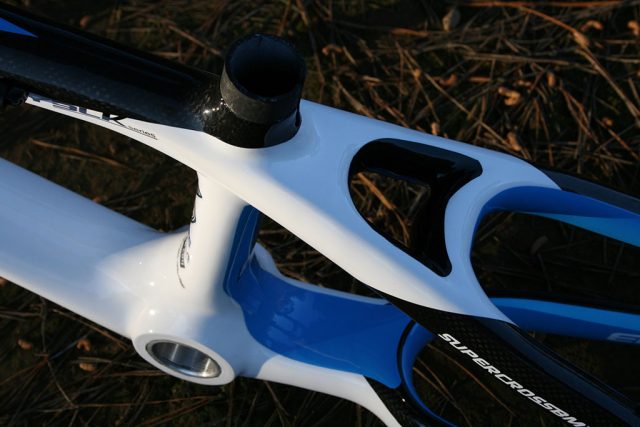 Where it is different though is the shapes of all the "tubing" and the junctions, each one carefully considered to offer maximum stiffness and strength needed to get you to the line fast and in one piece. It's hard to believe that it would take four years of research and design to put a frame to market, but at close inspection where the time had gone, you can see that everything has a purpose, there isn't a stone left un-turned. The rear triangle is reminiscent of a loop tail design on steroids with some FAT 15mm dropouts. The seat mast is flared towards the bottom bracket, as is the top tube to the head tube. The bottom bracket and head tube areas look beefy, but not out of place. The titanium brake posts and dropout plates are a nice touch too. Needless to say the ENVY BLK looks great and screams BUILD ME.
What you will need for the ENVY BLK build
The ENVY BLK frame has 15mm dropouts (for the pro sizes) so you will need either a 10-15mm adapter or a rear hub with a 15mm axle (which is the best option if you want to take full advantage of the frame).
The frame doesn't have built in chain tensioners like a lot of other frames. When looking at chain tensioners you will want to go for a t-bar style like the Speedline chain tensioners. Chain tensioners that screw towards the end of the dropout should be avoided at all costs as they could damage the carbon dropout by screwing directly into the carbon.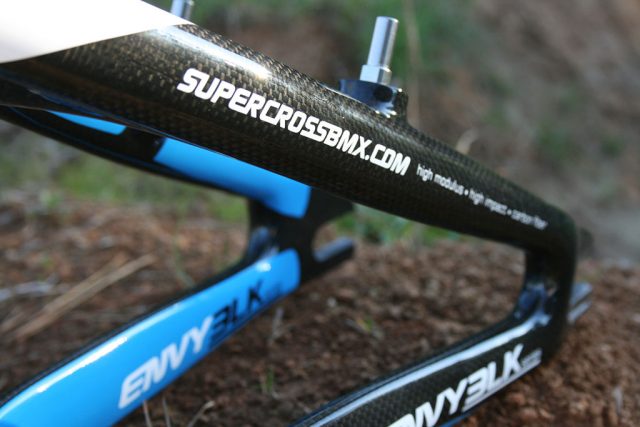 The headset is 1 1/8″ to 1.5″ tapered, common with mountain bikes, to allow for a stiffer front end. You don't have to use a matching tapered fork, you can run your favourite fork with a straight 1 1/8″ steerer tube like Answer Daggers for example but, again, if you want to take full advantage of the frame it's wise to go down that route. A fork crown adapter will allow you to run 1 1/8″ standard forks, Speedline headsets have two crown adapters so you are covered no matter which direction you go.
The kicker with the ENVY BLK frame is that it runs a standard european bottom bracket. A bit of a departure from the direction many of the other carbon frames are heading. While it appears that the others are trying to set new standards, euro bottom brackets are already a great standard for BMX racing that will give you a broader range of products to choose from.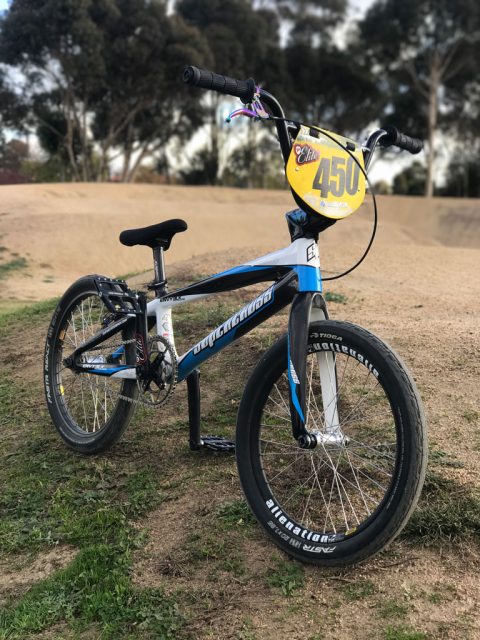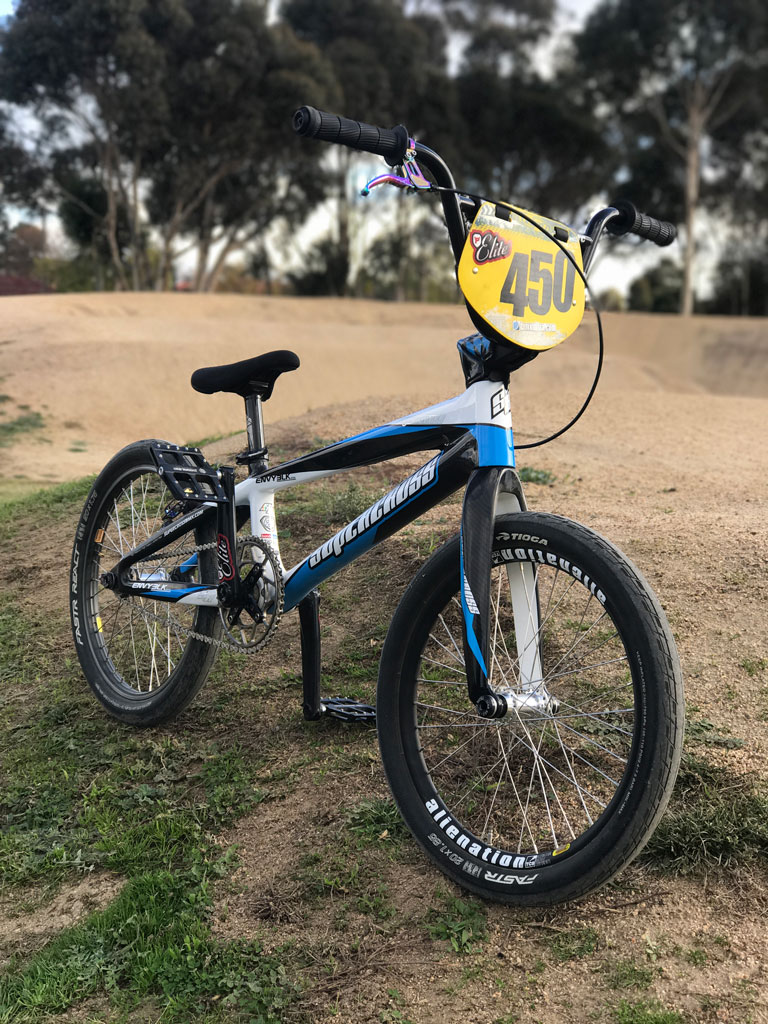 I built the Supercross ENVY BLK with the following parts
Supercross SLT Carbon forks (second generation)
Speedline tapered headset
Profile Push stem
Alienation NYC handlebars
Alienation Backlash grips
Speedline brake lever
Speedline linear cable
Speedline brake caliper
Profile Elite cranks
Profile Elite chain wheel
Alienation Malice/Mischief TCS (Tubeless) compatible rims
Profile Elite 20mm front/Nomad 15mm rear (freewheel) hubs
Profile Elite freewheel
Tioga Fastr tires
Speedline chain tensioners
ACS Crossfire chain
Supercross seat post
Speedline quick release seat clamp
Profile logo pivotal seat
Pedalling Innovations Catalyst pedals
During the build I found that the rear of the ENVY BLK is actually marginally longer than 450z, despite reading it was the same geometry. It wasn't much but I still had to put a longer chain on. Aside from that there were no issues with the build, everything practically fell into place.
Late to the (carbon) party?
In the early 90's Supercross hit the market with a cromo/carbon hybrid frame, most of the frame was cromo but it had a carbon top tube and down tube. While the design didn't take off at the time, and Supercross shelved the idea of working with carbon for two decades, they returned to carbon with one of the most, if not the most, advanced frames to ever be used on a BMX track. Employing the most advanced carbon technologies, materials and manufacturing methods available like Nano Alloy resins, High Modulus Weaves, High Compaction molding processes, this is "Formula 1 and Fighter Jet Technology". While Supercross may appear to have entered the market late, in comparison, the frame was four years in the making. Solid R&D through that time lead to the ENVY BLK that you see today, and I think you will agree it was well worth the wait. We'll touch more on this a little later.
Chain clearance
One thing I find important in a new frame is to have plenty of chain clearance to ensure the chain doesn't damage the frame. It's generally not a big problem because most crank sets, and hubs, provide plenty of adjustment that allows you to align the chain line well clear of the frame.
By running the slightly wider Profile Elite freewheel I had my concerns initially. The same set up works fine on my 450 but I had to run a spacer inside the dropout to get enough clearance from the freewheel body, and the chain clearance is OK, but the freewheel really doesn't have that much clearance, by not much I mean a two to three millimeters.
My big question was "how would it translate to the ENVY BLK?". Believe it or not I was able to remove the spacer and have a lot more clearance between the freewheel and the frame and needless to say the chain clearance also wasn't a problem.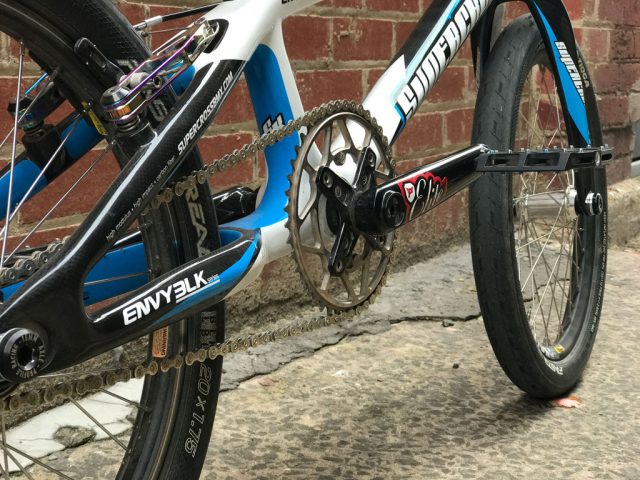 Chainwheel clearance
I found it interesting when I read that all Supercross ENVY BLK frames allow up to a 52 tooth front sprocket, even the smaller sized frame options. Chainwheel clearance is often limiting with frames, forcing riders to compromise and run a gearing ratio they may not necessarily be comfortable with. Supercross have addressed this and future proofed it, allowing riders to experiment with gearing options they would never have thought possible.
Stiff
From my first ride I could think of one word. Stiff! The ENVY BLK is the stiffest bike I have ever ridden full stop, nothing comes close. I found it strange at first, almost like my gearing was a couple of teeth harder out of the gate, but it didn't take long to get used to. Where I have been struggling with my first couple of pedals out of the gate for some time, the stiffer rear end seemed to help and I wasn't the only one to notice. By the end of the first day of riding I'd found that this frame accelerated like nothing else I have ever ridden.  I'm not going to say that this will make a mid field BMXer a national champion. We all know BMX doesn't work that way but it makes your pedalling effort that much more efficient. It isn't difficult to see the advantage from that. An interesting comment that I received was that I was a lot faster on the ENVY BLK than I was on my 450z. It got me thinking, they said I was faster not looked faster. Could it be new bike psych or just a perception thing? I can't really answer that but I can say I certainly felt faster while accelerating.
One thing I noticed about the stiffer ride is you feel every lump and bump through the super rigid carbon frame, especially when paired up with the Supercross BLK carbon forks. I nosed in early on a step up jump coming up short and rather than the bike absorbing a lot of my poor judgement, like I'm used to, I took it through my shoulders and it jarred like nothing I've felt before. I still felt the effects from it weeks later. A hard learned lesson, message to self loosen up a little more for impact don't brace yourself.
I also found the carbon was louder than my cromo frame. The noise from the pawls on my freewheel was noticeably louder, the noise from a miscalculated jump was amplified, even the sound of the track surface flicking up onto the frame was louder. The rumbling of my tires was something I wasn't used to but I started to notice that I could use that as feedback, the faster I was going through a corner the louder it was. I found that was a great way to teach myself to go harder into the corner and used it too. Oh and this thing turns like it's on rails, it's so stable.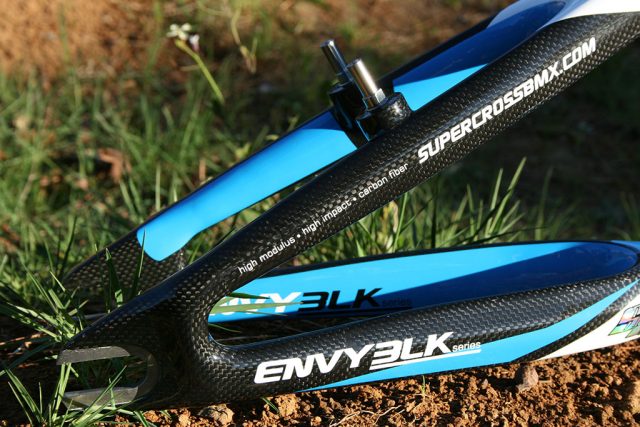 The ride
After my first ride session I sent this email to Bill Ryan from Supercross. The Supercross ENVY BLK really had me thrown as you will see.
Damn you and your sorcery Bill Ryan!
I am a proud long time BMXer who is happy to call myself an average all rounder. I love riding, jumping, hanging out with mates. When you sent me the ENVY BLK frame to check out I had no idea it would make me feel like a racer again. I always thought that I'd found my comfort zone on my Supercross 450z. I couldn't imagine myself riding anything else and you've done this to me. I find myself confused, conflicted but re-energised.
I'll be the first to admit that I imaged I would be the last person to get any benefit from a carbon ride. For me it's been all about using the one bike to do it all. I guess that carbon isn't exactly going to give me that all round experience, that I am comfortable with, but it will help me find my racing legs again, the same legs that left me years ago. Injury after injury left me to reassess my twilight years on a BMX bike and the conclusion was that I was happy just being able to ride. The ENVY BLK has taken me back all those years and then some. I am and always will be a racer at heart. While BMX has created the man I am today and racing is a big part of my life, I think the ENVY BLK will help me create a new path in a future of racing for me that yesterday I didn't think imaginable.
The response? Aside from a chuckle and an "I told you so" Bill pointed out that Supercross team rider Randy Roberts who is around the same weight division as me has been using the ENVY BLK for three seasons as a do everything bike. Racing, general riding and dirt jumping.
So there you have it. It took me one session to completely turn 180 degrees and see there is real benefit in carbon and specifically the Supercross ENVY BLK frame.
I continued to ride the bike for a couple of months to get a real feel for it. Before I'd started with the review I fully expected that I would strip it back and build the 450z again after just a couple weeks. That still hasn't happened.
I'm not one to jump big jumps these days, so I find myself relying on manualling quite a bit. Remember the ENVY BLK has the Supercross geometry so, after getting used to the weight difference, I found it easy to adapt. Eventually I found it easier to hold a manual longer because after the jarred shoulders I didn't want to go through that again. I wouldn't say that my jumping skills have improved during the nearly three months of testing, but it is certainly easier to jump the ENVY BLK which is well balanced in the air and easy to control, which lead to me attempting to jump things I hadn't tried before.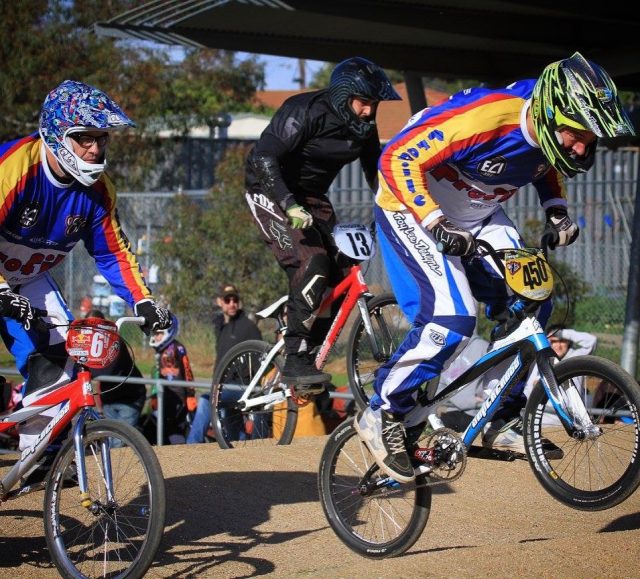 I started questioning myself a little and asked Shaun Collins what he thought of the ENVY BLK. He'd also spent some time on the bike. Here's some of his comments.
"Direct and instant response when accelerating"
"Felt natural and easy"
"I was worried at first that it would be too stiff and harsh as I've felt on other carbon frames"
"I seriously can't wait to ride the ENVY BLK again and I found it difficult to hand it back"
Care
The Supercross ENVY BLK is a big investment, it's not the type of bike you would just throw around, you really want to take good care of it to get the most out of it. If you are likely to travel with it you will have to find a way to transport it without clamping the frame. If you are going to fly with it you are going to need to take extra precautions, we all know how baggage handlers can treat your luggage. So make sure you throw extra padding in the bag to really protect your frame. And while we are talking about flying with your bike the ENVY BLK has removable cable guide clips that allow you to easily strip your bike down for packing.
Even if you were planning on leaning your bike against something I'd double check the bike won't fall and risk any unnecessary impact. Use a proper stand or perhaps just lay it on it's side, it's not likely to fall any further from there.
Cleaning the ENVY BLK is a dream, there are no awkward joins, no hard to get to places. I've been using SC1 to keep the test rig clean and it looks great.
Mini interview with Bill Ryan from Supercross BMX
I thought it would be appropriate to interview Bill Ryan, the guy behind it all at Supercross BMX, and ask about the ins and outs of the carbon Supercross ENVY BLK.
bmxultra.com: What benefits are there from using carbon over more traditional materials?
Bill Ryan: Wow, loaded question, with carbon you are really limited only by your imagination. When we built our first Cro-mo Frame we were limited by the materials available from the mill. Std. Sizes and thicknesses. You couldn't get too creative. Then with Aluminum it was a similar thing, but if you were willing to spend some money and open up some custom tooling, then you could really pretty much do whatever you wanted, shaping, butting, variwall, all started to become a reality. But you were still bound to the constraints of being able to weld it and have dis-similar walls, the weld penetration, etc… With Carbon, your imagination can really run wild. Any shape, thickness etc… that you can get a piece of cloth to fold or be shaped into is available, and the continual monocoque construction, while it is super expensive allows you the freedom to really dream. Not to mention that the Tensile and Yield of Carbon is so much greater than that of Aluminum or Steel.
bmxultra.com: Do you have to have a carbon bike to win races?
Bill Ryan: No, you do not have to have a Carbon bike to win races. Just as you don't have to have Clips, you don't have to have 3pc Cranks, you don't have to have sealed hubs, etc… But if you want the best equipment possible, well then you will want an ENVY BLK.
bmxultra.com: What makes Supercross's ENVY BLK different to other carbon frames?
Bill Ryan: That is a tough question, as without seeing the way the lay ups are done, the molding, the compression and knowing the materials on the other carbon frames, I can't give you a proper answer. I can tell you that we spent a ton of money on research and development to make sure we are using the best carbon fiber from the best supplier, and we pay extra to get the pre-preg material to ensure it is the proper amount of resin, and we spent a ton of money on the proper high compaction tools with the EPS inserts to maximize strength.  Add that all up with our famous Supercross Race Geometry and I think you have a pretty good package.
bmxultra.com: Why did it take so long for Supercross to enter the carbon race?
Bill Ryan: We wanted to make sure we were building the best. And when you do that, you don't rush it. I would rather take an extra year of testing and R&D to make sure it is the absolute best it can be, rather than just rush something to market. 
bmxultra.com: What's the expected life span of a carbon race frame?
Bill Ryan: Trick question, the Carbon's 1/2 life is infinite. So in theory it could be the last frame you ever have to buy. But, we all know that the resin is the weak point in the carbon frames, and as it breaks down due to impact, chipping, crashes etc… that is where you have to look and see. But if you take care of it , it will last you a very long time. Randy Roberts is putting his third season on his right now.  And it is out lasting his Cro-mo Bars and Cro-mo cranks.
bmxultra.com: What can't you do on a carbon frame that you can do on other frames?
Bill Ryan: What can't you do?? Well I don't recommend throwing any bike at the skatepark and letting it hit coping,  I don't recommend bailing from height on any bike at any time. Oh, one thing I can say don't do to any Carbon Frame, Road, Mountain, or BMX, DONT , DO NOT, DON'T EVER , CLAMP IT IN A BIKE STAND ON THE TOP OR DOWN TUBE.
But I don't recommend that for any thin-wall Aluminum frame either.
bmxultra.com: What is nano alloy and how does it help?
Bill Ryan: Nano Alloy is a special Proprietary Resin developed by Torray that allows Carbon to take on the Characteristics of a Steel Tube upon a severe impact where the Carbon will bend and crumple before it shears. It is truly revolutionary and was the main thing that caused me to dig deeper into the Carbon technology as now we knew we could build a frame that would last.
bmxultra.com: When Maris Strombergs stepped on his plain skin Supercross there were rumours that it was a new model envy blk. Do you have any plans to go to a v2 ENVY BLK any time soon?
Bill Ryan: Those were just rumors, and people talking. With tooling costs as high as they are, we made sure we had the ENVY BLK perfect before we launched it so we don't have to spend another $100+ grand on tools.
bmxultra.com: What's the best way to care of the frame? Store it out of direct sunlight? Is there a special cleaning product? Is there something to use to bring back a shine? Car wax or anything like that?
Bill Ryan: It is normal care, yes keep it out of direct sun, the UV will eventually fade the paint. And it's not the best for the resin. And it is an automotive wet paint, so a good car polish, Mothers, Meguires, etc…..
Bill also let us in on some news of the next round of expansion with two additional sizes.
I will let you know, and you can leak this out, I am doing an Expert XXL carbon, Bella was the test monkey for the first Carbon Expert, and will be on the very first Carbon Expert XXL after she gets back from Colorado after the Worlds.
He went on to say they would also be adding a Pro XXXL to the line up. Which Supercross also mentioned on social media this week.
Manufacturer's Description
NOT ALL CARBON IS CREATED EQUAL.
Just as with aluminum and steel, there are different grades of material for different strengths and needs. We have been working with some of the worlds leading carbon suppliers on the ENVY BLK for almost 4 years, ensuring that our High Modulus / Nano Tube Carbon is the best material available to build you the Lightest, Stiffest, Fastest Carbon Race Frame Possible.
People ask is Carbon a "Fad". It is the same type of people who asked if Aluminum was a fad. Look at the track today, 90% or more of all the race bikes are Aluminum. Carbon is the next level progression, and with the technology advancing as it has with the new Nano Alloy resins, High Modulus Weaves, High Compaction molding processes etc… You can see why Carbon is the direction everyone is headed.
When we first started working on our new Carbon Frame in 2007, we ended up choosing Aluminum, as the Tubing we were able to get from Easton® at the time allowed us to build a Lighter, Stiffer, and Faster frame with Aluminum. And with that, in 2009 we introduced the Supercross ENVY which has been the lightest production race frame in the world for the last 5 years and counting.
But times change, and the advancements in carbon materials and building technology have led us to produce the new ENVY BLK. It is the most advanced Supercross Frame built yet. From it's High Modulus Carbon, the Low Void compaction, and Nano Alloy resins, it seriously uses Formula 1 and Fighter Jet Technology to build you a Superframe.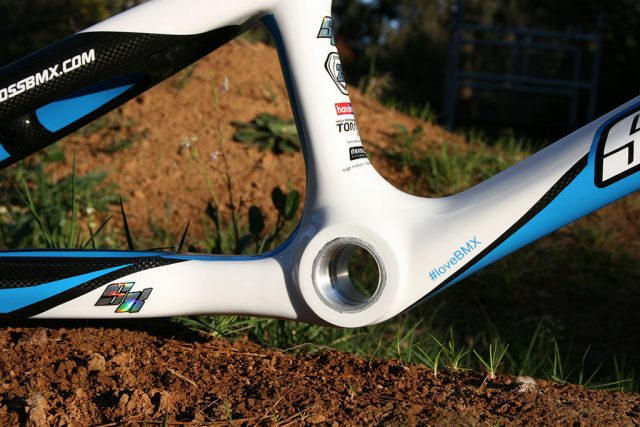 All the sheets of Torray T700s Pre-Preg Material is precision cut to exact shapes and then hand laid into our STEEL compression molds which hold our material forms in the 3d optimized shapes needed for the ultimate in strength and stiffness, all while allowing the compliant ride you are looking for to ensure powerful gate starts and ultra fast cranking for the 3rd and 4th pedals.
Available in 4 Pro sizes, Pro, Pro Plus, Pro XL and Pro XXL and now Junior , Expert and Expert XL sizes as well!
If you are serious about wanting to win, and want only the best, be sure to look at an ENVY BLK at your favorite Supercross BMX dealer when shopping for your new frame. We guarantee you will be impressed.
Please note, the Frame is sold Frame Only.
NOTE
Remember, you can always run a regular 1 1/8″ fork with your ENVY v5 until you get your Supercross SLT Monocoque Tapered Steertube fork. Just grab a Speedline 1 1/8″/1.5″ Sealed Integrated Headset. Want to run a Supercross SLT, no problems, Answer Dagger, got you covered, a Speedline Pro Carbon, easy and done.
Features
1 1/8 to 1.5″ tapered headset on Pro sizes
1 1/8″ headset on smaller frames
Euro bottom bracket
15mm drop outs on Pro Size
3/8" (10mm) dropouts on Junior, Expert, and Expert XL
Geometry
| | | | |
| --- | --- | --- | --- |
| ENVY BLK Carbon | Junior | Expert | Expert XL |
| A. Top Tube Length | 18.5″ | 19.5″ | 20″ |
| B. Chainstay length | 12.5″ | 13.75″ | 14.0″ |
| C. Steertube Angle | 73.5º | 74º | 74º |
| D. Seat Tube Angle | 70º | 70º | 70º |
| E. Bottom Bracket Height | 10.7″ | 11.2″ | 11.2″ |
| Seat Post Size | 22.2mm | 22.2mm | 22.2mm |
| Headset Type | Campy Integrated | Campy Integrated | Campy Integrated |
| Wheel Size | 20″ X 1″ | 20″ X 1 3/8″ | 20″ X 1 3/8″ |
| | | | | |
| --- | --- | --- | --- | --- |
| ENVY BLK Carbon | Pro | Pro Plus | Pro XL | Pro XXL |
| A. Top Tube Length | 20.5″ | 20.75″ | 21.25″ | 21.75″ |
| B. Chainstay length | 15.0″ | 15.0″ | 15.2″ | 15.2″ |
| C. Steertube Angle | 74.5º | 74.5º | 74.5º | 74.5º |
| D. Seat Tube Angle | 70º | 70º | 70º | 70º |
| E. Bottom Bracket Height | 11.6″ | 11.6″ | 11.6″ | 11.6″ |
| Seat Post Size | 27.2mm | 27.2mm | 27.2mm | 27.2mm |
| Headset Type | 1 1/8″ – 1.5″ Integrated | 1 1/8″ – 1.5″ Integrated | 1 1/8″ – 1.5″ Integrated | 1 1/8″ – 1.5″ Integrated |
| Wheel Size | 20″ X 1.75″ | 20″ X 1.75″ | 20″ X 1.75″ | 20″ X 1.75″ |
Believe the hype! Carbon is real!
At the elite level of BMX racing, when raced are won by thousandth's of a second, riders will do anything they can for an advantage. A lighter frame that can milk every last bit of power through the drive train would be high on the agenda. As with all industries the technologies for the elite is quickly adapted by the masses. The Supercross ENVY BLK is one of the most popular of all carbon frames on the market, despite being newer to the market than others like Redline and Prophecy to name a few.
I can't believe it myself but I have found the Supercross ENVY BLK the best damn race bike I have ever ridden and have discussed with Supercross the possibility of keeping it. I don't need a new bike, but if I can keep training I know the ENVY BLK can help me achieve results that I wouldn't have considered just a few month ago.
Do yourself a favour, if you have the opportunity to test ride a Supercross ENVY BLK take it, you can thank me later. Believe the hype! Carbon is real!
Oh and if you want to check out the colour range head over to www.supercrossbmx.com
Gallery
Rating 20/20
| | |
| --- | --- |
| Value for money: | 5/5 |
| Weight: | 5/5 |
| Functionality: | 5/5 |
| Looks/Finish: | 5/5 |
Comments
The Supercross ENVY BLK is one of the more expensive frames on the market. It's loaded with technology and backed up with years of R&D. If you are just looking for a frame for racing you don't have to have an ENVY BLK. If you are looking a high performance frame, the "Formula 1" of BMX racing then this is it.
You will be hard pressed to find something that is as stiff, strong and as light as the Supercross ENVY BLK in the featherweight carbon frame division.
I can't fault the ENVY BLK as a race frame. It is the Formula 1 of BMX racing. Squeezing every last drop of your effort and producing maximum efficiency to the back wheel.
Just try finding a better looking frame that's had so much consideration, that's painstakingly hand crafted and is absolutely seamless.
Australia specific information
Supercross BMX is distributed in Australia by www.bmxcompound.com.au
Reviewed by Shane Jenkins/bmxultra.com August 11, 2017
Posted in: Frames