Greg Hill and his brand Greg Hill Products (GHP) have a rich history in the BMX race scene. Greg Hill is simply a legend in BMX racing, with a long list of accolades including USABMX Hall of Fame inductee. The GHP brand first hit the scene in 1983 where it ran until 1986, it was revived in 1991 until 1993 and then finally again in 2005, they are still running today.
In 2009 I reviewed a GHP Pro XXL frame, the thing is I enjoyed it so much I kept riding and racing it for 6 months. To have the opportunity to have a close look at the fresh new 2014 frame was exciting to say the least.
The 2014 frame certainly looks a lot different, sure it still has that signature GHP bend in the seat stays behind the seat mast, but the similarities end there. It now has the integrated headset, hydro formed top and down tubes, 3D CNC machined rear dropouts and of course, the new decals/colour options.
For the review we built up the bike with Profile cranks with the outboard bottom bracket and spline drive spider set up, dagger forks, Alienation Royal hubs with Runaway/Deviant rim combo, Tioga Powerblock/Powerband tires, LDC brakes, FIT bars, Alienation slider seat & pivotal post. We think it looked great.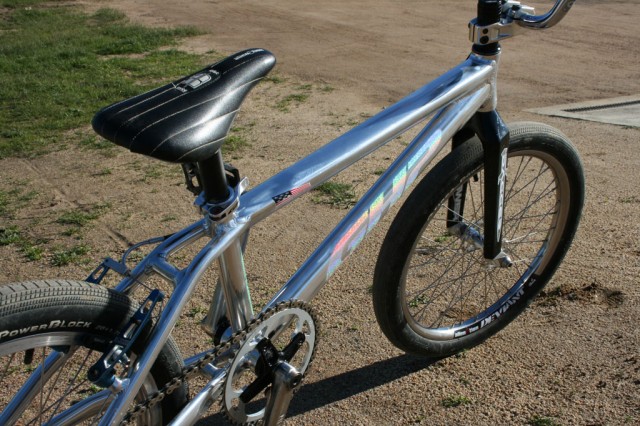 Features
New dropouts and chain stays
Integrated head tube
Fresh new look, stronger than ever and extremely light weight
GHP BMX frames utilize race proven geometry with double-butted 100% aluminum frame tubes
reinforced head tube gussets
oversized downtube
CNC precision machined head tubes and euro bottom brackets
3D CNC machined rear dropouts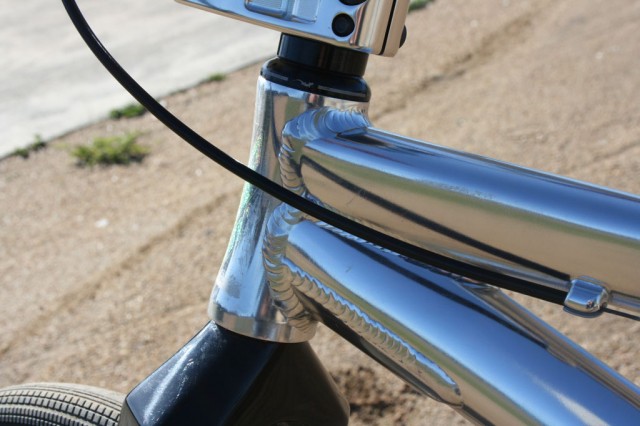 Geometry/Weight
GHP claim their 2014 frame is lighter but how does it compare to some of the market leaders?
The GHP Pro XL weighed in at 3lbs 7oz.
Here's how it stands compared to other Pro XL frames like the
Supercross ENVY V5 weighs 2lbs 15oz
Chase's RSP 2.0 weighs 3lbs 5.5oz
DK's Professional V2 weighs 3lbs 8oz
SSquared CEO Race frame weighs 3lbs 14oz.
The GHP is no "super light-weight", but it holds it's own amongst some of the biggest names in the business and it does it with a smaller price tag.
| Size | Top Tube | Head Angle | Chainstay | Seat Tube | Head tube | Weight |
| --- | --- | --- | --- | --- | --- | --- |
| Mini | 17.75″ | 71 | 13.75″ | 22.2mm | 1″ | 2lbs 10oz |
| Junior | 18.50″ | 72.5 | 13.75″ | 22.2mm | 1″ | 2lbs 12oz |
| Expert | 19.25″ | 72.5 | 13.75″ | 27.2mm | 1 1/8″ | 3lbs 2oz |
| Expert XL | 20″ | 73.5 | 13.75″ | 27.2mm | 1 1/8″ | 3lbs 2.6oz |
| Pro | 20.75″ | 74 | 15″ | 27.2mm | 1 1/8″ | 3lbs 6oz |
| Pro XL | 21.25″ | 74 | 15″ | 27.2mm | 1 1/8″ | 3lbs 7oz |
| Pro XXL | 22″ | 74 | 15″ | 27.2mm | 1 1/8″ | 3lbs 9oz |
| Junior Cruiser | 18.75″ | 71.5 | 14.25″ | 22.2mm | 1″ | 2lbs 13oz |
| Expert Cruiser | 20.25″ | 73 | 15″ | 22.2mm | 1 1/8″ | 3lbs 3oz |
| Pro Cruiser | 21″ | 73.5 | 15.5″ | 27.2mm | 1 1/8″ | 3lbs 9oz |
| Pro XL Cruiser | 22″ | 73.5 | 15.5″ | 27.2mm | 1 1/8″ | 3lbs 9.8oz |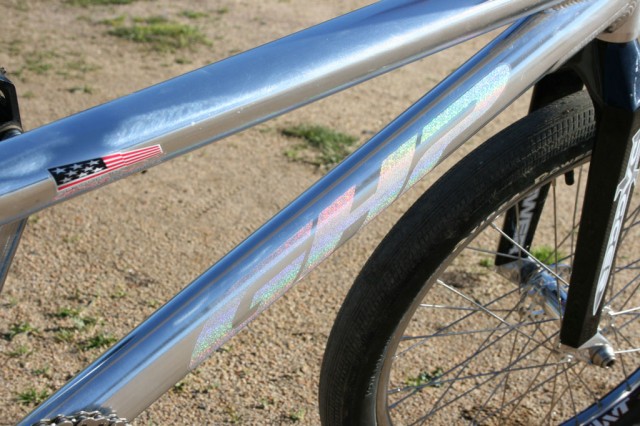 Stiffness
There seems to be a trend in building frames that are super stiff especially in the rear end, mostly headed up by CCH and Doublecross, Supercross and DK to an extent as well. With the straight guage seat mast and narrow setting where the chainstays join the bottom bracket shell you can see that the GHP race frames have a different approach. We asked Greg what the theory was, this is what he had to say
The stiff factor is much over rated in BMX I believe, a frame too rigid loses power. This is not what people tend to think, but it's physics my friend. Energy needs to keep moving and when frame is too stiff it stalls the energy and the result is less power to the ground. Most companies are on a no flex kick, and I get it, that is what people want, but once a rider does a session or 2 on our frame and a few sprint sessions I think we usually get about 90% of the riders telling me things like.."My gear feels easier", "I can get moving down the first straight faster", "it turns better" and I am not making this up it's what people say to me. Everyone has their own opinions and I am not saying we are better than anyone else, but I think we have a good thing. Give it a few sessions and let me know what you think?
After a few sessions I'd found that it was stiff enough to still get plenty of power down through the drive train. A problem I'd had with the CCH SuperCup, at least initially, was I was struggling with the rigidity of the frame, the first couple of pedals felt deader than usual, almost as if the gearing was harder. After 30 plus years of racing with a variety of frames over those years, I'd grown accustomed to some flex in the bottom bracket area, it's definitely not a bad thing.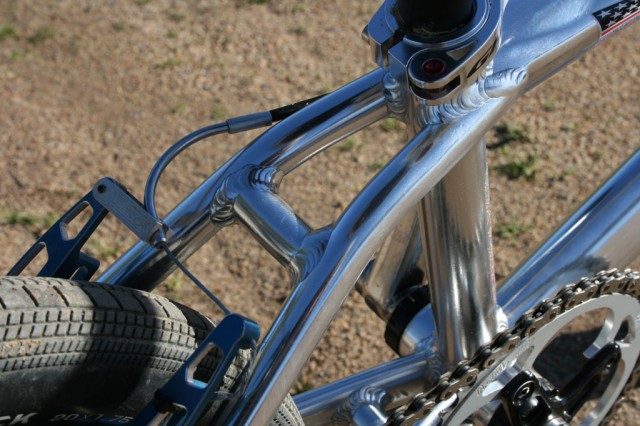 How does it ride
With a 22″ top tube the Pro XXL GHP felt a little longer than what I was used to from a Pro XXL frame, they are normally 21.5-21.75″ long. It felt great manualling and jumping, it took a little longer to get used to accelerating, but I'm pretty sure that was getting used to the additional length in the top tube because after a short while the bike started to feel extremely comfortable.
Gallery
Last words
There is a trend to run larger gears, for various reasons, while some frames can be restricting with chain wheel clearance, you could just about park a truck between the chain ring and chain stay there was that much room while running a 44-16.
One thing I would ditch though is the brake cable guides with the exposed brake cable along the top tube. I'd much rather my cable be protected from the mud and dust. I think I'll drill out the guides next time and run the cable right through.
The GHP 2014 race frame really packs a punch for it's price tag. It's a nice light race frame that ticks all the boxes. 10mm drop outs, euro bottom bracket, 41mm integrated headset. Unlike some of the new frames on the market, you could build the bike with parts that are easy to get hold of and not have to worry about adapters.
Rating 19/20
| | |
| --- | --- |
| Value for money: | 5/5 |
| Weight: | 4.5/5 |
| Functionality: | 5/5 |
| Looks/Finish: | 4.5/5 |
Comments
When it comes to bang for buck GHP has you covered. Thoroughbred race geometry with a price tag that will leave you with some extra money to pocket or "invest" in your ride.
The GHP is amongst the lighter frames on the market, and it's awesome for it's price!
The GHP performs with the best of them.
I loved the polished frame, it had clean welds, and…well…it's shiny! I just wish the decals stood out a little more, the holographic effect is nice up close but almost unnoticeable at a distance. The black/white combo is great too.
GHP Products are imported by GHP BMX Australia ghpbmxaus@hotmail.com. For more information check out www.ghpbmx.com
Review by Shane Jenkins/13 August 2014