ODI "Hucker" Signature BMX Grips
When BMX handle grip manufacturing giant ODI come out with a new grip I can't help myself, I've got to take a closer look. I guess I'm like that with a few different brands now; Profile, Alienation, Supercross, Speedline just to name a few. It took me a little while to get my hands on the ODI Hucker Signature grips to see what's different about them, but it was worth the wait. Because just like Mike Hucker, the "Hucker" Signature grip is very different. I must admit, when I first heard about them, I was expecting another 130mm wide lock on grip with a wild design, but I was surprised to see I was very wrong.
First Impressions
Before I get started I must mention the "Hucker" Signature grip is marketed as a "freestyle" grip, but it's pretty damn good all rounder grip that I'm happy to have on one of my all rounder bikes that's just as comfortable on the race track as it is at the local jumps, pump track or just riding through the streets.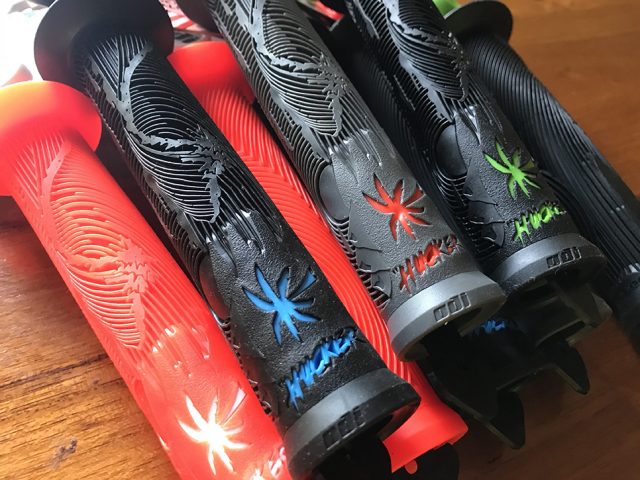 At 160mm wide it's not about to suit everyone's handle bars and in some cases they are just too wide to allow you to fit a brake lever, but if you are like me and use wide bars and have a preference for wide grips these will be right up your alley. They'd also be perfect for those of you who ride brakeless, off the race track of course.
The colour range and the SoCal beach/surf/ocean styling are very impressive, especially when you see that the grips are a mirror image of each other and the design is laid out in such a way that you not only get plenty of grip there's also extra padding exactly where you need it.
The outer compound used is quite soft and grippy right off the bat. The inner compound is very similar and sticks like nothing else, which can make it interesting getting them on. I cheat and use WD40 to spray the inside of my grips to slide them on, despite repeatedly being told there are better ways to do it. Hey, it works and if you don't use too much it will dry in a couple of minutes. Besides, who keeps grip glue handy?
On my first ride I rode gloveless for about an hour and found them to be comfortable and grippy despite having sweaty hands. With other grips that I've used in the past I have found it can take hours of riding and even a blister or two to get anywhere near that stage.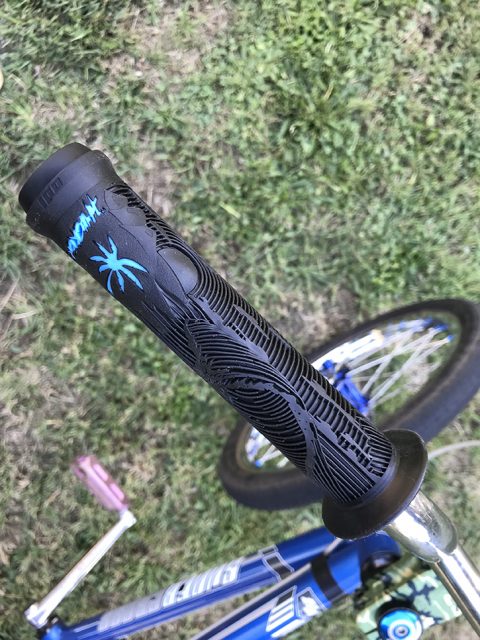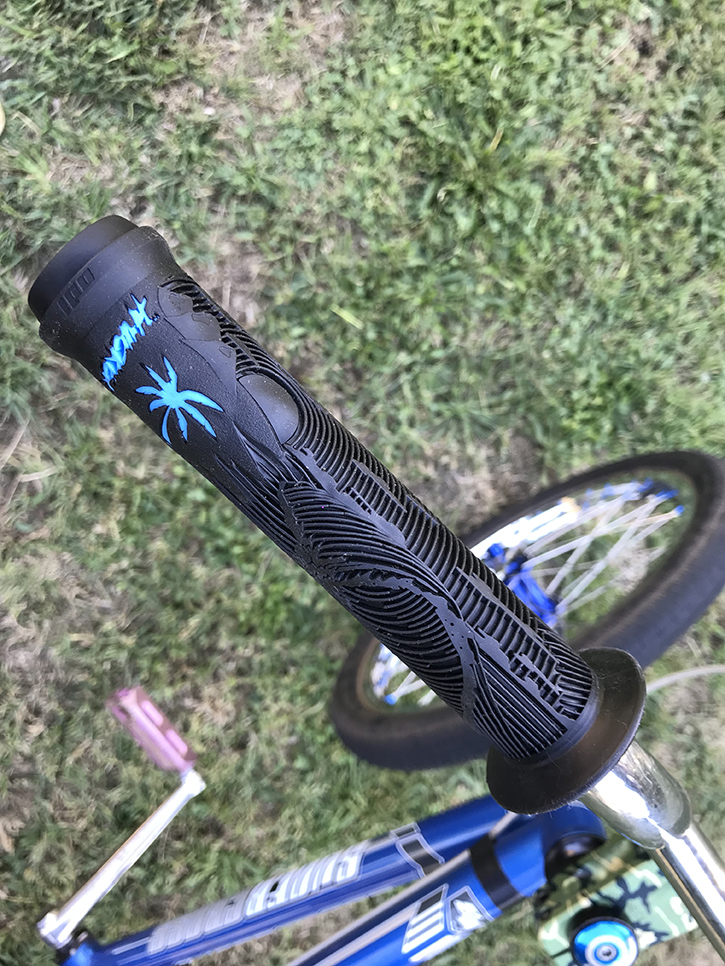 Dimensions
There's no disputing the Hucker grips are very wide at 160 mm, compared to a standard of 130 mm, and they are 32.5 mm in diameter which is about average for a grip.
You can see them below for a comparison with the ODI/Troy Lee Designs lock ons.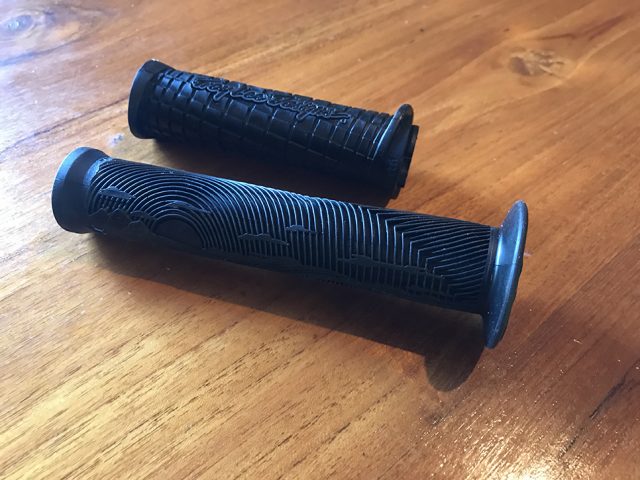 Manufacturer's Description
Mike "Hucker" Clark brings his So Cal attitude to life with the new Signature Hucker Grips. Designed for both aesthetics and performance,.The 160mm grip's Californa-inspired Beach scene has been intricately laid out to provide traction and padding in key areas where they are needed most.
Features
Features a unique two material design that allows for improved bar adhesion and less grip slippage
Soft vertical ribs provide excellent padding
Horizontal ribs on front of the grip offer improved traction.
Available in 4 Color Ways with coordinated end plugs
Extra Long 160mm Length
Sold In Pairs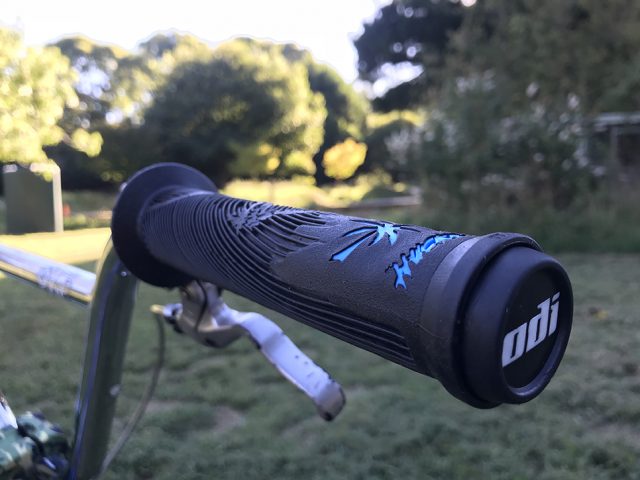 Final Words
After spending some time riding with the Hucker grips they are right up there among my favourites for comfort and for looks and I'm looking to see which other bike could use a Hucker make over. The ODI Hucker Signature grips are a great grip for a great price.
Gallery
Rating 20/20
| | |
| --- | --- |
| Value for money: | 5/5 |
| Weight: | 5/5 |
| Functionality: | 5/5 |
| Looks/Finish: | 5/5 |
Comments
These quality USA made ODI grips provide comfort and style and the added safety of a tough bar plug for a great price. You'd be hard pressed to find another grip as comfortable as this one, that's built to last, at this price.
For the weight weenies out there, the Hucker grips weigh practically nothing.
As far as comfort and grip go, you simply couldn't ask for more from an all rounder handle grip.
These would have to be amongst the best looking and most styling grips I have seen in a long time and I would go as far to say they are right up there with the legendary early Oakley grips from decades ago.
Australia specific information
ODI is available Australia wide through www.lustyindustries.com Be sure to give them a follow on Instagram at www.instagram.com/wearelusty 

Check www.odigrips.com for more information and give them a follow on Instagram at www.instagram.com/odigrips
Reviewed by Shane Jenkins/bmxultra.com February 6, 2018
Posted in: Grips