ODI Grips are a leader in BMX, and many other action sports, when it comes to grips. ODI have been around for over 25 years and have always manufactured products that are both innovative and extremely high quality with all of their manufacturing done in house in California, USA.
My earliest memory of ODI grips was when I was introduced to the two ply Rogue. It was made up of a hard compound base for durability and a soft outer layer for comfort. It was quite popular in it's day and is still available today. It was my favourite grip for many years and I used them for quite some time. I was very excited to see that they are now also available as a lock on grip, apparently they have been for years, but I completely failed to notice.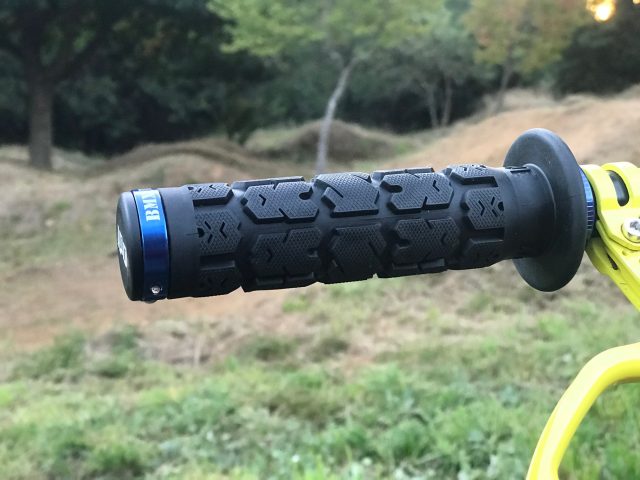 I have a large hand and the Rogue lock ons are available in a 143mm length with a large outer diameter and are comfortable enough to use without needing to wear gloves, after all for me it's not all about the racing, I just love to ride my bike. The ODI Rogue lock-on grips tick all the boxes for me. While the ODI Vans grips just might be the most popular grip in their BMX range, and I am probably the biggest Vans fan that I know, they are cool but it's more than just a grip pattern that will gain my attention and the Rogue grip looks perfect in my books.
I have been a big fan of the Alienation Backlash and Ratchet grips for the past few years, they've served me well. They are big and comfortable, but the only problem I had with them is they just don't play well in the wet and start to slip very quickly, which isn't something I want to have to worry about while racing. I found myself switching to lock on grips during the wetter months. Something like a Rogue grip would give me coverage all year round and I wouldn't have to worry about a little rain.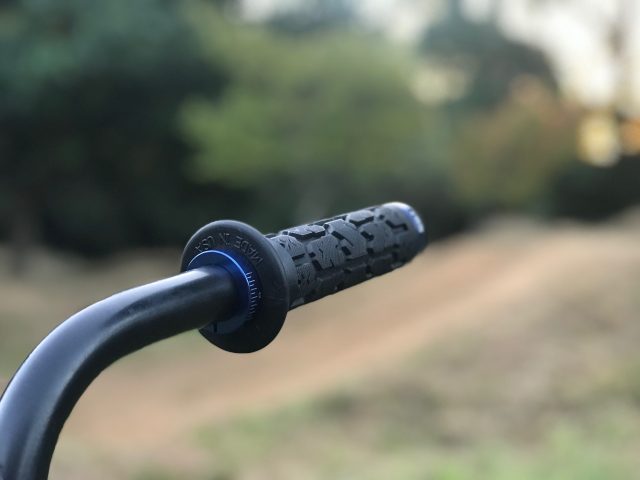 First impressions
The ODI Rogue Lock on grip has a chunky pattern for "better traction" and optimal "shock absorption" while it might look like overkill it's really quite comfortable. Like all ODI grips they look great and the finish is perfect. This is exactly why ODI are the benchmark/go to company when it comes to grips. One thing I did notice was the rubber compound was a little stiff at first but didn't take long to start to soften.
To Flange Or Not To Flange
I started riding with the flangeless 130mm grips. I have a preference for flanged grips because it helps me position my hands, it's something I thought I needed to be totally comfortable, but after weeks of racing with the flangeless Rogues I found it wasn't actually the case. I can be just as comfortable either way. The flanged version does look a little more "BMXy" and the 143mm version is that little bit wider so I have jumped across to using them now on both my 20″ and cruiser. There really is no advantage either way and in today's BMX you are more likely to see BMXers running flangeless grips, it's just nice to know that the ODI Rogue grip offers the option.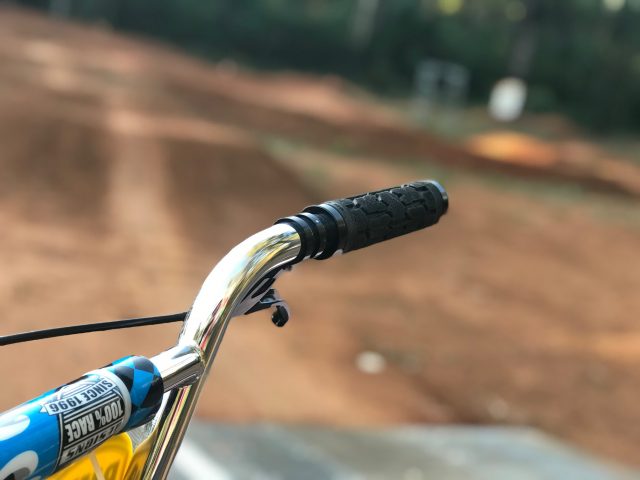 Manufacturers Description
For those who prefer a larger grip, the Rogue BMX grip offers an excellent mix of shock absorption and control.
Product Features
Thick raised pads for optimal shock absorption and longer grip life
Rugged surface pattern for better traction
Lock-On Grip System = 100% Slip Free performance
Includes new Snap Cap™ End Plugs
Flanged version is available in Full 130mm or longer 143mm Length for more room on the grip. Flangeless version is available in 130mm length.
Flanged 130 mm width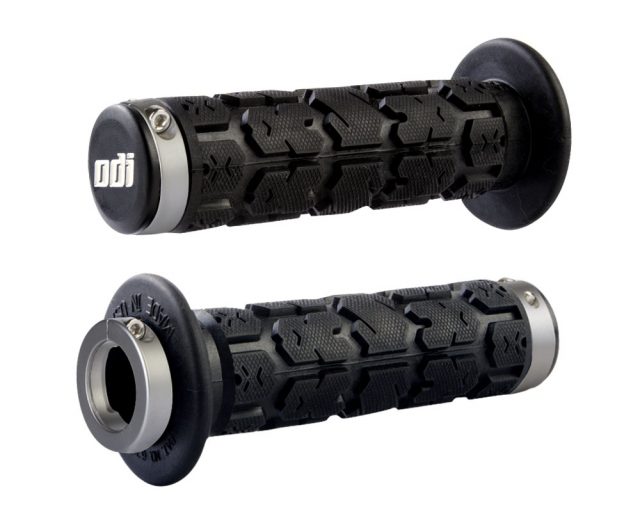 Flanged 143 mm width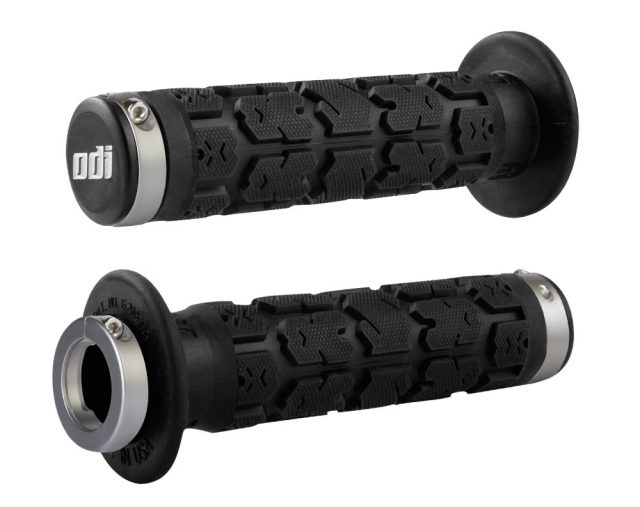 Flangeless 130mm width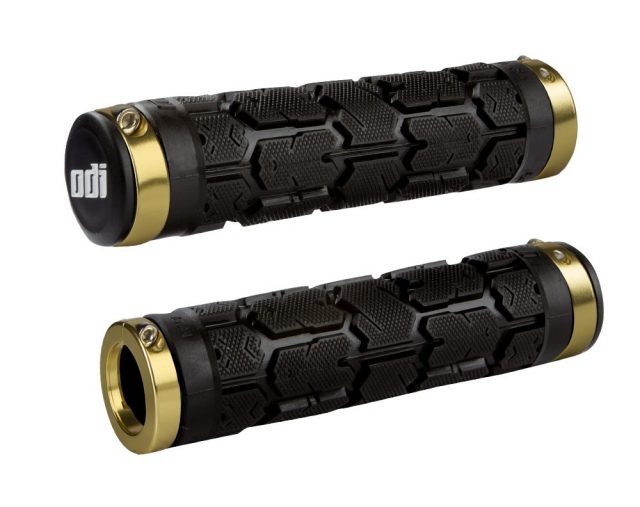 Colour Options
Final Words
I feel like I've been reacquainted with a long lost friend. The original ODI Rogue grips from decades ago were good, but now they have had time to mature and, with the addition of ODI's lock on hardware, they are a much better version of their former selves. With the comfort, size, durability and reliability I have been looking for I can safely say I have a new BFF. Or is that FGF (Favourite Grip Forever)?
Oh and it's also worth noting that in some regions you are able to select the colour of the lock collars and even have them custom engraved for a small up charge.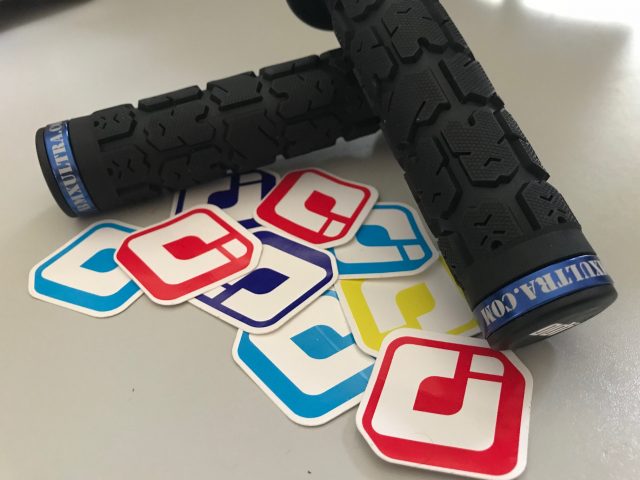 Gallery
Rating 20/20
| | |
| --- | --- |
| Value for money: | 5/5 |
| Weight: | 5/5 |
| Functionality: | 5/5 |
| Looks/Finish: | 5/5 |
Comments
The quality, durability and comfort you would expect from USA made ODI grips for those of us who prefer a larger grip.
For an extra chunky grip these don't feel any heavier than the ODI Vans grips.
The lock collars stay locked, the comfort and grip are second to none, I don't think you could ask more from a grip.
ODI have stood the test of time while others have fallen in their wake. It has to have a lot to do with the quality of the grip, the durability, and a finish that just can't be beaten
Australia specific information
ODI is available Australia wide through www.lustyindustries.com Be sure to give them a follow on Instagram at www.instagram.com/wearelusty 

Check www.odigrips.com for more information and give them a follow on Instagram at www.instagram.com/odigrips
Reviewed by Shane Jenkins/bmxultra.com April 8, 2018