Yakima Frontloader Bike Rack
Yakima have been at the forefront of racking systems since the 1970's. They take their name from the businesses origins in Yakima, a small city in Washington USA.
Today they have a world wide presence and are known as the leader in their industry.
A few years back I'd decided I would get my hands on a Yakima Bike Rack after attending a trade show that allowed attendees to rub shoulders with some of the Yakima design and marketing team. It's taken me some time but I have finally changed to a car that's more suited to my lifestyle and was able to fit it with two Yakima roof mounted bike racks.
Over the years I have travelled with my bike on a bike rack off the tow ball of the car, it was convenient when the car was loaded up, but can be a pain if you have a wagon and want to access the rear of the car. I'd also travelled a lot with the bike inside the back of the car. It has it's limitations but they are out weighed with benefits. The bike is secure, safe from rain, and you are free to stop off anywhere along the drive without having to worry about the bike (or bikes).
As my family grew and passion for BMX strengthened I found I needed more equipment, tents, chairs, tools, bikes, and needed extra room. Keeping the bike inside the car was no longer a viable option. It was time to go to Yakima roof mounted racks.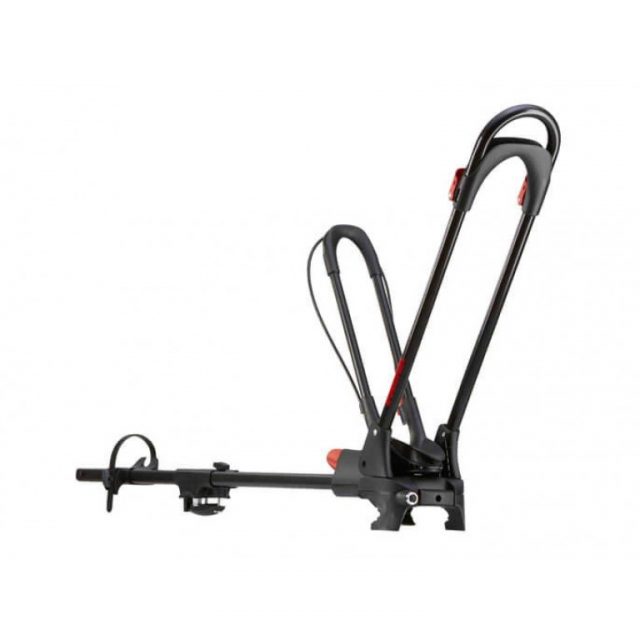 There were three main reasons why I went for the Yakima Frontloader.
Versatile – the Frontloader bike rack adjusts easily to fit 20-29″ wheels. While it would mostly be used for my 20″, I do race 24″ as well, and might want to fit other bikes over time. It also doesn't matter what sized axles you run. So it was a no brainer.
Zero contact – the Frontloader makes zero contact with the frame. There's nothing I hate more than getting my frame scuffed up, especially during transport. This also makes these racks ideal for carbon frames.
No tools – The bike is placed in the rack without having to remove anything. When you get the bike off the rack you are ready to ride, no messing around with front wheels.
First Impressions
The Frontloader Bike Rack was very easy to install on my Subaru factory crossbars. No real surprise there given the universal mounting system caters for "round, square, factory and aerodynamic crossbars". Yakima suggest the install would take five minutes, which is about right, even without instructions or guidance. There are videos on how to install them, which would be worth watching to make installation even faster.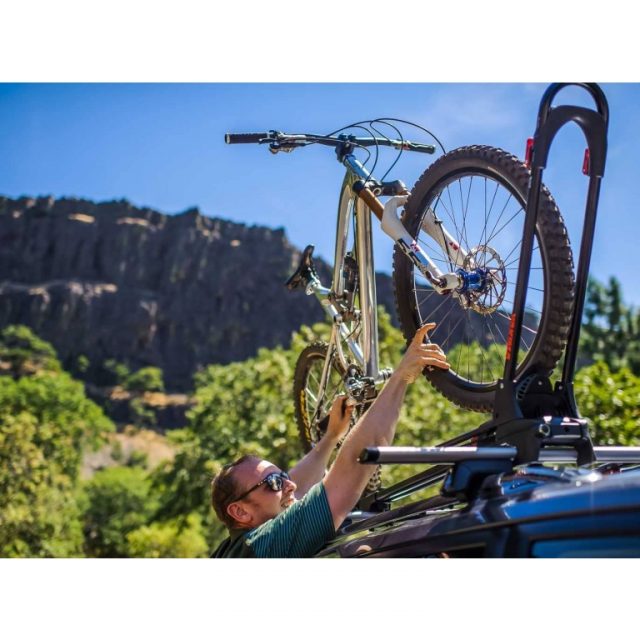 Putting the bike in the rack is just as simple. All you have to do is set the wheel size on the front hoop and push it forward. With the rear hoop for the front wheel all the way down put your bike up on the rail with the front wheel in the front tray. When you roll the bike forward the rear hoop should come up locking your front wheel in place. Screw the large red knob clock wise to tighten and secure the bike down to the rack. The rear wheel bracket slides along the rail easily to adjust for various bike lengths. Slide it to the center of the rear wheel and thread the strap through the wheel and into the ratchet lock, make sure it's tight. This is awesome, a process that takes just seconds, and it's just as easy to remove the bike too.
Security
While the Frontloader doesn't actually come with keys, there is an affordable option that's well worth the twenty-ish bucks for peace of mind. The SKS ("same key system") can be purchased with 2, 4, 6 , 8, 10, or 12 lock cores so all of your Yakima racks (and your bikes) can be secured with just one key.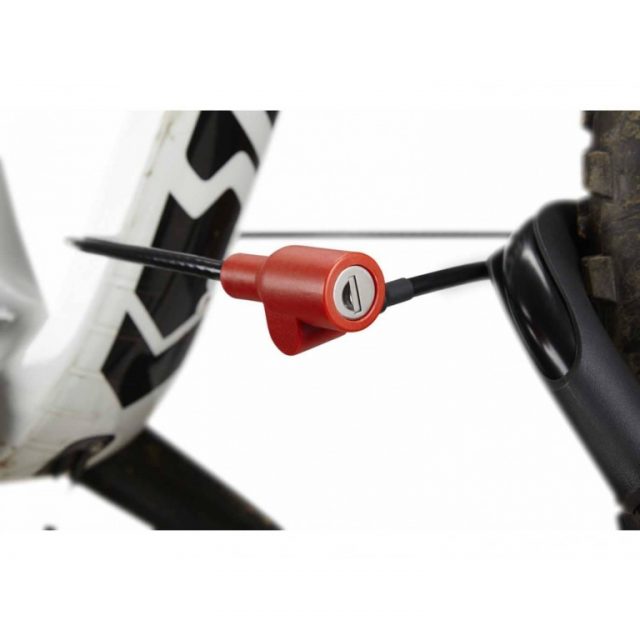 My racks didn't come with them so I enquired with Yakima Australia and they were able to tell me exactly what I needed and get them to me overnight. A great service experience that would be hard to beat anywhere else.
Life Time Warranty
Life Time Warranty are my favourite three words. They speak volumes about the product and where the manufacturer to stand behind their products like that it means you can be confident in their products too.
"This limited lifetime warranty covers all Yakima Australia Pty Ltd and rack components manufactured by Yakima Australia Pty. (Yakima), and is effective for as long as the original retail purchaser owns the product. This warranty terminates when the original retail purchaser sells or otherwise transfers the product to any other person."
What's the downside of roof mounted racks?
The downsides are far outweighed by the benefits of the racks. The only problems I have had so far is a whole lot of bug splatter on the bike, rain, and I'd forgotten about the height clearance and went under some low trees.
Bug splatter and rain are not much different to what you would expect from any car rack system, but can be fixed with the variety of covers available, it would only take a quick Google search to see just how many options there are.
The clearance, well that's just common sense, and a problem that can also be faced with tow hitch racks. All you need to do is know your maximum height and remember you have bikes on the roof. You might want to avoid low trees, something that can take some people a couple of times before they get the message, and maybe stop using drive through services at fast food outlets, or that cheap meal/snack could cost you more than you expect.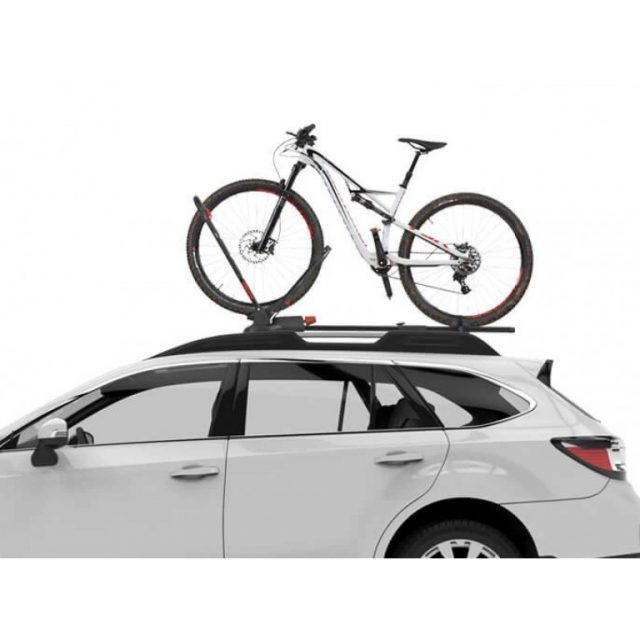 I do worry that someone will run off with my seat and post since I run a quick release, and I worry about the transponder from my bike going missing but that's just my paranoia kicking in, it could also happen with the bike off the rack.
Oh and I did read somewhere that you shouldn't use an automated car wash with the racks attached, but since they are easily and quickly removed, I'm sure logic will prevail.
So realistically there's no more downside to the roof mounted racks than there is to any other car mounted racking systems.
Manufacturer's Description
Friends will double-take when they see our most versatile, aerodynamic bike mount on your car. It carries your complete bike — no wheel removal needed. The universal mounting system fits nearly any crossbars you can think of.
Specification
Weight

5.90 kg
Dimensions

L 142.2 cm  x  W 17.8 cm  x  H 19.1 cm
Capacity

1 bike capacity
MAX. weight 18 kg per bike
Installation
Base Rack System Required
5 Minute Install
Tool-Free Install
Features
Fits round, square, factory or aerodynamic crossbars
Not suitable for square bars with a depth exceeding 38mm
Zero contact with frame; carbon fibre and custom paint jobs are protected
Accommodates disc brakes, thru axles, and full suspension bikes
Holds bike upright while you secure the bike to the mount
Leave your front wheel on for easy loading
No tools or assembly required
Fits 20″ to 29″ wheels with tyre widths up to 3″
SKS Locks sold separately
1 bike, up to 18 kg at min of 46 cm crossbar spread; or up to 13.6 kg at min of 41 cm crossbar spread
Minimum and maximum crossbar spreads: 41 cm – 122 cm
Final Words
If I'm travelling alone I will still put my bike inside the car, it's mostly out of habit, but I'm glad that I was finally able to get my hands on the Yakima Frontload rack for those bigger trips where the car is fully loaded. It's been a God send. Big car capacity without the fuel bill.
Gallery
Rating 19.5/20
| | |
| --- | --- |
| Value for money: | 4.5/5 |
| Weight: | 5/5 |
| Functionality: | 5/5 |
| Looks/Finish: | 5/5 |
Comments
A roof mounted bike rack that is built to last and will keep your bike safe from theft, being rear ended and with the flexibility to adjust to a wide range of sizes. The only thing missing is 12 & 16 inch sizes, but really they could fit in the car being that small.
The Frontloader rack is sturdy enough to secure your bike to the car but most likely lighter than your bike making it easy to install/remove as needed.
The Frontloader rack couldn't be simpler to install or use, no tools, just plain simple engineering that makes life easier.
As far as bike racks go this one is a head turner, many people go for a more laborious system that requires you to remove the front wheel and have adapters for newer axle options, not knowing that this is even available. It's well finished, and build robust enough to last many years.
To find out more about Yakima check this  www.yakima.com.au/products/activity/bike
Reviewed by Shane Jenkins/bmxultra.com May 24, 2018