Profile Racing Sabre Universal Spline Drive Sprocket
I have to be straight with you, I'm a big fan of Profile products and have been for decades. You could say it was love at first sight. The quality of their products, reliability, strength,  availability, serviceability, customisation, colour range along with the customer service are just a few of the reasons I put my full trust in Profile products. And let's not forget their lifetime warranty on so many of their products.
After switching my Profile Elite cranks over to the Supercross Envy Blk frame for a product review I started to think of ways to change the looks, reduce weight and simplify things, but was left scratching my head. I'd seen the Profile Sabre chain wheel, but it took a while for it to catch on, in my tiny little brain, that it's "a perfect compliment for your elite cranks!". I'd always assumed that the chain ring and spider was the only option for Elite cranks, until I saw this ad.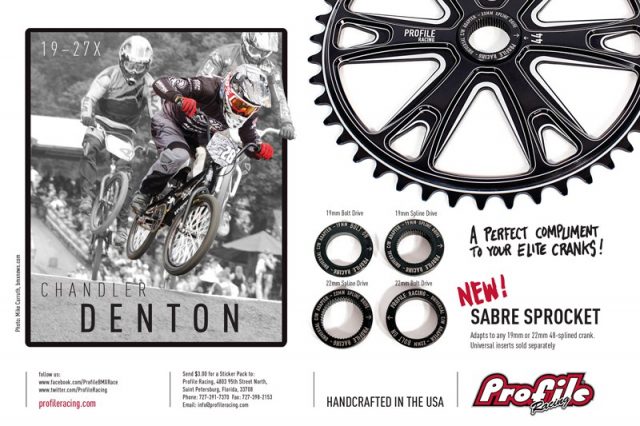 The idea of a universal chainwheel adapter and a different look for my Profile Elite cranks was too much temptation for this curious cat.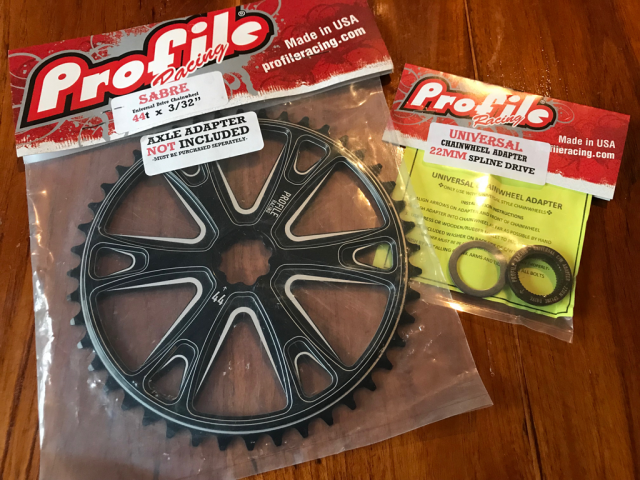 Setting them up is as simple as
Purchase the Sabre chainwheel and the universal adapter to suit your spindle
Unpackage everything you line up the marker on the adapter with the marker on the front of the chainwheel and push it in, the washer sits on the back
Slide them on to the spindle, put the crank on and you are ready to ride
I was so impressed with the simplicity of it all I'd started to wonder why more people don't use it.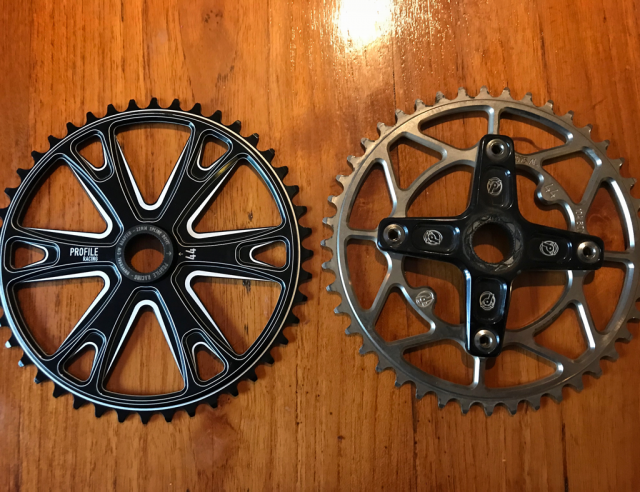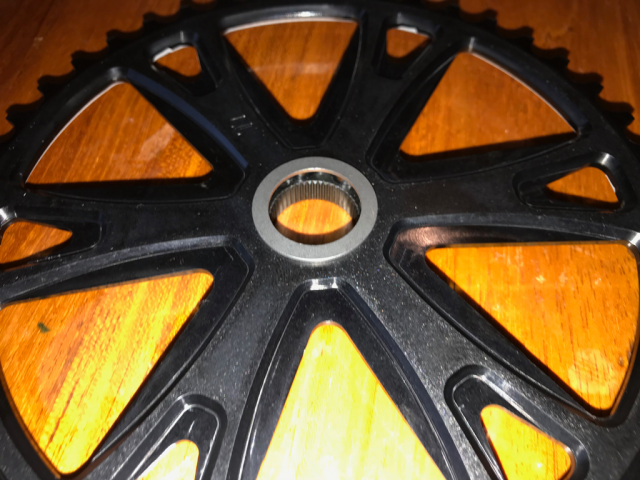 Product features
CNC machined from 7075 aluminum
The Profile Sabre is a unique "universal" sprocket.

It uses an adapter insert to make the sprocket compatible with spline drive or bolt on style cranks.
36t thru 45t Sabre Sprockets do not have a spider bolt hole.
They can ONLY be used as either 19mm or 22mm spline drive depending on adapter chosen. Can not be used as bolt on sprockets.
The adapter is available for 19mm & 22mm axle sizes.

Sizes:
36t, 37t, 38t, 39t, 40t,  41t, 42t, 43t, 44t, 45t- 3/32″ chain width
***The race versions(36t-45t) do not have extra spider bolt holes and will only work with the 19mm and 22mm Spline Drive Inserts.***
Colors:
Black anodized with laser etched graphics
Weight(without insert):
45t: 177g/6.2oz
NOTE: Spline drive sprockets are not compatible with 2-piece cranks for Right Side Drive (not enough room for splines). Spline drive sprockets are compatible on Left Side Drive 2-piece cranks though.
The Weight
I'd assumed that the weight of the Sabre chain wheel would have to be less than the Spider and Elite chainring only to find I was wrong.
Spider/Elite chain ring setup
4-Bolt Spider (104mm): 2.5 oz
Profile Elite Chainwheel: 4.6 oz (44T)
Chromo chain ring bolts: 1.0 oz
Total: 8.1oz / 230 grams
Sabre chain wheel
Sabre 45T 177g/6.2oz
Universal adapter 90g
Total: 267 grams
Maybe the Sabre is not the lightest option after all, but there is only 37 grams in it, and it's still a great option for someone looking for a chain wheel look and doesn't want to have to worry about chain ring bolts.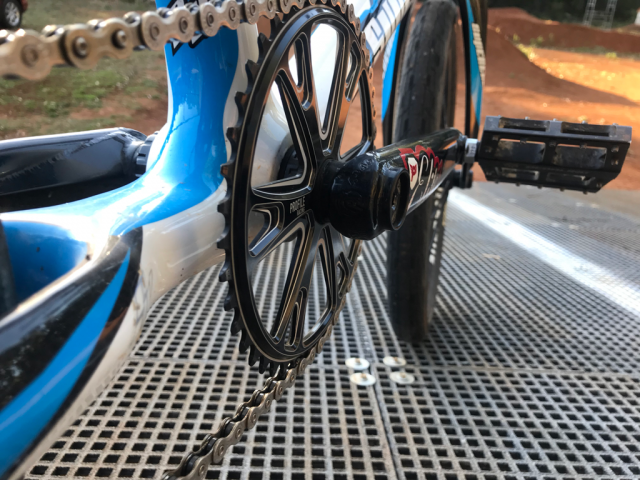 How do they ride?
Like all Profile spline drive set ups the Sabre runs true. There is a nice offset to the teeth meaning they would work well with an outboard bottom bracket. The alignment on the Supercross ENVY BLK isn't too bad, but I'd like just a tad more adjustment to pull the chain further away from the frames chain stays. As my chain loosens it seems to rub on the chain stays, it's something I have to stay on top of, it's not an issue when I run the spider/elite chainring set up.
Gallery
Final words
I'm a big fan of the Sabre chain wheel, although it keeps me on my toes making sure my chain is adjusted properly, it's something we all should do regularly anyway.  I'm thinking of grabbing myself a few of these and putting them on my other bikes.
Rating 20/20
| | |
| --- | --- |
| Value for money: | 5/5 |
| Weight: | 5/5 |
| Functionality: | 5/5 |
| Looks/Finish: | 5/5 |
Comments
This is a great chain wheel that's versatile across the Profile range of cranks (and those that are compatible). It runs true and is built to last and adjust to what ever sized spindle you choose to ride.
The Profile Sabre is a comparable weight to the Profile Elite Spline Drive sprocket (which is 19mm only). It's not super light but it's certainly light enough to keep even the fussiest of weight weenies at bay.
I'm a big fan of a great product that does it's job well, and the Profile Sabre does just that. I do give bonus points though to products that are flexible enough for multiple uses, the universal insert is a great idea and I expect it will be another Profile innovation that will be adopted as a standard by the BMX industry in the near future.
I love the blacked out look of the Sabre with the pin striping, it's what first drew my attention to it. As per every Profile product I've seen the finish is amazing, the only thing I would like to see is the addition of colours in the range.  Black was fine for me, but I'm sure there are others out there who would love to match their chain wheel with their other Profile products.
Check out www.profileracing.com for more information. ECI Imports (www.eciimports.com) distribute Profile Racing products to all good bike stores across Australia.
Reviewed by Shane Jenkins/bmxultra.com March 30, 2018
Posted in: Reviews