Mac Components One BMX Number Plate
In BMX racing, nothing quite tells a story about you as an individual, or sets you apart from others, quite like a BMX number plate. It could be the stickers you decorate it with, the placement of your number, or even your race number for that matter. It could be the way you colour code the plate to match your bike, or your race gear. It could be your team, or club design.
Me, I like the traditional look of a Dirt number plate, it's not for everyone, but it's what I have been using for the past 20 years. It's a simple plastic plate that's been hand screen printed and the velcro also attached by hand. I believe that Phirebird also make a number plate this way and the plates they made for BSX2017 looked great. I don't like to run too many stickers, and the ones I do run usually mean a lot to me, one way or another. My number placement is important too. I'm not a fan of just lining them up square to each other and I think it helps to make the number stand out.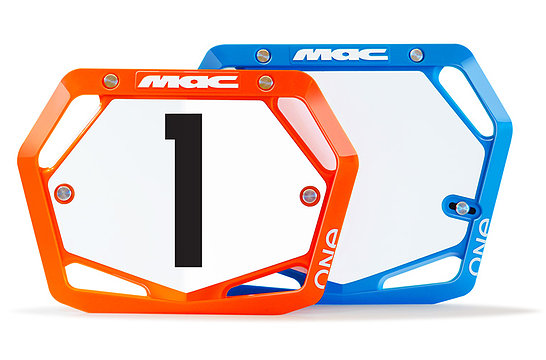 From the moment I first saw the Mac Components ONE plate I wanted to know more, but it wasn't until some nine months later that I actually got to work on a couple of projects with Cam from Mac that I really was able to take a close look.
I run a charity event called BSX, and just prior to our last event we were put on the spot by one of our previous number plates suppliers who would normally print up custom awards for the fastest male and female riders on the day. When hunting to find an award for BSX2017 Mac were our first port of call. I have to say that their service, product and design was amazing. Not only did they do it with a very short window they far exceeded my expectations.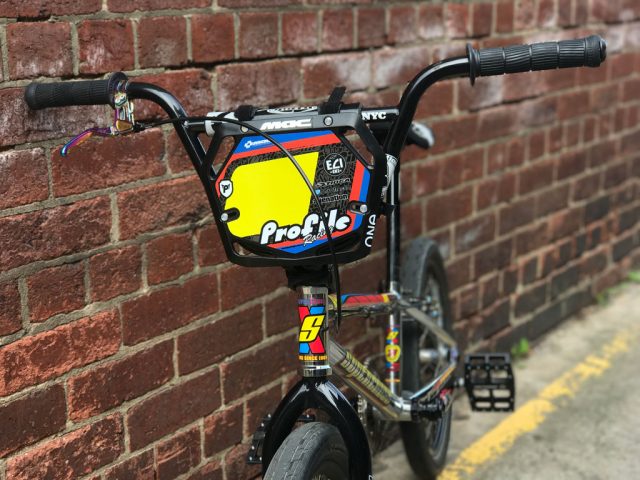 That was my first experience with Mac and it was followed shortly afterwards with a sample of a design project that was an equally amazing experience. The project was to design a Profile team plate, which you can see in these photos. We plan to stick the numbers on afterwards, although the plate idea is still not completed yet it makes a great example when showing off just one example of what's possible. But the possibilities really are endless.
Product features
Two sizes: Pro & Mini (cruisers and smaller bars)
Colours: Blue, Orange, Pink, Black, Red, White and Teal
Adjustable bottom tab slots
Custom CNC'd Alloy velcro fasteners
Designed and Made in Australia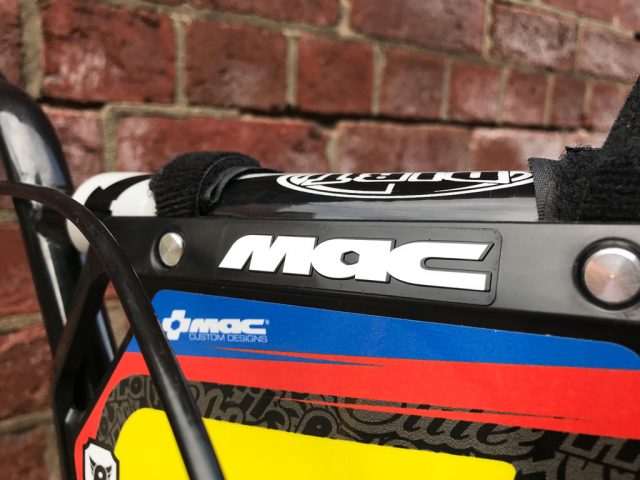 How does it fit?
When I got my hands on the pro sized plate I was interested to see how it would fit with my larger Alienation NYC bars, at 29″ Wide and 8.75″ Tall they are certainly not the biggest bars around, but getting up there. I was very surprised that the plate fits perfectly, although, I guess I shouldn't have been. The adjustable bottom tab slots work perfectly and allow for greater variation than any other plate I have seen. The only problem I had was the velcro tabs for the top bar aren't long enough to wrap around my cross bar pad. I know what you are thinking, no one runs pads anymore, sure most people don't but the fact I do indicates to me that I'm not the only one. It's not a big deal though, the velcro tabs can easily be extended with additional velcro. The double sided velcro would be the best option. I'm sure if you are ordering your plate direct from Mac you could special order longer straps.
One thing about this design is it has a smaller area for your "face skin" than older style plates. I'm sure to most people this isn't an issue, but if you are going for a custom designed face skin you need to allow for the fact that there isn't a whole lot of real estate for logos, names, etc, once you have added your numbers. But that's nit picking, you will notice that there are 100's of people who have managed just fine already. I should also mention face skins are also available in any colour to keep your plate compliant with the rules and keep you out of trouble.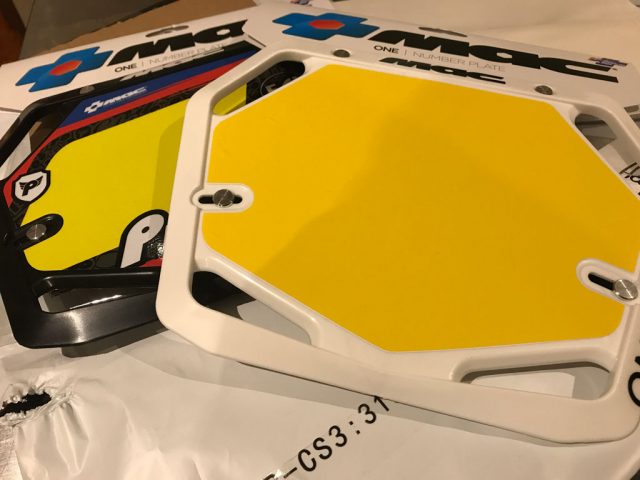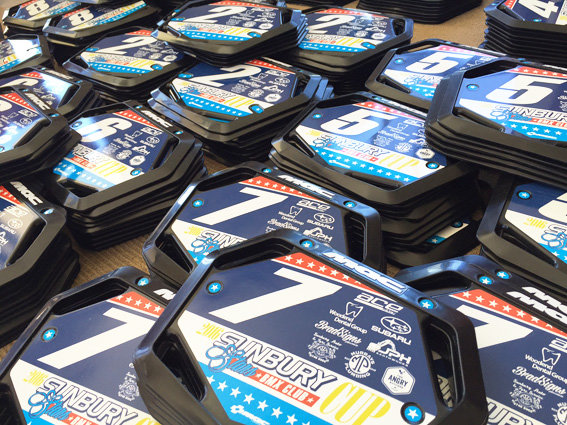 I love the fact that it's an Australian designed and made product, and thought it would be beneficial to do a little digging and find out more about the company and the number plates. So I shot a few questions at Cam Small and here's how it went.
bmxultra.com: What made you start manufacturing your own plates?
Cam Small: I have always wanted to design and produce a BMX number plate and a big fan of BMX and race plate designs from the early 80's e.g. Haro, Zeronine, etc. I stated drawing designs back in 2011  seeing a gap in the market and left it, jumped back into the project and settled on a final design mid 2015 producing all the working cad files. Initial plans were to have the plates made overseas but after talking to Mitch Ramm he opened my eyes to the possibility of manufactured the plates here and an Aussie plate was born. Mitch came on board and worked on all the complex tooling & finishing for the plates. The 2016 Australian Titles in Bathurst launched the Mac plate onto the Australian BMX scene.
bmxultra.com: Where did the name Mac come from? 
Cam Small: A name was discussed for some time and settled with Mac coming from both our names "Mitch and Cam" and commenced work on the branding logo and packaging design, but as someone pointed out sometime after it also spells Cam backwards as well.
bmxultra.com: Were you tempted to brand them Crisp?
Cam Small: No never, the Mac Brand works as a stand alone component brand by itself and CBR with discussions of doing a limited run of plates with the Crisp logo might happen.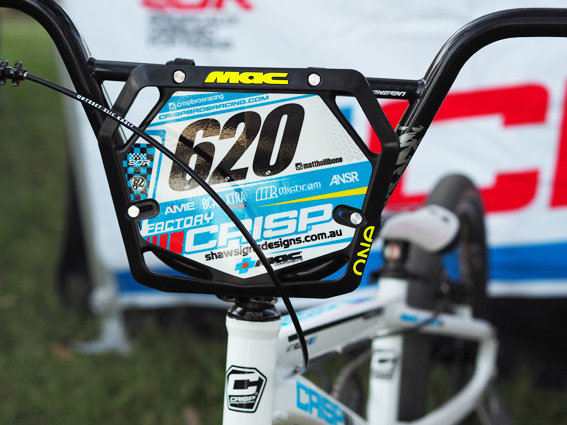 bmxultra.com: Where can people buy them from?
Cam Small: Mac has a small but growing network of dealers and custom graphic houses in Australia, Oxley Cycles and Phirebird in Qld, Ringmaster Images in Victoria, SK Designs in Adelaide, Pato BMX Plus in Tasmania & Elite Bicycle Services in WA plus being available online with a great image gallery of custom rider, club and team plates. Support and buy local!
bmxultra.com: They seem to have taken off internationally this year, was it ever your intention to export them?
Cam Small: Most definitely, I wanted the plates to go global once we established the brand in the Australian market, we see this as a world class product made right here in Australia. Mac has a Distributor in the USA pistonbones.com along with Australia's Anthony Dean representing the brand for us there plus Dealers in France, UK, New Zealand and Malaysia all having great sales success and gaining marketshare with the other main plate brands.
Gallery
Final words
The Mac Components plate is a breath of fresh air when it comes to number plates. A great design that's available in a number of colours and a face panel that's completely customisable and custom designs are available from true professional designers, all bundled up for a great price. You can create your Mac plate your way, and let people know who you are easier and better than ever.
Rating 20/20
| | |
| --- | --- |
| Value for money: | 5/5 |
| Weight: | 5/5 |
| Functionality: | 5/5 |
| Looks/Finish: | 5/5 |
Comments
With endless colour and design possibilities from $40 you can't ask for better value for your money for a plates that's customised for you
To you weight weenies the Mac One plate isn't any more weighty than the other more popular plates on the market and certainly won't effect your carbon gains
Adjusts to fit just about any handle bars and will comply with all the rules that I've seen
It's hard to match the looks of the Mac plate, the only thing that could make your Mac plate look a little dodgy is a misfitted face skin, make sure you either have Mac stick it down for you or find someone with the patience to stick it down properly for you.
Check out www.mac-components.com for more information
Reviewed by Shane Jenkins/bmxultra.com May 28, 2017
Posted in: Reviews