Profile Racing Elite Cranks
I'll set the record straight up front, I'm a Profile Racing fanboy and I find it difficult to fault a Profile product. The minute I hear of anything new from Profile I start salivating, it's embarrassing to those around me, but hey, a boy needs a hobby. Since I started using their products in the late 80's I've been able to put my full trust in the hands of this iconic brand. If I have ever had any issues, which hasn't been often over the 30 or so years, as an original owner to the product I've always been looked after with warranty, no questions asked.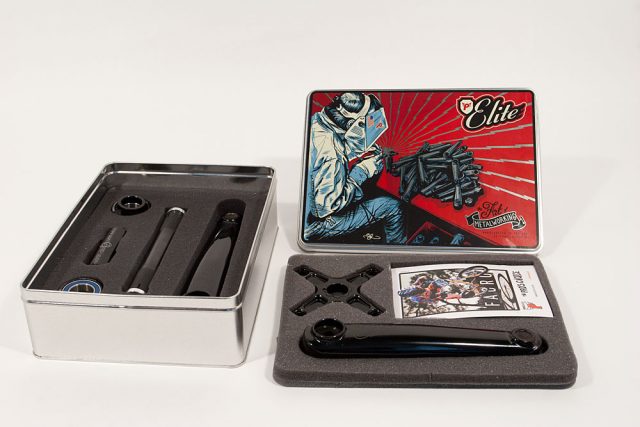 For those of you who came in late, Profile Racing is an American brand with a loooong history. In 2018 they will celebrate 50 years in business, a massive milestone for anyone, but for a business to last that long, well it doesn't happen often. That said though Profile started off as a race car chassis ship and didn't start to manufacture BMX products until 1981. Profile are probably best known for their hubs, stems and cranks, they manufacture all of their products in USA and most of the manufacturing process happens in house at Profile's HQ in Florida.
Profile first released the Elite cranks a few years ago, it was said to combat the popularity of the two piece alloy cranks that were beginning to dominate the crank market. The first generation Elite cranks had a different spindle set up to what they have today. Rather than the light weight 22mm gun drilled hollow titanium axle they had a spindle with what could be described as compression wedges in the ends, which eliminated the need to use a crank tool and hammer to free the crank arm from the spindle. Unfortunately people didn't stick to recommended torque and some damaged the spindle. The new titanium spindle eliminates that problem completely though, and helps to reduce weight at the same time.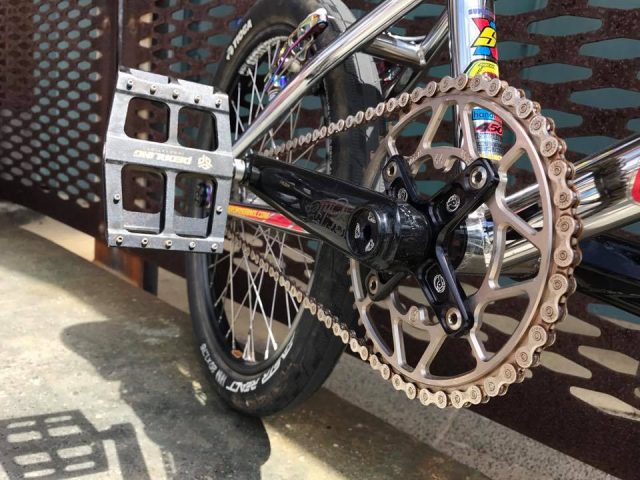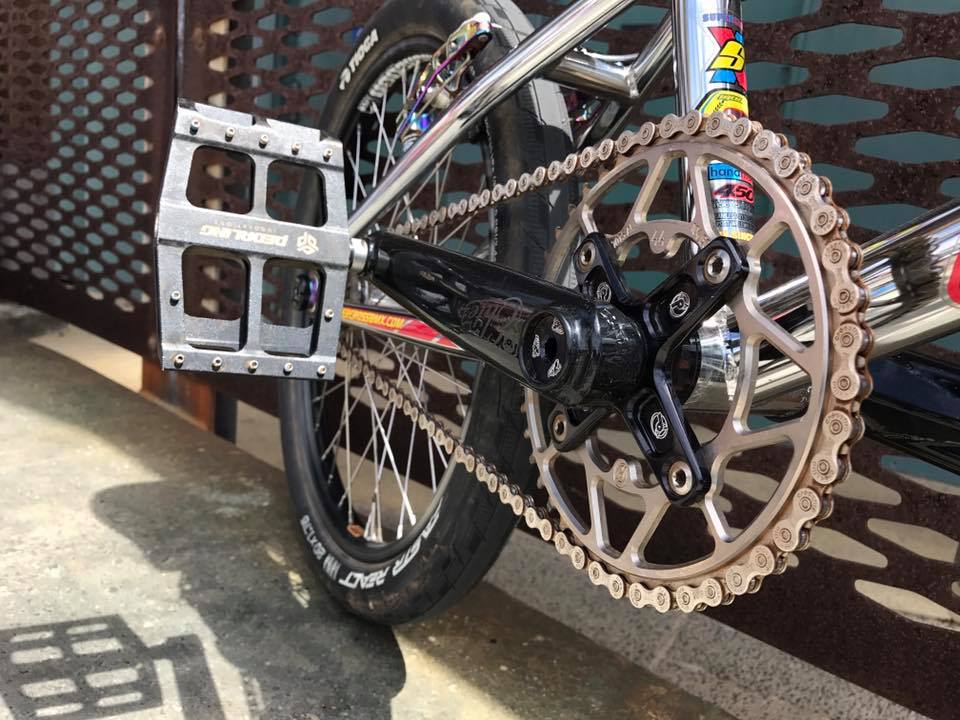 Of course the first time I saw the Profile Elite cranks I wanted a set, however I'd been running 185mm long cranks for 30 years, and the longest Elite cranks were 180mm. It doesn't seem that big a deal but I'd really struggled dropping back to 180mm the couple of times I'd tried. There were a number of things about the Elite cranks that caught my eye, the colour options, which has grown over the years, meant you could match up these cranks to suit your bike no matter what your colour preferences. The size of the crank arm itself was much bigger, or chunkier, than the standard Race cranks that I was used to. There's also the limited edition packaging that the cranks are presented in, a very nice touch indeed.
Some time had passed and I was still running my Profile race cranks but when riding a friends bike I found I was getting pretty good gates on 180mm cranks. While I didn't want to drop the full 5mm, the Elite cranks were available in 182mm, which was a good compromise. So it was finally time to give them a try. It was November when I first put them on, it's now April, nearly six months later and I couldn't be happier. I haven't had a single issue with the cranks. I couldn't imagine anything stiffer or stronger. I'll admit I didn't notice any flex with my race cranks, and even if it's only mental a 22mm ti spindle has to be stiffer than a 19mm cromo spindle right?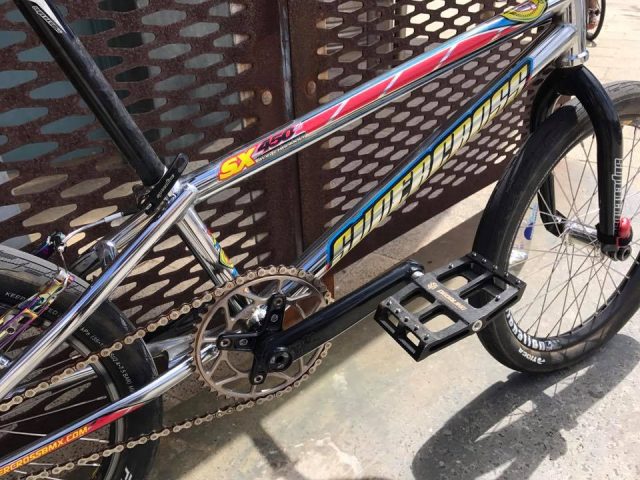 Product features
The Elite is the stiffest crankset we've ever made!
Oversized and gusseted, the Elite arms are constructed of heat treated 4340 Chromoly.
The Elite crankset includes left & right crank arms, 22mm GDH Titanium axle, 4-bolt spline drive spider, outboard Euro bottom bracket, and 8mm GDH aluminum axle bolts in a choice of several sizes and colors.
The Elite Cranks are packaged in a keepsake metal box with original lithograph artwork by Adi Gilbert of Profile's owner Jim Alley welding Elite crankarms.
Just like all of our cranks, they are made in St. Petersburg, Florida, USA.
Lifetime Warranty to original purchaser.
Crank Arm Sizes: 170mm, 172mm, 175mm, 177mm, 180mm, 182mm
Crank Arm Colors: Chrome Plated, Black Powdercoat, White Powdercoat
Spider, BB, Axle Bolt Colors: Silver, Black, Red, Blue, Gold, Green
Weight:
175mm Right Arm: 311g/10.88 oz
175mm Left Arm: 311g/10.88 oz
Titanium 6.2 Elite axle with bolts: 176g/6.16 0z
4130 vs 4340 Steel
Since I am not an expert when it comes to the difference in the quality of the 4340 steel that's used on the Elite crank arms (all I know is generally the higher number refers to a higher grade steel) I thought I'd better look it up.
Here's what I found ( on https://www.capitalsteel.net/news/blog/4130-vs-4340-steel-comparison )
4130
This low alloy steel contains high amounts of chromium and is often referred to as chromoly. 4130 steel has good machinability, ductility, weldability and strength characteristics. It is used for many different industries including the automotive, aerospace and machining industries.
4340
This nickel-chromium-molybdenum alloy streel is a very high strength steel. It is sought after for its toughness and for being used as a steel that will be highly stressed. It is used in a variety of industries for different applications including the automotive, aerospace, and tooling industries.
The Weight
Surprisingly the cromo Elite crank arms with the titanium Elite axle weigh in at 995 grams, set up with the Elite bottom bracket and spider. They are a serious contender in the weight race. This compares to the 1095 grams of the Profile Column cranks with cromo axle and same bottom bracket and spider. And they are the same weight as the 19mm no boss Profile Race cranks equivalent set up with a titanium spindle. For comparison the alloy Shimano DXR cranks weigh in at 969.6 grams.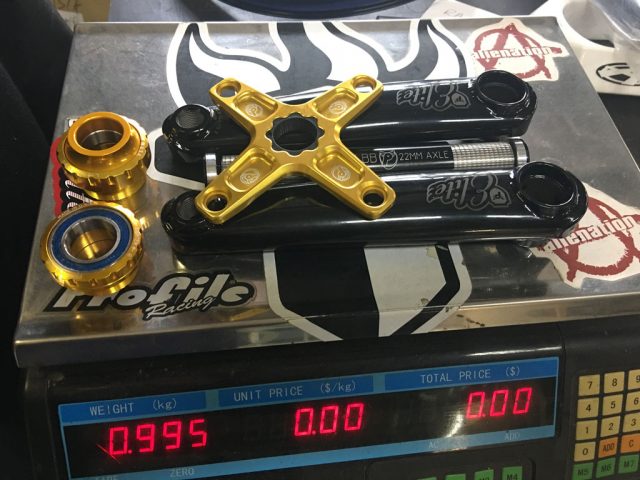 How do they ride?
I love my Profile Elite cranks, and everything about them. They run super smooth with the larger bearings in the 22mm outboard bottom bracket. The arms feel super stiff, I'm more likely to flex a pedal axle than to flex one of these crank arms or the 22mm spindle. One of the bigger differences to the Profile Race crank is the wider stance with plenty of clearance from the chainstays. I did also notice that chain alignment is great, nice and straight and the chain is well clear of the frame eliminating any chance of chain rub, completely the opposite to what I had noticed with some 2 piece alloy cranks.
That price though…
The price of the Elite crankset sits between the price of high end Carbon cranks and High end alloy cranks. There's no doubting the quality of the Profile Elite crank set. No stone was left un-turned when Profile set out to make their best crank yet and that shows in every angle, and every detail. The biggest and possibly the only complaint I've heard about the Profile Elite cranks is the price. And sure, it's a big whack to the wallet coughing up the green backs for a set of cranks, but let's put this all into perspective. The Profile Elite cranks have a life time warranty to the original owner. Let's break that down. Life. Time. Warranty. Now mull that over for a bit. How many other crank sets on the market will provide you with the same warranty? I can only think of two others and they are also made by Profile, the 19mm spindle Race and the 22mm spindle Column cranks. You couldn't ask for greater bang for buck. Once you buy your brand spanking new Profile Elite cranks you are set for life. You will never need to buy another set again. Sure you will need to replace your bearings from time to time, but it wouldn't matter what cranks you ran, you would still need to do that.
Gallery
Final words
Were the Profile Elite cranks all that I thought they'd be?
Stiff? Check.
Strong? Check.
Reliable? Check.
Look great? Check.
Provide great chain alignment? Check.
Provide great frame clearance? Check.
Awesome? Check.
My expectations were met and I'd go as far as to say even exceeded with the Profile Elite cranks. I have a few bikes set up and I used to change a lot from one bike to the next, leaving my race bike mostly for racing. With this bike set up the way it is with these cranks, it's being ridden about 99% of the time leaving the other bikes collecting dust.
Rating 20/20
| | |
| --- | --- |
| Value for money: | 5/5 |
| Weight: | 5/5 |
| Functionality: | 5/5 |
| Looks/Finish: | 5/5 |
Comments
Although these cranks are among the more expensive cranks on the market the lifetime warranty, availability of parts, range of sizes, range of colours, strength and stiffness make them the best cranks available today when you talk bang for buck!
They may not be the lightest cranks available, but you will probably need to look at carbon cranks to get a significant weight reduction, but they would be hard to beat when you look for a light set of cranks that's also as stiff and strong enough to handle the abuse dished out by BMX racers.
When it comes to functionality you simply can't ask for more from a set of BMX cranks!
I don't know a set of cranks that could turn more heads, there are no cranks that I can think of that can match the Profile Elite cranks when it comes to looks and finish.
Check out www.profileracing.com for more information
Reviewed by Shane Jenkins/bmxultra.com April 21, 2017