Hostile Handwear Exclusive Series Gloves Review
Hostile Handwear are an Australian company, they are a newcomer to the glove market giving an advantage over the competition allowing them to see what works and what doesn't before hitting the tracks blind. I have seen companies go through numerous iterations before getting it right, or even something close for that matter. It's great to see that Hostile have done their homework and pretty much nailed it first try.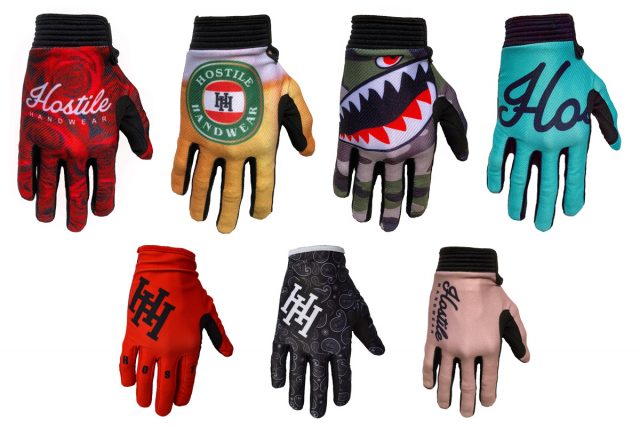 Before we get into it though, I have a confession to make, I'm not a fan of gloves at all. I much prefer to ride with bare hands to get a better feel on the grips. I come from a time where the only gloves available were poorly designed motocross gloves that were ill fitting and bunched up in the palms but they fit the regulations so we had to use them. Not a lot has changed with the rules, but gloves certainly have over the years, making them far more comfortable and cooler. And I thank the BMX gods (and glove manufacturers) for that!
First Impressions
My friends over at DRT Industries have been selling Hostile Handwear for a while and told me I should check out their range of gloves. I'm glad they did. I went through the Hostile website and started to wonder if they even had some available for my massive man hands. I would normally wear an XXL or larger in TLD or Fox. Hostile's largest size is XL, but I thought I'd give them a try anyway. I chose the Rose style from the exclusive series which is essentially the same as the strapless series but has a strap for a more customised fit. When I put them on they were a little tight but like most gloves they have a bit of stretch. The first thing I noticed was how comfortable they are, and there was no restriction of movement anywhere. Sure I could have done with a slightly bigger fit, but there was no way the palm was going to bunch up. I liked that the whole glove fells like a second skin. In most of the gloves that I have used recently there's been a weird bunching of material inside the tip of the thumb or some of the fingers, it's just plain annoying. There was none of that with the Hostile gloves. In fact the gloves looked perfectly assembled and the colours are quite vibrant.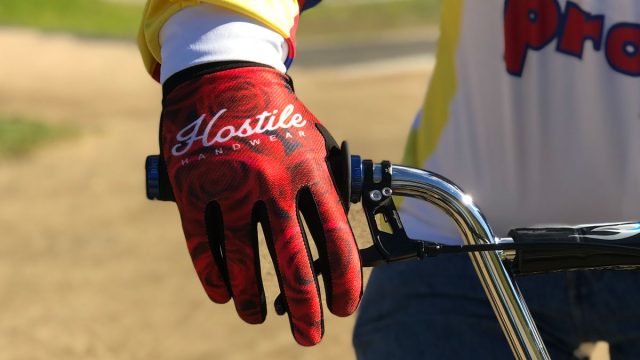 Manufacturer's Description
Part of our exclusive series, the Rose glove is strapped & includes 2 finger anti-slip design for good lever grip in all sorts of conditions.
All action sports glove for MX, BMX, MTB etc.
Specs
Sublimated spandex upper for perfect style, comfort, breathability and elasticity.
Synthetic leather material on the palm for complete feel, wearability and durability.
Pull tab for ease of putting on & pulling off.
Anti-slip design on 2 fingers for good lever grip in all sorts of conditions.
Wrist strap offers perfect fit around your wrist.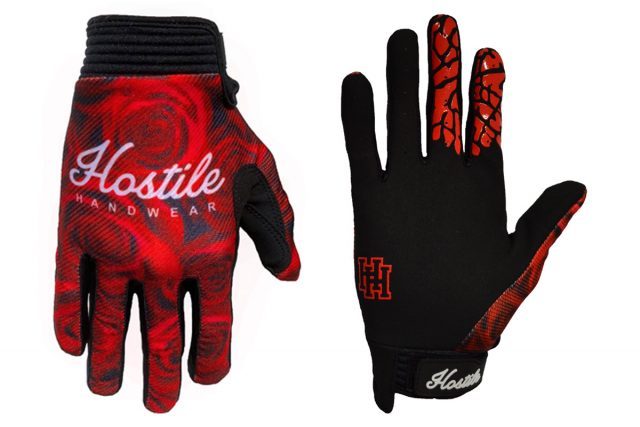 Sizing
There are only four sizes, which is a nice start, but there needs to be a youth size range and a size larger than the XL to get better coverage.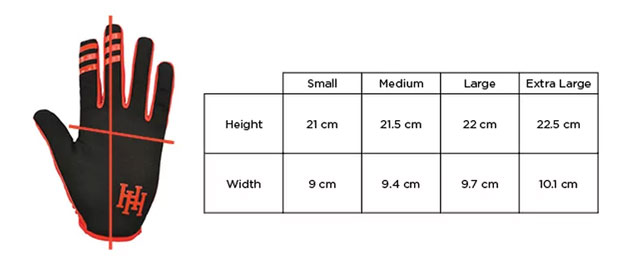 Last Words
The Hostile Handwear Exclusive Series gloves are my favourite gloves so far and here's why
The naked feel – it's as close as you will get to not wearing gloves while satisfying the rules.
The pull tab – finally someone has come up with an idea for a pull tab that doesn't look like it will tear off it you pull the gloves on too hard.
The wrist strap – so you can customise the the fit around the wrist to suit you.
The designs – I chose the rose design over the others because my daughters middle name is Rose, if it wasn't for that it would be a tough decision.
Gallery
Rating 19/20
| | |
| --- | --- |
| Value for money: | 5/5 |
| Weight: | 5/5 |
| Functionality: | 4/5 |
| Looks/Finish: | 5/5 |
Comments
At around the $40 mark for the Hostile Exclusive Series gloves you couldn't ask for much more for your hard earned dollar. A comfortable glove, that looks great and feels even better.
The gloves are about as stripped back as you could get, no excess padding or material.
The only thing I can fault on these gloves isn't actually a problem with the glove itself, it's with the sizing. I'd like to see a lot more sizes so Hostile can dominate the BMX world, from 2 year olds to 82 year olds.
The Hostile Handwear Exclusive Series gloves look awesome and will be my choice in glove for some time to come. I just can't wait to see where these guys take their brand.
Get your hands in some!
Hostile Handwear is available through DRT Industries (www.facebook.com/DRTindustries/) or Hostile Hardware (www.hostilehandwear.com).

Reviewed by Shane Jenkins/bmxultra.com August 13, 2018
Posted in: Race Clothing · Reviews