ODI Vans Lock On Grips Review
The ODI/Vans collaboration grips have been on my radar since they were launched a few years ago now. It's a fusion of the classic Vans shoe, represented through the waffle sole pattern, and ODI grips, the original BMX lock on grip.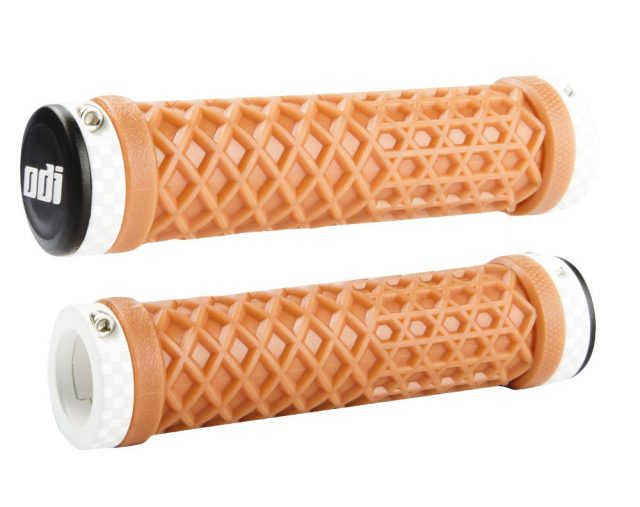 I have used various ODI grips over the years and found them to be the best value for money hands down. I challenge you to find a brand that's more widely accepted in the BMX industry and a grip that's more durable, comfortable and reliable. ODI grips are synonymous with exceptional quality.  
I'm also a Vans fanatic with an embarrassing number of Vans shoes currently in my possession. The obsession/addiction all started for me in the early 80's when I bought my first pair of Vans Sk8 Hi's from Australian BMX legend and hall of famer Jamie Hales. There hasn't been a time in my life since that I haven't owned a set of Vans. It's always been my shoe of choice for racing too. Even now, some 20 years post the introduction of clip pedals. 
I hadn't tried the ODI/Vans grips until now, but I'm sure glad I have finally checked that one off the bucket list. 
The ODI/Vans grips come with the traditional lock jaw clamps that are easy to install. As a bonus they also protect the ends of your grips and are replaceable so you can change colours or in the unlikely situation you do damage your clamp you won't need to replace the whole grip set. 
First impressions
The ODI/Vans lock on grips look great. The problem with them though is the colour options, although there aren't a lot of options I'd say there were a few too many. It's hard to go past the limited edition gum rubber with the white checkered etched clamps to nicely top off the Vans aesthetic, but it might not suit every build like the blacked out option may. On top of that you have bright red, white or cyan blue.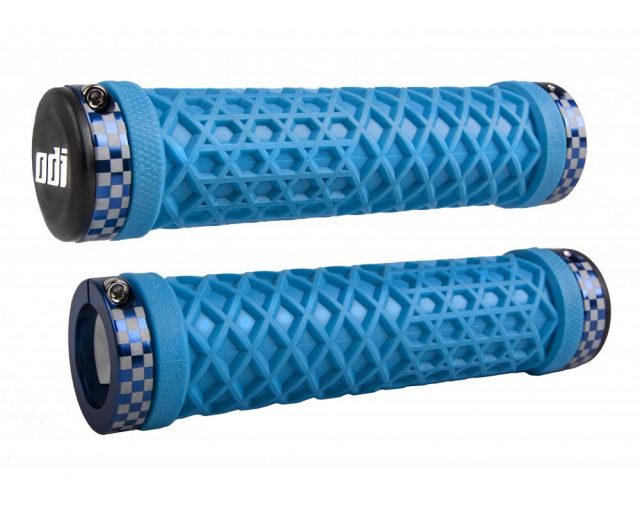 The grips go on nice and easy with only a 2.5mm allen key required to tighten up the clamps. I ran the black set for the review period. I jumped straight into a sprint session for the first ride and found the rubber compound a little hard at first. I like to ride without gloves when I can, they would have been fine with gloves though. It's not like I was about to get blisters, it's just initially they didn't have that softer more comfortable feeling you get from some worn in ODIs. It didn't take long for them to soften up though. 
Manufacturers Description
Two Southern California originals have teamed up to create a modern-day classic design. Featuring the classic Vans ® waffle sole pattern and constructed from ODI's proprietary grip compounds for a consistent feel that provides exceptional control in all conditions. Available as part of the patented Lock-On Grip System for guaranteed slip-free performance and simple installation. For MTB, BMX, ATV and PWC applications.
Available colours
Black
Bright Red
White
Limited Edition Gum Rubber with White etched clamps to resemble the classic shoe design
PLEASE NOTE: THE LIMITED EDITION GUM RUBBER AND LIGHT BLUE COMES WITH ETCHED WHITE CLAMPS, CUSTOM ETCHING WILL NOT BE DONE.
Size
Diameter: 30mm
Length: 130mm w/ locks
The grips are 130mm wide and have a good sized diameter meaning they would be good for most BMXers. I have a larger hand and find the larger ODI Rogue to be better suited to my needs, but I'd be more than happy to run the ODI/Vans lock ons if the Rogue wasn't available. 
Final Words
I love the ODI/Vans Lock on grips. And what's not to love? Two great brands teaming up to create an awesome hand grip that is a real nod to BMXs roots. I highly recommend the ODI/Vans grips. 
Gallery
Rating 19.5/20
| | |
| --- | --- |
| Value for money: | 5/5 |
| Weight: | 5/5 |
| Functionality: | 4.5/5 |
| Looks/Finish: | 5/5 |
Comments
ODI offer the best value for money in any grip I've seen in my decades of racing. The quality, durability and comfort are undeiable.
The ODI/Vans grip pattern doesn't have a whole lot of rubber by design, if you are looking for a lightweight grip with all the benefits of a lockon the ODI/Vans grip could be the answer.
As a BMX grip there's nothing wrong with the ODI/Vans lock on grips. You couldn't want much more from this durable lock on grip…except maybe another size option. Perhaps a narrower version for the groms, or a wider flanged version with a slightly larger diameter to expand the options making them accessible for even more BMXers.  
There is no question the ODI/Vans grip is the best looking BMX grip on the market with a level of quality that's unmatched!
Australia specific information
ODI is available Australia wide through www.lustyindustries.com Be sure to give them a follow on Instagram at www.instagram.com/wearelusty 

Check www.odigrips.com for more information and give them a follow on Instagram at www.instagram.com/odigrips
Reviewed by Shane Jenkins/bmxultra.com August 6, 2018