JT Racing Hyperlite Echo race pants
I feel like I had been a little spoiled for choice in the past, my blue bmxultra.com jersey was easy to match when it came to pants, and I'd found Troy Lee pant's very comfortable. The current TLD colour combinations just weren't going to work with the new jersey I'd just picked up though. After the change up in my current race colours I was left hunting for some new race pants that would match the cyan blue, hi-vis yellow and black combination. It would have been so easy to get some of the Fly pants that were designed to suit the jersey, but I soon found out that not all pants are equal. The Fly Kinetic Blocks were a great looking pant, but after just a couple of laps riding in them I knew they just weren't going to cut it. The elastic at the bottom of the leg kept riding up my shins, I had to give in to the fact that while they fit well everywhere else they were just too short in the leg, that, and I couldn't get over the elastic at the end of the legs. I could have removed the elastic if they were long enough, but I guess it just wasn't meant to be.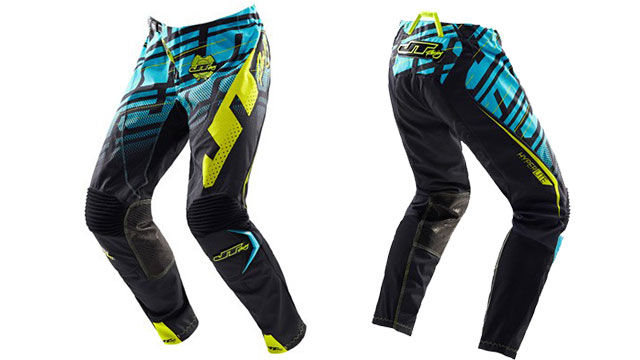 So while I was looking at what was available I noticed that JT had just released a new pant and a couple of styles would be a good match for the jersey. JT seems to have been around since, well, forever. I remember browsing through magazines in the 80's and admiring the JT gear, my favourite was the camo Battlegear. I never did get any back in the day. There were two options from JT that would work with the jersey, the Hyperlite Echo and the Protek V, after checking them both out closely I decided to try the Hyperlite. The fit was pretty close to the Troy Lee pants of the same size. They had a generous waist, and a nice loose fit leg, without the crazy annoying elastic ankle strap that the Fly pants had. JT have marketed the HyperLite pants as "the perfect blend of simplicity and quality", which I can confirm. You don't have any adjustment straps in the waist that some other brands offer, you have just the zipper and ratchet waist closure, which works out to be more than enough to keep your pants up if you size them up properly in the first place. They are a light weight but heavy duty materials and stitching, which means they will hold up to the regular wear and abuse dished out by BMXers, heck they are MX pants, but just about every good race pant is when it comes down to it.
In the past I'd chosen to wear a pant the next size up so I could wear hard shell TLD Lopes knee guards underneath, but I thought if I'm changing my pants I might as well try some different knee guards too, and since the new guards weren't as big I didn't need my pants to be as big. They were every bit as comfortable as the TLD GP pants that I had been wearing, and just like the TLD pants they offered a full range of movement without any limitations.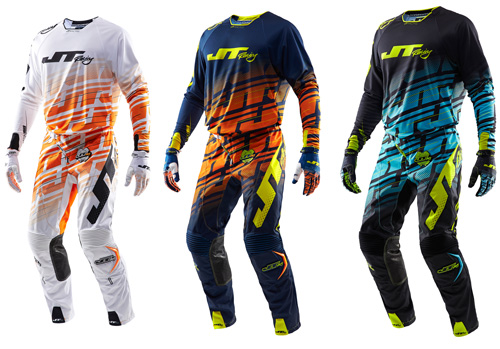 The JT Racing Hyperlite Echo race pants won't break the bank either, they are very affordable.
Colours: White/Black/Orange, Navy/Orange/Chartreuse, Black/Ice/Chartreuse
Pant Sizes: 28, 30, 32, 34, 36, 38, 40
Also matching jerseys in Sizes: Sml, Med, Lge, Xlg, Xxl
Features
Ergonomic pre-curved fit
Lightweight sublimated graphics
Strategically placed spandex materials for increased flexibility
Quilted lower knee padding for extra comfort
Ratchet waist closure
Breathable ¾ length mesh liner
Accordian knee to accommodate modern knee braces
Silicone inner waist to help keep jersey tucked in
Leather heat shield protection for extra durability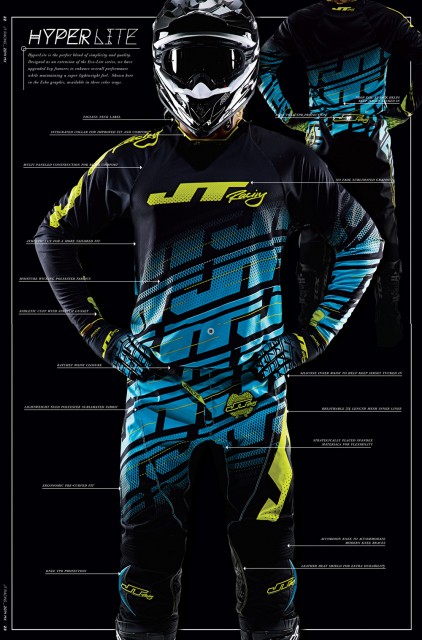 Rating 20/20
| | |
| --- | --- |
| Value for money: | 5/5 |
| Weight: | 5/5 |
| Functionality: | 5/5 |
| Looks/Finish: | 5/5 |
Comments
JT Racing Hyperlite Echo race pants are great value for money
The Hyperlite Echo is a lightweight pant that won't let you down when it comes to providing the protection you need
These pants feel great and look awesome, what more could you ask for?
The designs are unique, and quite cool, colours are vibrant, the stitching and materials are flawless
I highly recommend these pants
JT Racing products are distributed in Australia by Steve Cramer Products. For more information about JT Racing check out www.jtracingusa.com.
Review by Shane Jenkins/6 June 2014
Posted in: News · Race Clothing · Reviews