Knee/shin guards have never been as relevant in the sport of BMX racing as they are today. They are no longer a sign of fear, or a lack of confidence, now it's more about bouncing back up and racing the next race. As tracks have developed they have become more technical and challenging. Naturally the physical demand on the rider has also increased. While the most common crashes in a race might result in a little lost skin and some blood to clean up, it can be easily avoided. We are not about to go and say that all injuries can be avoided with Knee/shin guards, because they aren't designed to support the knee or stop it from twisting, but the chance of injury can be significantly reduced. The recent changes of rules in Australia allows rides to use shorts along with knee/shin guards as an alternative to full length race pants. All this makes for a pretty good reason to check out just what knee/shin guards are currently available.
As design and theories about protection differ so do the look and functionality of the knee/shin guards. There are two main types, race and free ride, however both are just as useful on a BMX track. The free ride guards are a little more protective, and would probably be a little warmer on a hot day. But over a 30-40 second race that's hardly an issue, however it may be a consideration if you are planning on training at a track in the heat for an extended session without taking the guards off.
There are two basic designs of strapping systems to secure the guards to the legs. The slip on "sleeve" style and strap on style, and then you have the hybrid variations. For riders wearing their guards under long pants, the sleeve style generally means removing your race pants, and sometimes shoes as well, to put them on or take them off. The strap style means you can leave your shoes on and only need to pull your pants down to the ankle to put them on. Over time the material used for the sleeve looses it's elasticity as do straps but usually not before the Velcro starts failing to stick.
Hints:
Remember when buying Knee/shin guards to ensure they fit correctly before handing over your hard earned cash. Ill fitting guards will make riding difficult and won't provide a great deal or protection in the case of a crash.
Knee guards will stink, that's right they get very smelly! The padding provides protection but also absorbs a lot of sweat over time. It's a good idea to hang your guards out to air between uses. You may get away with throwing your guards in the washing machine to get rid of the smell, however we don't advise it. If you must wash them this way make sure you put them inside something like a pillow case. Just be aware that a washing machine could reduce the life of the guards. The best way to wash them is by hand, and that way you can guarantee the guards will still be in one piece when you go to dry them.
Please note:
This comparison review is designed to give you a look at some of the knee/shin guards currently available. Since there is a lot of information to take in it will be split over two parts. Oh and don't forget to click on the images for a closer look at the pictures. Prices are in Australian Dollars.
Race Face FR (Freeride)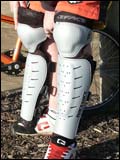 Colours: Charcoal/gray
Sized: S-XL
Price: You should be able to pick them up for around $85.
The Race Face FR guards are very popular and rightfully so, they have a nice price and provide lots of protection. They have five straps to secure them to your legs, two above the knee (one from each side), one above the calf, one below the calf and one just above the ankle. They also feature molded hard shells for protection of the knee and shin. The padding is soft and well ventilated.
The one downfall I found with these guards is the limited range of adjustment in the straps. Especially the top straps that help to hold the knee cap protection down. The Velcro on the end of the straps should be extended to give a better adjustment range. To fasten the top straps down so that there is minimal exposure of the knee the straps need to be overlapped. Not a big problem, since the overlapping does the trick.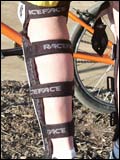 As our crash test – dare I say it – dummy, Jamie Bullows, can testify. It didn't take him long to put the guards through a thorough test crashing hard in a race. He went for the shorts option with the guards on. While the guards got knocked around and finished up with some scratches they certainly did their job taking the full brunt of the blow. Jamie suffered some grazes above his knee and on his thigh, beyond the area you would expect to protect with knee shin guards. Importantly Jamie said they have a good fit and feel comfortable. They didn't slip in his crash either. I can vouch for the comfort and fit, I have used them training and jumping myself.
They work well both with shorts and under race pants
A fantastic buy for the price and well worth considering.
For more information check out www.raceface.com
Distributed in Australia by Advance Traders www.advancetraders.com.au
SixSixOne 4X4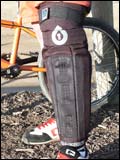 Colours: Black
Sizes: Youth – XL
Price: You should be able to snag some of these for $79.
There is something about these guards that I really like, I just can't put my finger one it. At first they look like they may be a little over designed, looking more like a pad that would be used for cricket. They are the only knee/shin guards we checked out that would provide complete protection the whole way around the leg. The back of your leg would be protected from sharp pedals with a nylon flap that is lined and has a vented area for behind the knee, the flap also doubles as extra strapping securing the guards nicely. Three extra straps actually, one above the knee, one above and one below the calf. Once you fasten those down you have two more straps for the calf to lock everything in place then two straps for above the knee which should be overlapped to securely protect the top of the knee.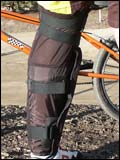 I found them very comfortable to wear, although a little fiddly to put on at first with all the straps. They aren't the type of guard you would want to keep taking off and putting back on, but that's ok, because they are very well ventilated. They don't have the standard molded knee and shin shell for protection, instead there are 5 heavy nylon inserts to take the impact. The 3 inserts for the shin have ventilated panels that would draw air directly to the shins where things normally get very hot and sweaty. The only downfall to that is a big off, or slipping the pedal, could mean the outer layer of the shin guard could be destroyed. But much like a helmet, the idea is protection, if they do their job, then it's all worth it. Right?
These guards are my personal choice for maximum protection for an all rounder. Probably best if you plan on racing in shorts but would work fine under race pants, although you would lose any advantage from the ventilation.
For more information check out www.sixsixone.com
Distributed in Australia by Sportz Australasia www.sportz.com.au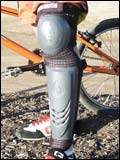 SixSixOne Race
Colours: Gray/black
Sizes: S – L
Price: You could snag a set of these for around $99
The SixSixOne Race knee/shin guards are a stripped back and basic design but still offer protection where you need it most with hard molded shells for the knee and shin areas. The highly ventilated lightweight padding allows a great range of movement. The knee sleeve combined with the straps above the knee, above the calf and above the ankle areas all work to keep the guards in place when riding and during a crash.
During the review period we found that the large is very large fit but the strap system allows a wide range of adjustment, however the sleeve area around the knee wasn't so flexible. It was very loose on Jamie while I found the top and bottom of the sleeve uncomfortable at first. It seemed to dig into the back of my leg, it was ok though, after a little riding I forgot about it.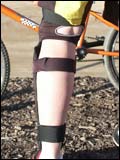 These aren't anywhere near as bulky as the Race Face guards which they have working for them, but since they are so cut back they would be better suited to racing than everyday use like riding at the dirt jumps or training sessions at the track.
Will work easily as well with shorts or under your race pants.
For more information check out www.sixsixone.com
Distributed in Australia by Sportz Australasia www.sportz.com.au
We'll be putting more guards under the microscope for you soon. Including some from Dainese and Fox.
Part 2
Fox Racing System Leg Armor
Colours: Black/Red
Price: at around $60 these are the cheapest guards we looked at
A very basic knee shin guard with a strap above and below the calf, however made safer and more practice by adding a sleeve that's designed to slip over your leg on the inside of the guard, they fold over the top and pull down the outside as well to hold the knee down and stop the guards from slipping.
The sleeve is made from a thin neoprene material has extra built in padding in the knee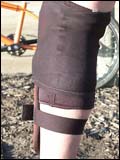 area as well as ventilation behind the knee. It was difficult to work these things out at first, if you just throw them on they will soon move to somewhere you don't want them to.You need to make sure you put them on properly because once you start doing some pedaling there is still a little bit of movement as the sleeve pulls the guards into place.
When fitted properly they are very comfortable, perfect for wearing under race pants, but they probably provide the least protection of all the guards we looked at, simply by leaving more skin exposed. However they will protect the knee and shin from impacts with the ground, its a pedal to the lower shin that you'll really feel.
Distributed in Australia by Monza Imports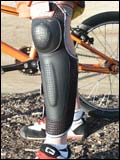 Dianese Freestyle
Colours: Black
Sizes: M – L
Price: at around $130 you are probably better looking at some of the other more protective guards
These guards look very basic, incorporate three calf straps, an extra strap above the knee and have separate knee and shin shells. The design is a little strange, with just about enough ventilated padding to wrap the whole way around the calf, but then a minimalist approach on either side of the narrow hard knee protection cap.
I am not a big fan of the molded shape of the knee protection, it looks like they have molded a knee cap into the shell. Within a few laps of using these guards I had a big off. On one hand I was lucky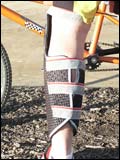 I was wearing the guards because I landed fair on the extruded knee cap area, well actually to the side of it,and since it sticks out so far the general shape combined with the impact caused the guard to slip and expose my knee.A grazing is certainly better than taking the full impact of a fall directly on the knee. I think Dainese should consider a flatter knee cup that wraps further around the knee and extra padding to the side of the knee in the case that the guards do slip on impact.
Marketing material describes these as "The most widely used product in freestyle, dual and four-cross. It combines Dainese protection with comfort fit and ventilation."
Distributed in Australia by Monza Imports
Part 3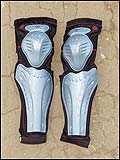 THE Storm
Colours: Black/Gray
Sizes: Small/Medium & Large/XLarge
Price: ?
The THE Storm are a fantastic, light, sock style knee shin guard that feels so comfortable on that it is very easy to forget you are wearing them. Getting them on and off quickly is near impossible, but once on they aren't going to move and of all the guards we looked at these would have to be the best as far as keeping your legs cool. Once on they are locked in with an elastic strap that runs behind the knee (above the calf) and two smaller Velcro fasteners, one above the knee and one at the ankle.
The Storm guards provide plenty of protection from well above the knee cap to just above the ankle and, most importantly, they allow a full range of movement without restriction.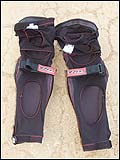 The THE guards are probably the best looking guards on the market, and can be seen being used by the likes of Jamie Gray and Tanya Bailey. These will work as well with shorts as they do under race pants. I think they would be the perfect race knee/shin guard for racing. Personally I wouldn't race with them with just shorts, I'd wear race pants over the top, as the your calf muscle is still exposed and unprotected.
For more information check www.the-industries.com/storm.html
Distributed in Australia by Elite Cycle Imports
UFO Plast MTB 6100
Colours: Grey or White
Sizes: Youth sizes available on request.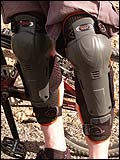 Price: $110
The UFO Plast MTB knee/shin guards are truly unique in design and provide more protection around the knee area than any other knee shin guard we have come across. There are two molded hard polyethylene shells that overlap as the knee is straightened and joined by hinges at the side of the knee. They fasten to your legs by three adjustable elastic straps and once you work out the right fit these things will not move. The calf strap is much larger than other straps and seems to help provide comfort as well as greater contact area which means they are more likely to stay put.
I used these training and jumping and found them perfect to wear with shorts, my only concern was the knee was more bulky than other guards, so the question was "would they work under race pants?". I was surprised to find I had no problems at all. You should know that my Answer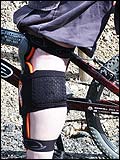 Edge pants may be more baggy than what other people use, which allows for plenty of room around the knee, not everyone will have the same knee room in their race pants.
I would have to say the UFO Plast is a great all-rounder, weather you are using them down at the local trails, racing, or just training. One thing that annoyed me though was the clunk noise they made each time the leg was extended, which only happened when walking around, it was caused by the two shells stopping against each other.
For more information check www.ufoplast.com
Distributed in Australia by ufomtbimports.com.au
Posted in: Race Clothing · Reviews