I love bmxultra.com and the opportunity it's given me to do product reviews on race bikes. It's rewarding to find what I would consider a perfect ride, even when I am not looking for it. To me a perfect ride is something that I would go straight out to the local bike store and buy if I was in the market. Something that looks great and rides even better. It's a rare find for me, because like most BMXers I am very particular about certain things. I like a low bottom bracket, a 21 3/4 – 22 inch top tube and hate the feeling of any flex through a frame. I'm like a kid in a candy store when it comes to checking out products, especially something that I have never tried before. I have raced with carbon fiber forks and I currently use a carbon helmet, they look fantastic and are as functional as any other option, but I never ridden a frame with carbon tubing. The Avent Morpheus is one of the few frames on the race market to offer carbon fiber tubing.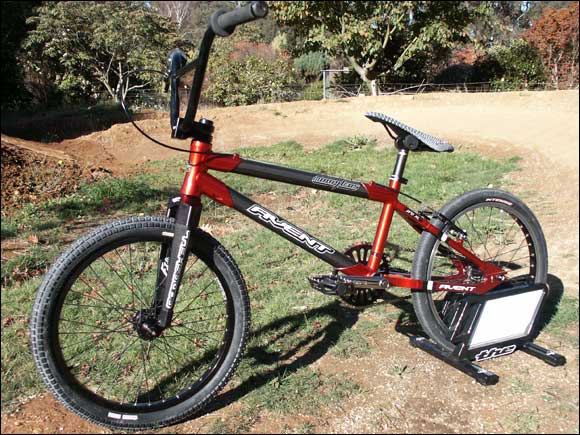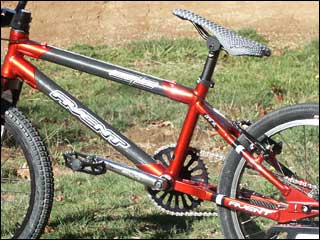 The Avent Morpheus generally comes as just a frame so ECI built up a sweet ride for the review.
The build included:
Avent Morpheus Pro XL frame
S&M race bars
Funn Stem
Sun Ringle BMdoubleU wheels
Intense Tires
Profile Cranks
Bombshell F1 forks
Sinz platform pedals
Dia Tech brakes
The slick snake skin Funn seat
Generally when people consider purchasing a new frame there are two choices; alloy or cromo. There are very few people out there that would even contemplate a carbon fibre option, despite the popularity of carbon forks. I'll confess that I would never have considered carbon myself. My initial knee-jerk reaction would be concern that it couldn't cope with the abuse dished out at a race track and maybe it would flex (flex is my pet hate). I have also been around this sport long enough to know there have been some monumental failures in the past when incorporating carbon in a BMX racing frame, but that's all history. Avent have had a whole lot more time and a great deal more success with developments in carbon and manufacturing techniques. And let me make this clear right now, I found the Avent as stiff as any BMX frame could possibly be and it held up to many hours of jumping, sprint training, and track practice.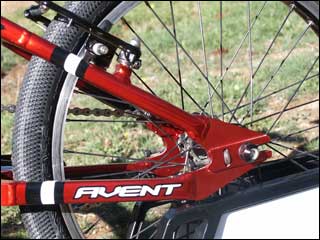 We all know the warnings about dirt jumping with carbon forks, so I thought the best place to start with the Morpheus was in the bmxultra.com HQ backyard … dirt jumping.
As usual the first lap was just to get the basic feel for the bike manualling, accelerating and turning at a safe pace. I have to say it instantly felt comfortable. Next lap was to jump everything on the track and it did that with ease. The Morpeus felt in control at all times, and responded extremely well both in the air and on the ground. The Morpheus has a low bottom bracket (at 11.6 inches), which I loved. It has nothing to do with the science of it all, it's just simply that it feels comfortable for me.
After just ten minutes of riding, I was surprised to say the least, I had discovered one of the best frames I have ever riden. A few hours later and my mind hadn't changed. As far as I was concerned the Morpheus was one of BMXs best kept secrets. It accelerated well off the hill and out of corners, it felt in control at all times manualling or jumping. It was very well balanced and responsive at all times. The front end felt as rigid and stiff as any other frame I had ever ridden.
The next test would be a gates session at the local track to really lay down some power and hit some bigger jumps at faster speeds.
All that did for me was confirm that the Morpheus is a great race frame. It rode just as well on the race track as it did on the dirt jumps. It was superb out of the gate and far exceeded my expectations on the rest of the track.
The Pro XL was a little shorter than what I would race with only a 21″ top tube, but that didn't change the fact that it was a very comfortable ride. At 6'2″ I would be more inclined to check out the XXL (21.5″ tt) or the XXXL (22″ tt). But I had no problems at all with the shorter frame.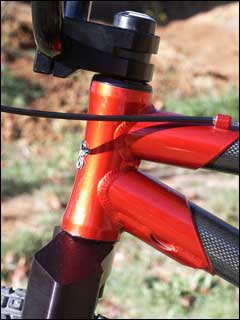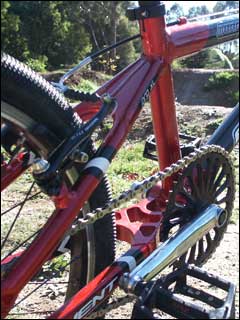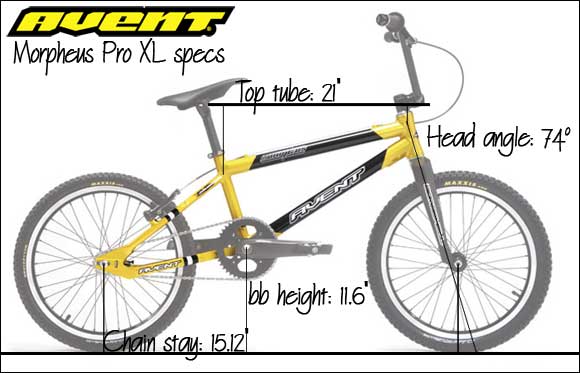 Features include:
7005 series aluminium frame structure
bonded to lightweight Carbon Fiber tubing
internal headset
built in chain adjusters
available in 13 sizes (micro mini to XXXL 20″ and Junior to Pro XL cruiser)
choices of 3 candy colours; blue, red and gold
Rating 20/20:
| | |
| --- | --- |
| Value for money: | 5/5 |
| Weight: | 5/5 |
| Functionality: | 5/5 |
| Looks/Finish: | 5/5 |
Comments:
The Avent Morpheus is a pure racing frame, you will pay bigger bucks for it than the full alloy Factor which has the same geometry
The Avent Morpheus is one of the lighter frames on the market without giving away strength or stability
A fantastic race frame that handles just as you would want it to. The Avent Morpheus rides like a dream
The finish doesn't get much better than this. From the glowing candy paint job to the very tidy welds this frame will turn heads
Australia specific information:
You will be able to pick up an Avent Morpheus for around the $AUS750-800 mark.
Reviewed by Shane Jenkins/bmxultra.com June 15 2007