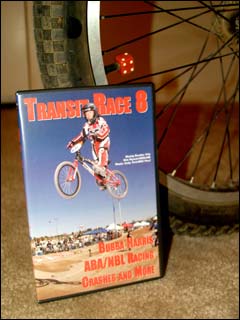 The Transit Race series of DVD's are a great way to get that BMX hit when you can't make it to the track. Over the weekend I watched Transit Race 8 since I had car problems and couldn't get to the ABA Nationals at North Carolina. The next best thing was to sit down and flip TR8 on.
I noticed all the races were held on the West Coast of the US and not much from the East except for the NBL Christmas Classic at Ohio and the trails at Massachusetts. The other races captured on TR8 are;
ABA Fall Nationals
ABA Nag 5 challenge
ABA Grands
ABA Silver Dollars
ABA Sooner nationals
NBL Boulder Dam
ABA SoCal nationals
NBL Silver state.
Highlights:
Each of the tracks on this DVD have awesome layouts, look out for some action packed pro sections
Lots of up and coming riders and new pros
Colin Stiles interviews Bubba Harris at Bubba's home and at his home track. It was another interesting interview. Lots of highlights of Bubba racing at the UCI Worlds, UCI Supercross, and various nationals as well as Bubba talking about his life and racing
The trails at Massachusetts are pretty cool, lot of transfers and jumps just everywhere, looks like a lot of fun to ride there. It would be nice if the TR crew could film more trails from other locations. I know this is a race video but there's a lot of racers that are into trails as well
The crash section is crazy. A lot of the pros couldn't make it over some of the jumps so they had to bail out or hit each other. Lots of corner crashes, it's just carnage. The crash section is probably one of the parts of the DVD
At the end of the DVD there are a lot of random parts. One of the stand outs is a dog that was running around a track. You see it going around a corner and lining up for a pro section and launch like flying squirrel. It didn't make make the distance so it got up walked around to the back of the landing and kept running. It was soooo funny, I couldn't stop laughing
The music was ok, it has been better.
I hope you all enjoy Transit Race 8.
Rating 19/20:
(I have had to change the rating system for DVD's I hope this works for you)
| | |
| --- | --- |
| Value for money: | 5/5 |
| Action: | 5/5 |
| Entertainment: | 4/5 |
| Looks/Finish: | 5/5 |
Comments:
Come on, it's a Transit Race DVD, they are always value for money
Always plenty of race action, and don't forget to check out the crash section and the dog at the end
As usual great entertainment value, but maybe some better music
It's BMX racing right? Looks good to me.
Reviewed by Jason Bergstrom June 27, 2007