CD: Less Than Jake – Anthem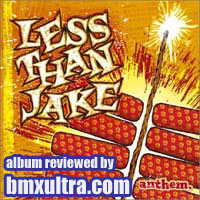 I was pleasantly surprised when I first heard Anthem, Less Than Jake's sixth full length Album. I have to be honest I can't remember hearing any LTJ before, and I'm more into rock than ska punk. I quickly found that, although categorised as ska, LTJ rock with the best of them. The sound and lyrics initially reminded me of the legendary band All, which is always a good thing.
It's Buddy on trumbone and JR on sax that add something more to the drums of Vinnie, bass/vocals of Roger and guitar/vocals of Chris and as a 5 piece it works well, very well.
From start to stop this album is jam packed full of goodies. Standout songs would have to be "The Ghosts of Me and You", "Look What Happened" which reminds me of Everclear, and tracks like "Short Fuse Burning", "Escape From the A-Bomb House", the first single "She's Gonna Break Soon", "Plastic Cup Politics" and the bonus track, the old Cheap Trick gem "Surrender" (I'd be surprised if the record company doesn't try to cash in and release that as a single).
There are a couple of bonuses on this enhanced CD, including the video of "She's Gonna Break Soon" and a bunch of photos and other stuff. There is also a version of the CD that includes a bonus DVD and t-shirt, I'll be keeping an eye out for that myself.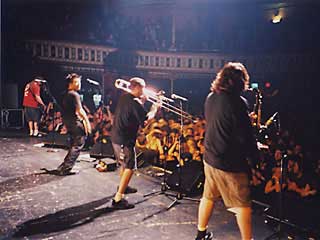 This album will appeal to anyone who likes
The Porkers
The Living End
No FX
Sum41
All
Everclear
Offspring
This is music is high energy and fun, good to ride to.
Check out Less Than Jake's website for song samples, photos and more.
Posted in: Lifestyle