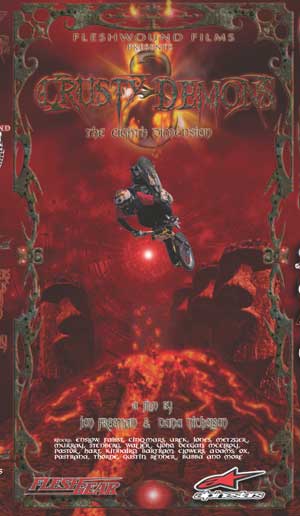 Crusty Demons The Eighth Dimension is the 8th installment from the pioneers of freestyle motocross. I first saw Crusty Demons 1 & 2 a few years back now, when I got my hands on 8 I thought I'd pretty much be seeing the same old stuff, big jumps on motocross bikes, but freestyle MX has really come a long way since those days, thanks to the likes of the X-games. And Crusty Demons 8 is more than just an MX video, you have the 4 wheel bikes, 4×4 off road racing, snowmobiles, mini bikes, road bikes, the crew get up to some jet boating, bungy jumping and there's even a little bit of BMX and MTB dirt jump action.
The footage is shot in various locations all over the world including New Zealand, Easter Island, Canada, USA, Chile in fields, in all types of conditions and terrain like sand dunes, stadiums, volcanos, back yard trails, rolling farmland, X games, winter X games.
Some of the highlights from the film would have to be Mike Metzger's double back flip (there is a lot of back flipping on this film), the lake jumping, the snowmobile jumping, and some of the big spills. There is some great footage taken from helicopters and from the riders point of view, you couldn't get any closer unless you were on the bike yourself.
The soundtrack includes music from the likes of Rob Zombie, Butthole Surfers, Dead Kennedys, Guttermouth, Lords of Acid, Static-X and so on.
There's some "Jackass" style golf buggy action and some pranks that will have you in fits of laughter. Have you ever wondered what would happen if someone heated up you're belt buckle or set off a fire cracker on your ass while you're sleeping?
Crusty Demons 8 has it all – big jumps, even bigger crashes, some ladies showing their appreciation in their best g-strings (it's ok Mum's there's no nudity), just a lot of good old fashioned fun from some of the biggest names in freestyle MX today.
So what's the bmxultra.com verdict on Crusty Demons 8? It could do with a little more BMX, but for a MX video this is about as good as they get.
Buy it now, you can thank me later.
Crusty Demons 8 is available on VHS and DVD now, Crusty 9 will be out in October and Crusty 1-4 will be released as a box set with added bonus footage around September. The soundtracks for Crusty 8 and 9 will be released just in time for Christmas.
For more information about Crusty Demons 8 and other offerings from the Crusty crew check out www.fleshwoundfilms.com.
Posted in: Lifestyle