Activision have dubbed MTX Mototrax as "The Ultimate Motocross Experience".
MTX certainly represents all popular aspects of motocross today with four
different events; Supercross racing, Motocross racing, Freestyle and Freeride.
There are 3 main modes of play Career, Exhibition, and multiplayer.
Career Mode
MTX features a career mode which starts off with you building your rider
customising the look and choosing your race and freestyle gear. Then one
you are done you're shipped off to the first freeride area which is Travis
Pastrana's house. It's here you learn how to ride the bike. Although it's
freeride there are a bunch of challenges which will help you throughout
your career, such as racing, jumping, etc. As you complete the tasks you
are invited to (you unlock) other events and start your career.
Supercross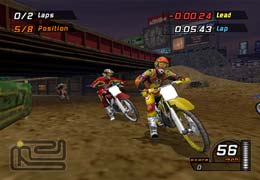 I found the supercross the most fun and most challenging. In each race there's 8 guys on the track. Each race is three laps of huge jumps and tight corners. The events in the career mode are actually a series of races, you have to win the series to unlock the next level and progress.
You start off in the 125cc class and graduate to 250cc. It takes a while to master the tracks and with 7 other riders getting in the way, leaning
and jumping on you it's difficult to take the win each time. It's a good idea to hit the jumps flat out, maintain rhythm through the straights, get sloppy and you will lose valuable time. Most importantly stay on the bike, avoid over shooting the corners and hitting the hay bails. Each time you progress to the next series you get offers from sponsors which you can accept or decline and some improve the performance of the bike or even upgrade the bike. If you place in the top 3 of each event or win the holeshot you earn money for your career and valuable series points.
Motocross
Motocross is much like supercross but not quite as much fun. There's fewer jumps, the tracks are longer and the races are only over two laps. You still need to win a series to unlock the next one, build up career winnings, sponsors and get faster bikes.
Freeride
In freeride it's important to check out the whole level. You need to learn tricks and skills in the freeride areas for use in the freestyle arenas, certain challenges and jumps will ask you to perform a trick (check out the foam pit at Travis's compound), if you are successful you will be able to pull that trick any time. There's a particular challenge that had me stuck for hours, the Barge Hop in the Everglades, as if it's not hard enough to avoid ending up in the water as you jump from barge to barge while turning a corner flat out. When you get to the last barge you have to jump on to a jetty and head for dry land. The first time I was
successful I jumped right over the jetty and failed. (Hint: The clutch is your friend.) There are some very cool challenges in the freeride areas.
Another favourite part of the Everglades, which isn't actually a challenge, is a dirt half pipe which allows you to practice all your tricks and build up MTX points. When you complete certain tasks for each freeride level you will unlock a freestyle arena.
Freestyle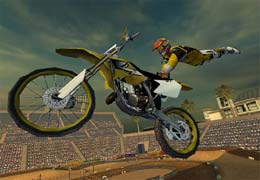 You can jump in the freestyle arenas as much as you like, but to unlock further freeride areas you need to complete tasks. The challenges are difficult to master at first like jumping through hoops, completing a trick list in a limited time, and completing a trick list in a specific order.
Dirt Wurx track builder
You can build and race on your own tracks, I had a play in this area, but it takes a bit of time to build a track, so make sure you have  plenty of it up your sleeve. The created tracks can be saved and reused later.
Videos
As you complete tasks and win races you also unlock short videos, check them out through the options area.
Other game modes
MTX is a multiplayer game, you can play split screen or networked. To play split screen you are only able to race and only on a series that has been unlocked…so you still need to play some career mode to get access to the other tracks.
I was given the Australian limited edition version to review, which comes packaged with a Fleshworx DVD called "Dial Triple Zero 2". When I checked it out it was pretty much 50/50 motocross and BMX action. What I didn't realise was that it's an Australian DVD which includes Australia's first house jump and a bunch of crazy BMXers, including good old Khalen Young at the X-Games a couple of years ago on board his Norco attempting a double back flip amongst other things. The DVD is a bonus worth looking for, we've seen the game with DVD retailing at around $80.
MTX Mototrax has an awesome soundtrack (including Metallica, Misfits, Stooges, Faith No More, Pennywise, Jet, AFI, Distillers, Disturbed, Static X and more) that is fully customisable, you can create playlists to only listen to the songs you want to hear.
I can see how the engine to this game could be easily be converted into a BMX game.
The game play is a lot of fun and very addictive, it's not too easy to master and plenty of challenges to keep you going for quite some time.
For more information check out www.activision.com.
Posted in: Lifestyle