Europe's leading BMX manufacturer, One Bicycles, have released a short run of cromo frames that look identical to their Alloy race frames right down to the geometry (well nearly), tear drop down tube and the amazing paint work that One is famous for.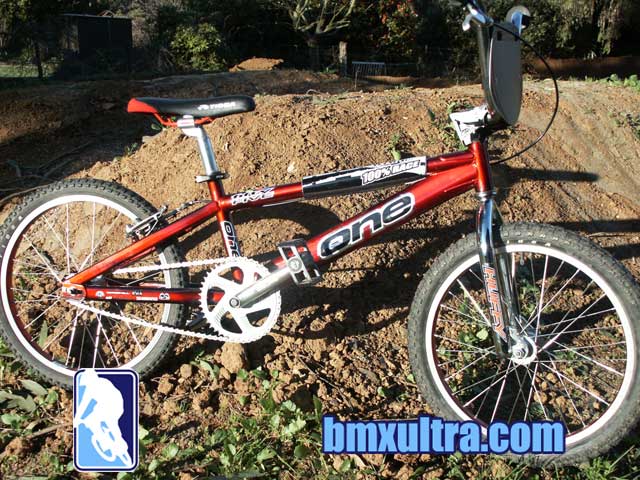 Pulling the cromo frame from the box the most noticeable differences between it and the Alloy version are that it doesn't have the CNC'd head tube that the alloy version has, the welds look smaller and it's a little heavier. If you are looking for a cromo version of the One frame for racing, for whatever reason, then you would have to be willing to accept the very noticeable weight difference. While the geometry was designed for racing the weight is probably more suited to dirt jumping. The extra weight is because it intention was to create a cromo frame that looks like the Alloy frame in every way, including the monster tear drop shaped down tube and box tubing rear end. That said, the cromo One would have a longer life span, than the Alloy, if you to intend to punish it at the local trails. It could also be the perfect training frame for someone who has an Alloy One and doesn't want to trash it.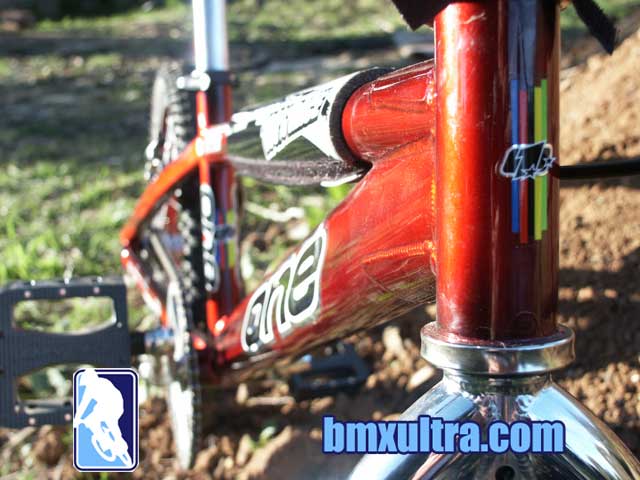 There are only two models, the 54 (or XL) and 56 (or XXL). The numbers refer to the top tub length in centimeters, where 54 cm is 21.25 inches, and 56 cm is 22 inches. Both sizes have a choice ofeuropean or american bottom bracket and are available in either red or blue. When I mentioned these were nearly identical to the Alloy One frames in geometry, the Alloy XXL has a top tube that's actually 55.5cm, just a little shorter than the CrMo.
Before reviewing this frame I have never ridden a One. After I built it up I was pleasantly surprised. The geometry was slick, it was very comfortable to ride, also responsive when doing gates, cornering, jumping, and I found it easy to manual.Once I had the bike wound up on the track I didn't notice the weight so much, it probably helps that I am already
over 100Kgs anyway. You can tell a lot about a bike and how it handles, and if it flexes, just by doing some gate practice on it. The cromo One had no noticable flex on the gate, or even accelerating out of it. If there's something I insist from a frame that's a low bottom bracket, I find it less restricting when trying to accelerate out of the gate or out of corners. It's much easier to get on the gas when you want to with a low bottom bracket, I guess this is even more important for the taller riders. The One frame must have the lowest bottom bracket on any bike I had ridden before. I had to be more aware of my pedal/cranks position
when I took a corner. The first time I did some sprint training on it I nearly threw myself over the bars when I clipped my pedal on the ground while pulling a sharp left turn at the end of the run. That only happened once.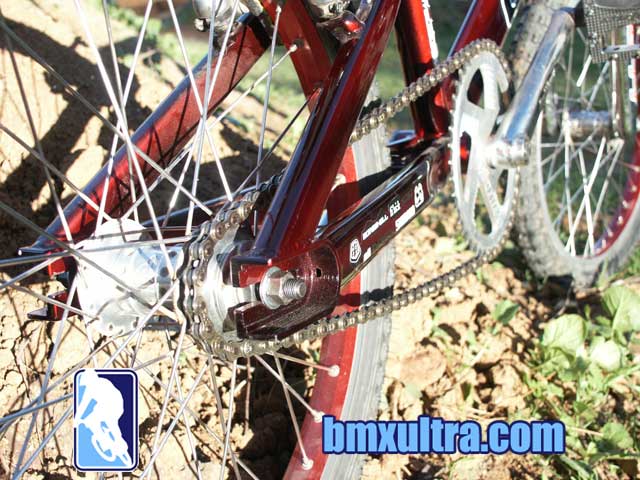 Rating
17/20:
| | |
| --- | --- |
| Value for money: | 5/5 |
| Weight: | 3/5 |
| Functionality: | 4/5 |
| Looks/Finish: | 5/5 |
Comments:
Race proven geometry on a slick looking cromo frame at 2/3 of the price of it's alloy equal.
It's a little heavy as a race frame for the weight conscience.
As a race frame you would probably be better off paying the extra money for an Alloy version, it's a good all-rounder or if you plan to spend more time at the dirt jumps than the race track.
The One frames are really a one of a kind, there is nothing else on the market that looks quite like One frames do.
The cromo frames are available as a frame only and only while stocks last.
Check www.OneBicycles.com for more information about the One product range or to  locate you your local distributor.
One Bicycles are distributed throughout Australia by ECI (www.eciimports.com).