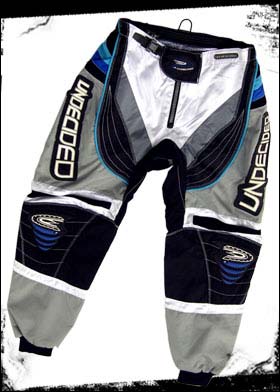 When I was given the opportunity to do a product review of the Undecided race wear I have to admit I was pretty excited by what I saw. An Australian race pant that looked every bit as good as any other race pant on the market right now but with an even better looking price tag.
I wanted to do the review myself, but didn't think I could test them quite like 15 year old Todd "Scooby" Guyers, one of our South Australian co-sponsored riders.
We put the pants through what I like to call our "life cycle test". What this means is that we didn't test the pants for 5 minutes and based our review on that. We have been testing these pants for months, that's a lot of wear, a lot of washing and a bit of crashing too. It's only after months that you get a real indication of how a product would cope with the abuse of BMX racing.
One thing I noticed about South Australia and that is that the water is harsh for washing clothes, it can strip the colour out of just about anything. I was surprised to find out after months of washing the pants haven't yet shown signs of fade.
Even after a few falls over the past few months the pants are still in one piece, no tears and the threads still intact.
I asked Scooby how they felt to ride in, he loves them, not just because they look good but because they are comfortable to race in. People often ask him where he got them from.
The funny thing is Ronnie Guyers, Todd's father, liked the Undecided gear right from the get go. So much that he's now got all 4 of his children using them and he's the Undecided agent in South Australia.
Rating 20/20:
| | |
| --- | --- |
| Value for money: | 5/5 |
| Weight: | 5/5 |
| Functionality: | 5/5 |
| Looks/Finish: | 5/5 |
Comments:
You will be hard pressed to find a race pant of equal quality, looks or durability for this price.
The pants are perfect for racing, light enough so that you would hardly know they were there, but strong enough to take the bumps and scrapes of BMX racing.
Undecided race pants will protect your legs while being comfortable to wear. There's even enough room in the knee area to wear knee/shin guards underneath, for those who want extra protection.
I'll go out on a limb here because this in an Australian product that makes me proud to be Australian. These pants would have to be some of the finest looking pants I have seen in a long time.
The Undecided race pants are available with the blue (as above), green, orange, red & yellow or black & white trim. Undecided also make race tops and gloves to match.
Check www.undecided.com.au to find out more about Undecided's product range or locate you your local distributor.
Posted in: Race Clothing · Reviews