Over recent years One Bicycles have added a huge array of parts and accessories to their arsenal of products, including frames, handle bars, hubs, cranks, stems, etc. I received a set of their sealed flip-flop hubs around the same time as I got my frame and had the wheels built up shortly after. I've been on the hubs since before the A.C.T. Titles in early March so you'd think if they were going to show any signs of wear they would have don't that by now?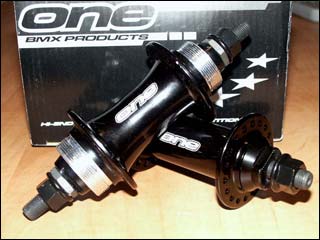 I went from using ACS hubs to the One Sealed Flip Flop, and it was to my relief as the ACS were rattling around like child's toy, not what you want when trying to take on Australia's best.
First impressions: The hubs have a great gloss black finish with the one logo in the center. No fancy big flanges or huge bodies, just a small good sized hub, which is light. The strong 3/8" cromo axles with black axle nuts were a nice touch, and bearings ran smooth as silk with clean lock nuts to finish them off.
Now you might say "it's all good" to have bearings that run smooth when they're brand spankin' new but how are they running 6 or so months later? Well, there's hardly a difference, if anything they are running better than when they were new because the bearings have been worn in and are running a little more freely.
As with all new hubs there is going to be a little maintenance when you first start using them, I had to tighten the lock nuts 2 or 3 times in the first few months, but still check them every now and then and nip the lock nuts up if necessary.
These hubs are tough, I wasn't going easy on them and they have outlasted any other pair of hubs I've ever ridden. For a set of hubs at round the $AU165 mark you know you're getting your monies worth with these puppies ($AU330 for the cassette version which is Shimano and Chris King compatible). At present the hubs are only available in black.
Rating 18/20:
| | |
| --- | --- |
| Value for money: | 5/5 |
| Weight: | 5/5 |
| Functionality: | 4/5 |
| Looks/Finish: | 4/5 |
Comments:
A great price for a flip flop hub which outshines all other flip flop hubs on the market.
Very light hub for its size, low flange small body keeps the weight down.
Flip flop allows you to run smaller gears as well as the larger ones but the narrow rear axle makes it a little hard to remove the 16 side freewheels if you do not have the proper ACS free wheel remover. Front lock nuts seem to come loose every couple of weeks with regular front wheel removal.
Great gloss black paint job, but for those of you who like the silver hubs, you might have to wait a while.
For more information about One Bicycles check out www.onebicycles.com
Review by Jonathan "Jon Jon" Hoare