Profile Racing Elite Freewheel
It's interesting that Profile Racing would choose 2015 to release a freewheel, it's been nearly two decades since they dumped production of their freewheel hubs for cassette. Like any Profile product though I always feel the need to take a closer look.
So freewheels aren't new to BMX, they have been around since the dawn of the sport when Suntour and Shimano freewheels were king. Skip forward to around the year 2000, when cassette hubs were making a strong impact on the BMX scene, it seemed the only freewheel you could get your hands on was a Dicta. It failed, it failed often and it failed big. It is the reason that Cassette hubs took over the hub market and freewheels just fizzled out. Sure there were some freewheel hubs and freewheels still available. ACS have been in the market for a long time, and of course White Industries have always had a high end serviceable freewheel as well. The idea of the Freewheel still seemed like a thing of the past for racing much like cromo frames and flat pedals. Over the past few years there's been a real revival of Freewheels with the likes of Marc Willers being a big fan and BOX making their Hollow hub for freewheel.
We could get into Freewheel Vs Cassette with all the advantages and disadvantages for each, but that could get quite technical, an idea for a separate article perhaps.
I've never used a White Industries freewheel but know of people who swear by them and did notice people comment on the release of the Profile Elite Freewheel that it's too expensive and they would stick with White Industries. Once you see that the Profile Elite freewheel is lighter and has twice as many engagement points the higher price tag starts to make sense.
First Impressions
When I received the freewheel I was surprised with the way that Profile went above and beyond with the glossy packaging. They took it even further by padding out the box. To me presentation means a lot but it means even more to receive a product in perfect condition.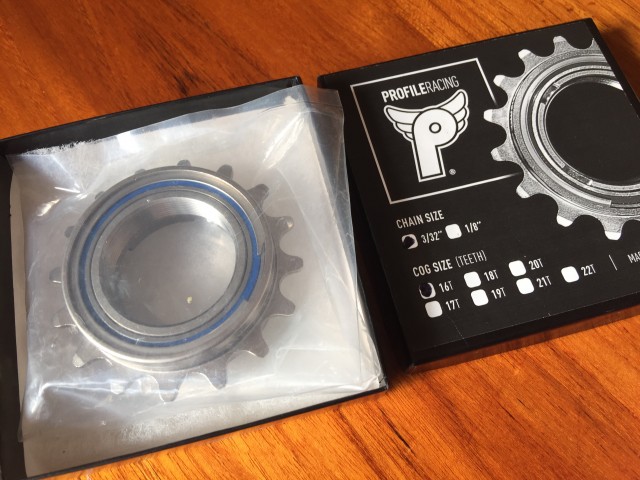 I have an old Sun Ringle SuperStock 2.0 wheel set that has a freewheel hub that I have had since 2000, which are still in great condition, so off came the old freewheel and I popped that into my shiny Profile Elite packaging and on went the Profile Elite freewheel.
Straight away I saw that the Profile Elite freewheel was actually wider than the ACS Crossfire that I'd removed. It was so wide that it pushed against the spokes, that wasn't going to work so I dug through my tool box for a spacer to put between the hub shell and the freewheel, but that meant I also had to put a spacer in between the hub and the dropout because there wasn't much clearance there either, but I got it all sorted out and it was fine for riding.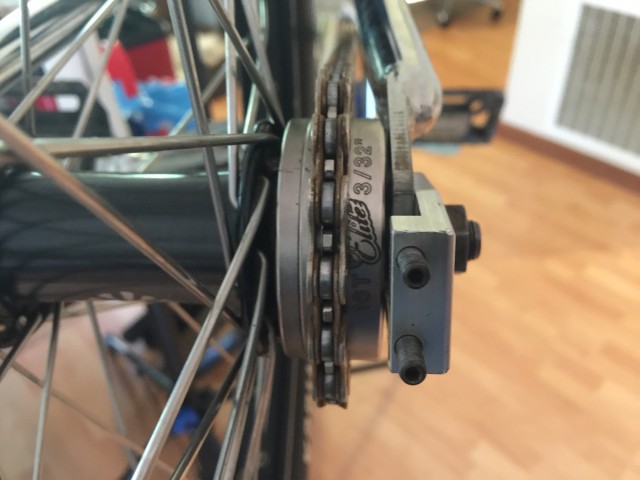 Now I had myself a 15 year old wheel set with 140 points of engagement.
Profile Elite freewheel Features
140 points of engagement
Two Fully Sealed Bearings
Hardened CrMo Outer Cog Driver
Titanium Inner Body Driver
Easily Serviced and Completely Rebuildable
3/32 Teeth
Available in 16t through 18t.
Made in the USA!
Proprietary Removal Tool Sold Separately
Weights:

16t: 4.9oz/139g
17t: 5.1oz/146g
18t: 5.4oz/154g
Fully Serviceable
Unlike most other freewheels the Profile Elite freewheel is completely serviceable. So while it might have a much larger price tag than some of the others for an initial purchase it's going to out live the cheaper options many times over. With the Profile Elite freewheel all parts are completely replaceable and since it's a Profile Product the parts are readily available. Just take a look at the video to see how the freewheel comes apart.
Weight
Comparing apples to apples the Profile Elite freewheel is the lightest on the market. As you can see below.
Profile Elite
ACS Crossfire Pro
White Industries ENO
Weight
16T: 4.9oz/139g
16T: 5.53oz/157g
16T: 5.7oz/162g
17T: 5.1oz/146g
17T: 5.7oz/161g
17T: 6.05oz/173g
18T: 5.4oz/154g
18T: 5.9oz/167g
18T: 6.4oz/183g
Serviceable
Yes
No
Yes
Price
($AUD)
220
59
99
Tool
Profile Elite Tool
ACS Crossfire tool
4-prong Shimano tool
How Does It Ride?
I took the bike out on a few rides and found the freewheel to be completely reliable. I was half expecting to hear the "Profile clunk" that Profile cassette hubs are famous for (it's a noise and nothing more, but it can be enough to put you off your game while you are getting used to it), but there wasn't a peep outside the  "swarm of bees" hum when freewheeling, it's slightly softer than the same sound made by Profile's Elite Cassette hub.
The Profile Elite freewheel runs super smooth. I don't know what else to say except that my old wheel set that I'd retired to one of my mid school show bikes will be getting whole lot more work now.
Gallery
Last Words
Suddenly the whole freewheel alternative seems real again. I like it for it's simplicity, the fact that a hub set up with a freewheel is lighter than a cassette setup gets the old brain ticking too. I may not have considered riding or racing with a freewheel in the past but the Profile Elite freewheel changes everything.
It's clear now why, despite the price, these freewheels are selling like hot cakes!
Rating 20/20
| | |
| --- | --- |
| Value for money: | 5/5 |
| Weight: | 5/5 |
| Functionality: | 5/5 |
| Looks/Finish: | 5/5 |
Comments
The most expensive Freewheel on the market is worth every cent. 140 points of engagement, titanium and cromo components, totally serviceable and it means you can get high performance out of your freewheel wheelset without having to max out your credit card to change to a cassette rear hub.
Quite simply the Profile Elite freewheel is the lightest freewheel on the market.
The Profile Elite freewheel performs perfectly and gives you the "instant engagement" feel of 140 points of engagement that's only been available in cassette hubs until now.
The Profile Elite freewheel has to be the cleanest looking freewheel available from the packaging through to the etching on the outer shell.
Profile Racing is Distributed in Australia by Elite Cycle Imports. For more information about Profile check out www.profileracing.com
Reviewed by Shane Jenkins/bmxultra.com November 27, 2015
Posted in: Freewheels · Reviews