I love BMX racing, but I'm not always at a race track, in fact I spend a whole lot more time hitting up jumps, mostly in my backyard and I probably also ride my BMX bike on the road more than I spend time at the track. Full face race helmets are perfect for protecting your head while racing but they aren't the sort of thing you would wear 100% of the time. It's not unusual for a racer to also own a "bucket" style helmet.
I'd just bought an O'Neal Volt helmet a few months back because it's all I could find in the "bucket" style helmets that would fit my supersized head without blowing the budget on something like the Troy Lee A1. I was looking for something to (1) protect my head and (2) fit comfortably. The Volt was an OK fit around the skull, better than other helmets that I have tried but still not perfect. The straps are extremely short, so much so I started to look at making some sort of strap extension.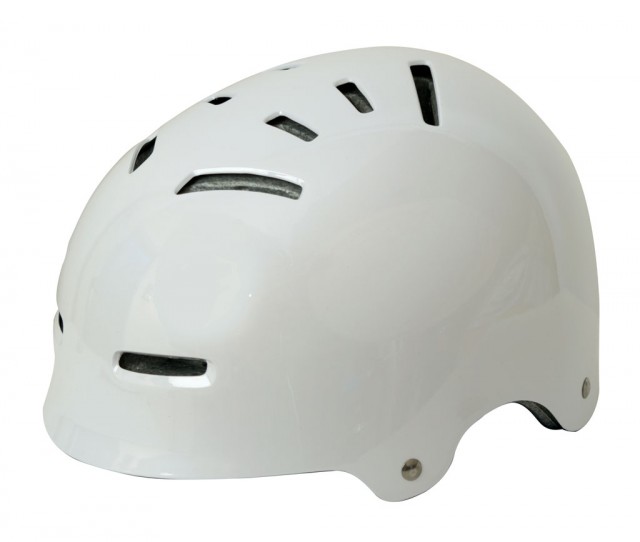 When I was contacted by Bicorp to check out their Azur Zone Flex Helmet (that would fit larger heads) I was interested, very interested, although I wasn't holding my breath that it was going to fit. So naturally I was surprised that it fit my head perfectly, straight out of the box, and there was plenty of adjustment in the chin strap.
I'm not about to say that this is the best looking helmet on the market, far from it, I find it quite pedestrian but it's not like I have to look at it while I'm using it, and it's not so bad that I would be embarrassed to wear it in front of other, it's just plain but then when you think about it  just about all of these type of helmets are in the same boat.
There are a few air vents in the shell of the helmet which are quite small but seem to allow more airflow around the head than most other helmets and this is thanks to the main feature of the helmet the Flex Zones. This is what really sets the helmet apart from other and one of the main reasons I continue to use this helmet rather than the O'Neal Volt that I paid good money for. (Sure the longer chin strap is also a contributing factor.)
A normal bucket style helmet generally has a hard shell, then some sort of dense foam inner shell (generally this is what absorbs the brunt of the impact) and then some softer pads. The Flex Zones replace the foam inner shell, instead of being just one piece it's split into segments that are held together with some sort of reinforcing band that runs throughout the inner shell but allows each segment to flex.
The Flex Zones with a softer outer shell maximise comfort because now your helmet can contort to your head rather than the other way around. The areas between the zones allow for a whole lot more air flow than other helmets making it a much cooler helmet to wear in the summer heat. It's not going to stop you from sweating completely but will be noticeably cooler than what you would expect.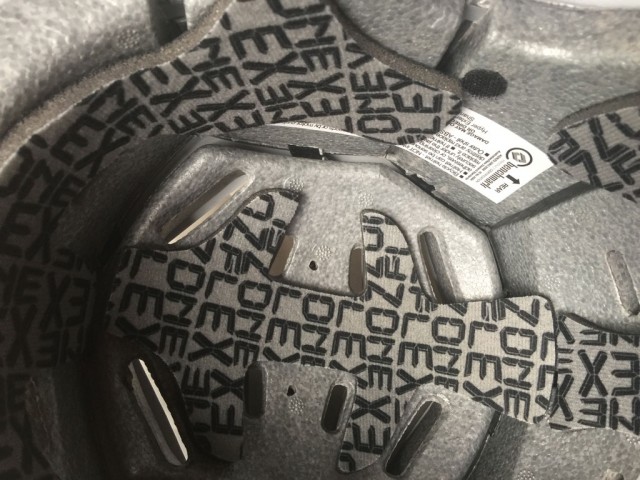 Features
The colour options are Deep Blue, Gloss White, Matt Black, and Olive
There are a total of 3 sizes, with a 50-54cm, 54-58cm, and 58-62cm
Each helmet also comes with two sets of padding for a customisable fit
The weight range is 390 – 440 grams
The RRP is $80
Gallery
Last Words
This is a great helmet for fit, comfort and protection! I highly recommend it and can't wait to see how it develops over the next few years.
Rating 19/20
| | |
| --- | --- |
| Value for money: | 5/5 |
| Weight: | 5/5 |
| Functionality: | 4.5/5 |
| Looks/Finish: | 4.5/5 |
Comments
There are helmets that are cheaper than the Azur Flex Zone, but there is nothing that I have found that's more comfortable and adjustment which, in my book, is worth paying extra few dollars for
The helmet feels very light adding to the comfort factor when using the helmet for longer ride sessions
I'm no helmet engineer but I'd like to see larger air vents in the outer shell, I think a little extra air flow would push this helmet to the next level
While I do find the look of the helmet a little vanilla if you got rid of the mini visor it would give it a much better look from this BMXer's point of view.
Azur helmets are distributed across Australia by Bikecorp (www.bicorp.com.au).
Find out more at www.bicorp.com.au/ProductDisplay.aspx?category=SX010030509
Reviewed by Shane Jenkins/bmxultra.com December 22, 2015