Profile Racing Elite Rear Hub
Profile Elite Hubs have been on the market for over five years now, it's not normal practice for us to review an older product, but this is a little different. Profile have continued to evolve the Elite hub since it's release, keeping it relevant. While many frame manufacturers have tried to out do each other trying different axle options for a stiffer ride, and potentially greater power output, new standards have emerged.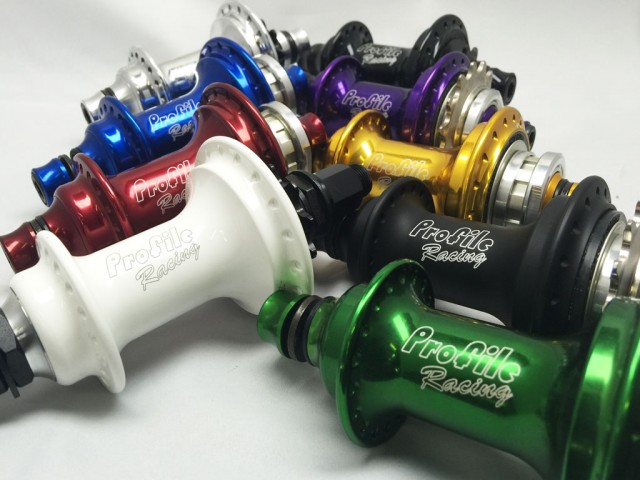 Profile's initial release of the Elite hub was to fit 10mm axles, adapters were created so the hubs could be used with larger dropouts but now that it looks like 15 and 20mm options are here to stay Profile have expanded the Elite hub range to include 20 and 15mm bolts, allowing riders to take full advantage of the benefits offered by larger hub axle and frame dropout combinations. This means there are now two different sized Profile Elite hub shell and axles, but the drivers and other small hub parts are interchangeable.
One of the greatest advantages of the Profile products is availability. Because the products have been around for so long and they are made in-house at the Profile HQ in Florida no matter what hub or hub part you need they are readily available.
Another big advantage is serviceability. Since the hub parts are so accessible you can service your hub, or have it serviced by a professional, when you need it. (There are some hubs on the market that can be difficult to access parts for.)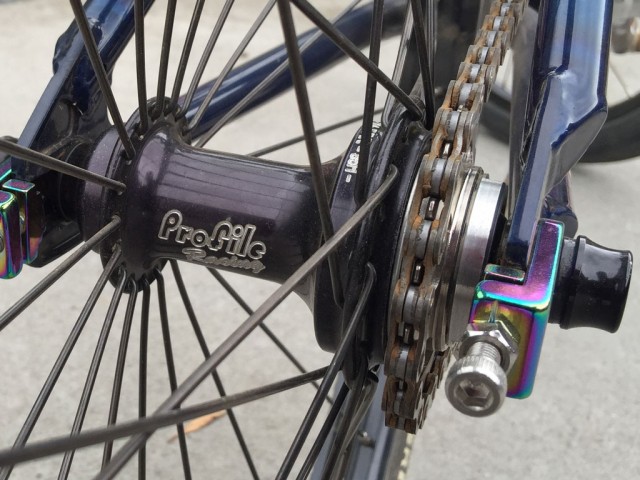 Profile's upgrade options, like titanium bolts or a titanium driver, are available at time of purchase for a small additional cost, or you could choose to upgrade your parts as you go allowing you to fit the hubs to your budget and provide additional weight savings.
Profile Elite hubs also come in a wide range of colour options that includes small runs of limited edition finishes through the year.
The Profile Elite hub is versatile, adaptable to any race configuration, and any budget. Not only that though, the hub can be fitted with 14mm axles and used on freestyle bikes, meaning you can use the same hubs on pretty much any BMX bike, not limited to racing.
Weight
How does the Elite hub compare to others? It's lighter than most! Check this out for yourself.
| Hub | Weight |
| --- | --- |
| Profile Elite 10mm (with cromo cog, alloy driver & cromo bolts) | 15.15 oz / 430 grams |
| Profile Elite 10mm (with alloy cog, titanium driver & titanium bolts) | 13.95oz / 396 grams |
| Profile Elite 15mm | 12.5 oz / 355 grams |
| Profile Elite 20mm | 12.6 o z/ 357 grams |
| Onyx Ultra SS Rear Cassette Hub (10mm or 20mm axle) | 20 oz / 566 grams |
| Onyx Ultra Rear Cassette Hub (10mm) | 16.3 oz / 462 grams |
| Stealth S3 BMX Pro Cassette Hub (10mm) | 18.6 oz / 527 grams |
| Stealth S3 Pro 15mm Cassette Hub | 16.2 oz / 460 grams |
| Stealth S3 Pro 20mm Cassette Hub | 16.5 oz / 467 grams |
| Alienation Thrust Cassette Hub 10mm | 15.5 oz / 440 grams |
| Alienation Thrust Cassette Hub 15mm through axle | 12 oz / 340 grams |
Price
The Profile Elite hub is also amongst the cheapest in it's class, see your local bike shop for details.
Features of the Profile Elite Rear 10mm (3/8″) hub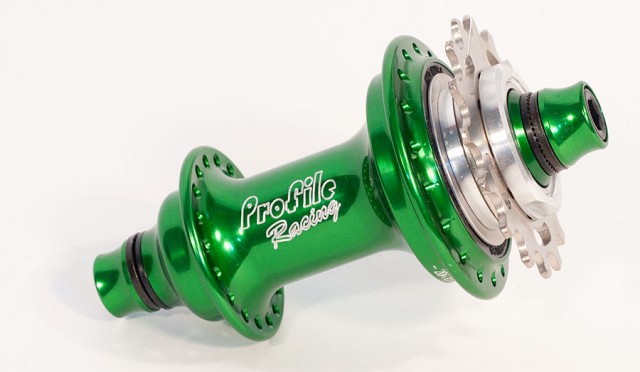 6 pawl system designed for BMX Racing and MTB usage. Also suitable for BMX Trails and light park. Not intended for pegs or street riding.
6 pawl driver for 204 points of engagement means instant forward motion at the first application of pedal pressure
Hub body matched anodized aluminum cone spacers with hardened CrMo knurls to bite into dropouts
Hub body matched anodized aluminum volcano bolt head covers
Standard 3/8 axle bolts come with anodized Volcano Bolt Head Covers. Optional 17mm Hex Head bolts with 8mm keyway available
Aluminum or Titanium Cassette drivers for Profile Cogs
Standard CrMo Cogs, or upgrade to Aluminum or Elite CrMo Cogs
6 colors: Red, Black, Blue, Polished, Gold , Green
28 or 36 spoke hole options
Made in the USA
Features of the Profile Elite Rear 15/20mm hub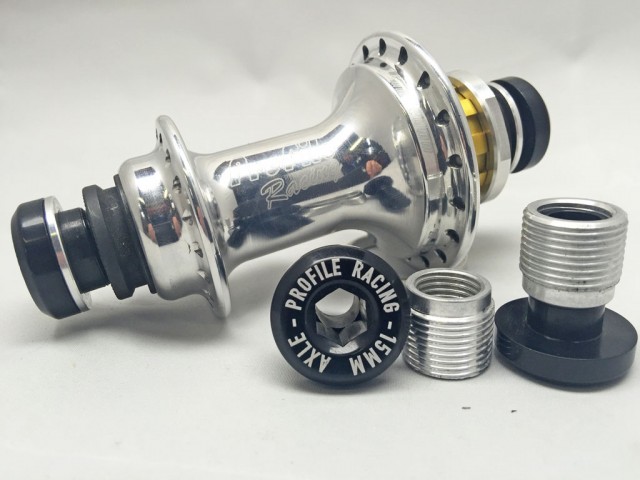 The Elite 15/20mm hub has a true 20mm bolt-on hollow aluminum axle and cassette free-hub body.
The proprietary cassette body (different from the existing Elite hub) allows you to use our standard steel, Elite, or aluminum cogs ranging from 12t to 18t.
Elite 15/20mm means that you can use this hub with any frame that requires a 15mm or 20mm axle without using adaptors.
You have a choice of either 15mm or 20mm bolts when ordering your hub. You can use this hub with any standard aluminum or carbon frame. Replacement 15mm conversion or 20mm bolts are sold separately.
The Elite 15/20mm hub is manufactured from a high grade, aerospace quality billet aluminum.
Comes with black anodized 15mm or 20mm bolts with laser etched logos.
The Elite 15/20mm rear hub weights 12.53oz (weighed with a 16t steel cog).
Available in Black, Polished, Gold, Blue, Purple, Aqua, Green, and Red.
Front and Rear hubs sold separately.
36 spoke hole only.
Made in the USA!
How does it ride?
I've used a lot of different hubs over my years of BMX, Profile hubs have been amongst my favourites. One of the things that turned me off Profile Elite hubs when they were first released was the noise. Of all the hubs I have looked at the Elites would have to be the loudest. We're not talking industrial deafness but it's loud enough to attract people's attention if you were riding by. Through the review period, once I started to focus on my riding, the sound didn't bother me, actually I stopped noticing it altogether.
I found the Elite hubs to be a smooth ride with very little rotation before engagement. I was instantly comfortable with the hub and wasn't able to fault them during the review process.
I've heard talk of the Elite Driver causing a lot of drag through the six pawls, and I could understand the theory behind it but there was no sign of drag on the hubs I was using. I'd also heard that the pawls wear out quickly but as you could see in the How to Service Your Profile Elite Hubs video we put together, the four year old pawls were looking pretty tired but still did a great job, although I would recommend you not leave it that long. A quick check and clean up every 3-6 months would keep your hubs running smoother longer.
Gallery
Rating 20/20
| | |
| --- | --- |
| Value for money: | 5/5 |
| Weight: | 5/5 |
| Functionality: | 5/5 |
| Looks/Finish: | 5/5 |
Comments
The Profile Elite hub is one of the best value for money hubs on the market today. It's built to last!
Currently one of the lightest hubs in BMX without compromising strength and durability
Hands down one of the most configurable, lightest, cheapest and most reliable near "instant engagement" hubs available
The Profile Elite hub has a sleek, classic look, and with the large range of vibrant colours available you are bound to find something that suits your preferences.
Profile Racing products are distributed across Australia by Elite Cycle Imports (ECI) www.eciimports.com and available through all good local bike shops.
Reviewed by Shane Jenkins/bmxultra.com February 29, 2016