Rival Racing Technologies iGate and Magnetic Latch
We were contacted over 12 months ago by USA start up, Rival Racing Technologies (no association with Australia's Rival Racing frame brand), they had this great new product that was about to hit the market and thought it was something that our readers might be interested in. A few months passed and RRT sorted out manufacturing, patenting and their website for online sales. They were ready to do serious business.
Their main product is called the iGate. Essentially it converts your iPhone, Tablet, Droid, etc into a starting gate controller using Random Gate (Kurt Bagby's app, available from the iTunes Store). It does it in a very simplistic way and is the most economical way to set up a practice gate I have ever seen.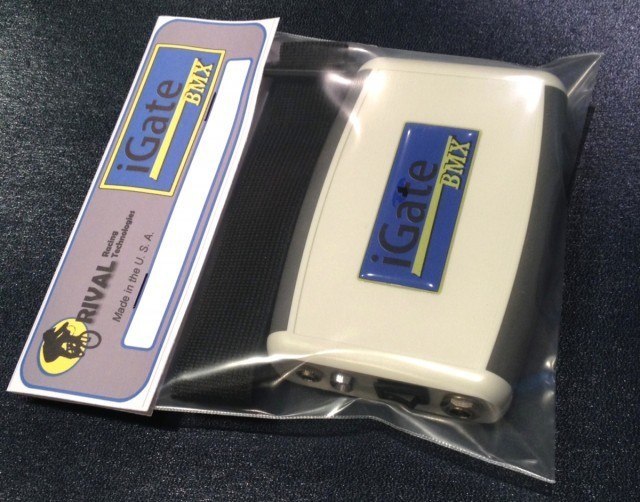 I tried to work out how it all hung together from the tech sheets and the description on the website and thought I was misreading everything. It couldn't be possible that it's as simple as putting a light sensitive suction cup over the screen of a mobile device! Could it? When I received my iGate I discovered that's exactly how simple it was!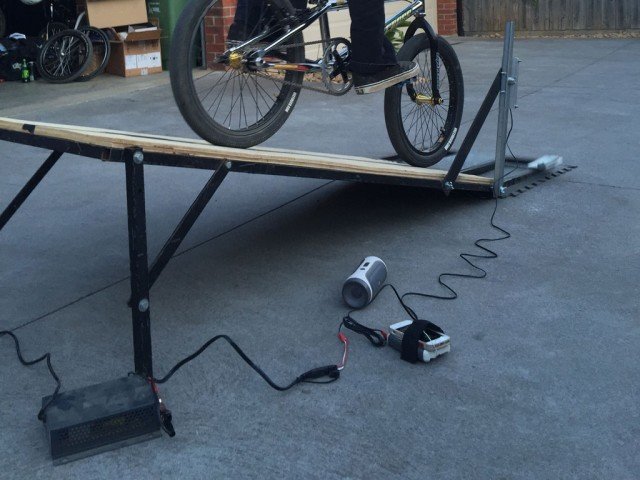 How it all goes together
In the box of goodies from RRT we had the iGate and the Magnetic Latch assembly with armature plate (which is the plate the magnet latches on to).
I'm sure if you have your own magnet you would be able to make it work but RRT have done all the hard work wiring it up and cutting everything to size, you'd be silly not to grab the Magnetic Latch with the iGate. Besides, their magnetic latch is rated for 160kg (over 300LBS) of holding force and it releases immediately without fail, it's unlikely you would have something like this just laying around.
Once that arrived we just needed a power source, you can run off a battery or if you have access to a power point you could run a transformer. Both options should be available at your local electronics store.
We had an iPhone with the Random Gate App all loaded and ready to go. We added a bluetooth external speaker to the mix just to make sure we could hear the cadence.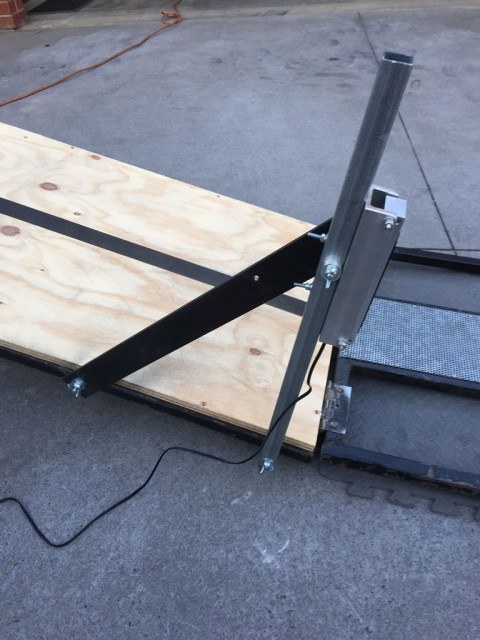 Our plan all along was to fit the mechanism to a "Stumpy Gate" but you can buy the gate as well or purchase plans for a basic wooden gate from RRT.
In just under an hour and with about $20 worth of hardware a "Stumpy Gate" was fully converted to a UCI Cadence, magnetic release practice gate. The only real tricky part of putting it all together was ensuring the magnet and armature plate were aligned correctly, but once set in place we were good to go.
With everything plugged in an set up, the suction cup was on the screen, we just had to run a few tests to see how the light positioned and moved the suction cup accordingly. Then we found the gate released a little slower than what we were used to with ram gates. That problem was easily fixed with two points of adjustment. You can change the brightness of the screen or you can move the suction cup to an earlier light, both of which are very easy to do.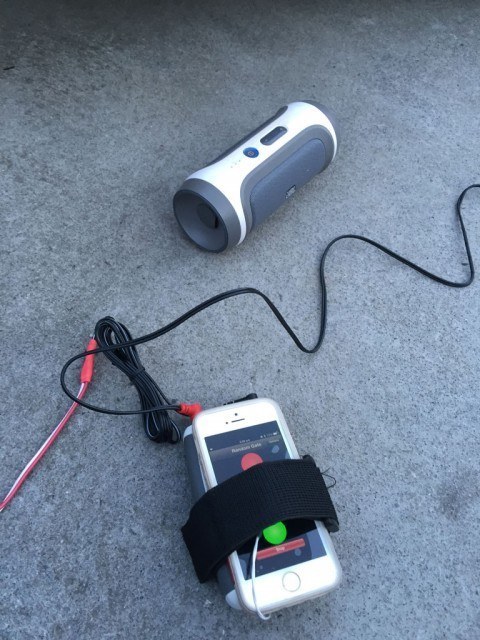 Now the thing is, to lock the suction cup into place there is a velcro strap which goes around the whole unit. Along with the suction cup the strap obscures the screen. If you want to see the lights you can work around this, the iPhone has AirPlay functionality so you can mirror the display on your phone through your AppleTV, it can also be set up to mirror through another device like an iPad for example. So you have two sets of lights. One set you can see and one set for the sensor. The advantage if this set up is AirPlay is wireless so you should be able to position the lights anywhere you like without having to worry about cables. I'm not familiar with Android but I expect there is a similar method to set up a second set of lights.
(There are detailed instructions on how it all fits together, make sure you read them, they are very detailed and easy to follow. Check them out here www.rivalracingbmx.com/Manuals_and_Downloads_s/102.htm)
Simple Operation
Operating the iGate couldn't be simpler. The Random Gate app just needs to be configured so the Auto Repeat is disabled and depending on where you have your iGate set up you would need to set a delay before the cadence starts (5 seconds should be ample), unless, of course, if you have someone else to press the button for you. All you need to do is press the start button once you are all set to go to kick off the cadence. You can lift the gate at any time to lock it into place, you don't need to hit any buttons to reset the magnet. So once you are all set up you can crank out as many gates as you like.
Two Man Gate Options
Running the iGate to control two gates is consistent with RRT's running theme of ultimate simplicity.
"For those who want to create a two man gate that runs from one single iGate BMX Controller Module. Simply place both gates side by side and use a Y-Adapter to connect both gates to the same iGate BMX Controller Module."
Price
$USD86 for the iGate BMX Controller Module
$USD90 for the Rival Racing Magnetic Latch Assembly with Armature
Postage is additional and will vary depending on destination.
Gallery
The Final Word
The gate start is one of the most important aspects of any race. Being able to hone your technique and improve timing to get any advantage over the competition could give you the edge that you are looking for. The Rival Racing Technologies solution will be one of your most important training tools but will  leave you with plenty of left over cash in your pocket so you can still afford to get to the big races.
Rating 20/20
| | |
| --- | --- |
| Value for money: | 5/5 |
| Reliable: | 5/5 |
| Functionality: | 5/5 |
| Looks/Finish: | 5/5 |
Comments
The iGate paired with the Magnetic Latch is hands down the cheapest and easiest practice gate option I have seen
The last thing you would want to do is fall on your practice gate, should anything go wrong with the iGate, say lose power, the magnet automatically releases
You couldn't ask for a simpler, more flexible option for a home practice gate
The iGate itself is very compact and self contained, it's a very tidy little unit that is completely fool proof.
The iGate and Magnetic Latch are available directly through Rival Racing Technologies at www.rivalracingbmx.com.
Reviewed by Shane Jenkins/bmxultra.com March 2, 2016
Posted in: Reviews · Training Systems