Alienation BMX TCS (Tubeless) Mischief Rim
With the proliferation of carbon fiber BMX race frames these days bringing the weight of BMX race bikes down it's said that wheels and reducing rotating weight will be the next craze. I feel that this has already been happening for quite some time. Alienation have been a leader in BMX rims since they hit the market in 2006. They aren't the kind of company that sits on their hands, they are driven by making the best products available and just when you think they have come up with the perfect rim, they are already working on the next one.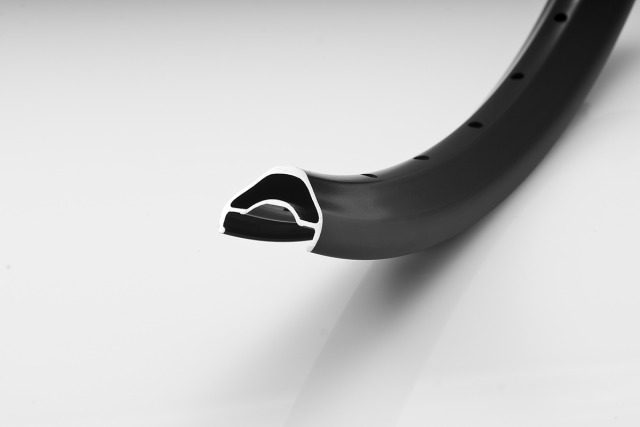 The TCS Mischief rim is Alienation's latest front specific rim, it's been available for a while now, and normally I'd be all over it being a new product. The problem with Alienation rims is they are so good that I just couldn't find a good enough excuse to replace my existing wheel set. After two and a half years of abuse my Alienation Stay Strong Skylark/Runaway combo still look great and run perfectly true. Even on the odd occasion where I have blown spokes on the drive side of my back wheel it remained perfectly straight. It's one of the many reasons I personally choose Alienation rims, they are far superior to any other rim I have ever used in my 30 plus years of BMXing. It's lucky for Alienation that I have a number of bikes that I use regularly otherwise they would just about engineer themselves out of business.
I first looked at the TCS (Tubeless) system early in the piece and I'm just as impressed with them today as I was three and a half years ago. Sure there's still no sign of the tubeless tires yet, but I hear they are just around the corner. One misconception of the TCS system is that they are a tubeless rim for tubeless tires. TCS actually stands for Tubeless Compatible System. While they are compatible with the TCS tubeless tires they are also compatible with everyday standard pneumatic tires like the popular Tioga PowerBlock and so on. One thing I noticed is they have two valve holes. One for TCS valves and one for the standard Schrader/car valve style. While it didn't seem to make too much sense to start off with I'm sure it will all make sense once the TCS tires are released.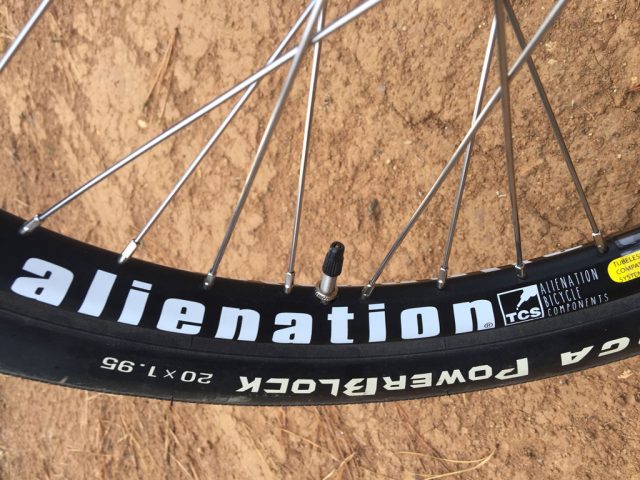 Is it too early to come up with another tubeless compatible rim before the tires are available? Heck no! If Alienation can come up with the ultimate rims for when their R1 and F1 tires are available it makes it easier to be ready for the game changing tires and it would make it even better to make the switch to the best possible rim combo after the tires are finally made available.
Weight
The Alienation Mischief rim really is one for the weight weenies, weighing in at a scant 290 grams or 10.2 ounces the Mischief is the lightest front rim on the market and weighs in at the same weight as the Speedline RCR Carbon rim, but a much more appealing price tag.
Brand
Model
Grams
Ounces
Alloy
Alienation
TCS Mischief
290g
10.2
Alienation
Deviant
305g
10.75
Alienation
Skylark
390g
13.75
Sun Ringle
Envy
395g
13.9
Answer
Pinnacle
325g
11.4
BOX
Focus Front
295g
10.4
Carbon
Speedline
RCR Carbon Fiber
290g
10.2
Ice Fast
Rafale
305g
10.75
The surprise for me is that the Mischief is the same weight as Speedline's RCR carbon rim.

Features
The TCS (Tubeless Compatible System) Mischief uses our new 4D drilling process less chamfering of which; creates the optimal interface between spoke and rim. This exact angle reduces binding and the need for eyelets.
Our new G69 material is super light with superior strength.
NO RADIAL LACING. These rims are designed and drilled for 3 cross specifically.
Each TCS Mischief rim comes with a valve plug for the unused valve hole (TCS rims are drilled for both TCS and Schrader).
Use: Race – Front Only!
Material: 6069 T6 (30% stronger than 6061 T6)
Walls: Double
Joint: Sleeved
Weight: 290 g
Diameter: 406 (20")
Drilling: 36H, 28H
Valve: TCS & SV
Sidewall: N/A
ERD: 386
Colors: Black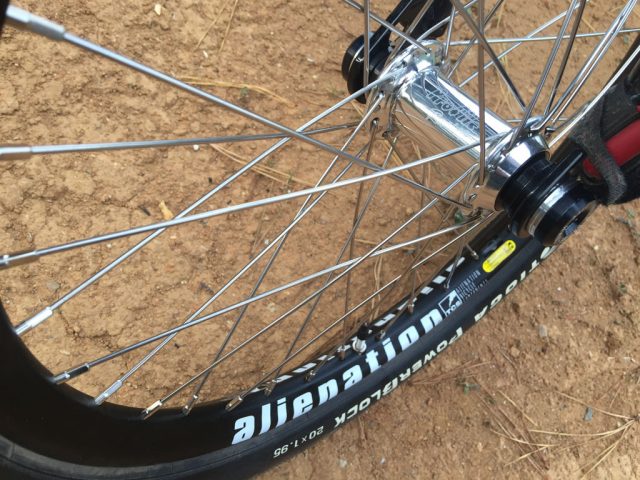 How do they ride?
The Alienation Mischief rim is up for anything you can throw at it. It does feel light and strong and there are no signs of flex. I've heard of heavy crashes that resulted in broken bones with the bike cartwheeling away but the rim stayed true and all ready to ride after the healing process.
Gallery
The Final Word
Compared to other rims the Mischief is superior in strength and the lightest on the market. While it may be a little more expensive than other alloy rims, it's no where near the cost of the carbon options. After taking a close look at the Mischief rim I now know I should have grabbed one of these rims much earlier.
Rating 20/20
| | |
| --- | --- |
| Value for money: | 5/5 |
| Weight: | 5/5 |
| Functionality: | 5/5 |
| Looks/Finish: | 5/5 |
Comments
The Alienation Mischief rims are made from 6069 T6 alloy which provides extra strength, they are tubeless compatible, and the lightest rim on the market, they cost a little more than most alloy rims but they are light years ahead of the others by design. Like all Alienation products they are built to last!
They are simply the lightest rim on the market!
You couldn't ask for more from a rim.
As always Alienation have put in a lot of effort to the looks and the finish of the rim. Second to none. I'm sure that there will be people out there chasing additional colour options, but the matt black looks great to me.
Alienation BMX products are distributed in Australia by Elite Cycle Imports (ECI) www.eciimports.com
Reviewed by Shane Jenkins/bmxultra.com April 28, 2016