Profile Racing Nomad Rear Freewheel Hub
The new Profile Racing Nomad Rear Freewheel hub is a welcomed addition to the expansive range of Profile hubs. It's a range that has certainly grown somewhat of late. No matter what you were looking for in a hub Profile has you covered. They have their staple Mini and Elite hubs in a wide range of colours, axle sizes and upgrade options to suit your needs and your budget. But it doesn't stop there, the options are almost endless.
There has been a growing under-swell of people who prefer the more traditional threaded freewheel hub over the current standard of the cassette hub. When Profile released the Elite Freewheel with 140 points of engagement all of a sudden the freewheel option, which was mostly considered "out dated" or "old school", seems very much relevant again, a true alternative to high engagement cassette hubs.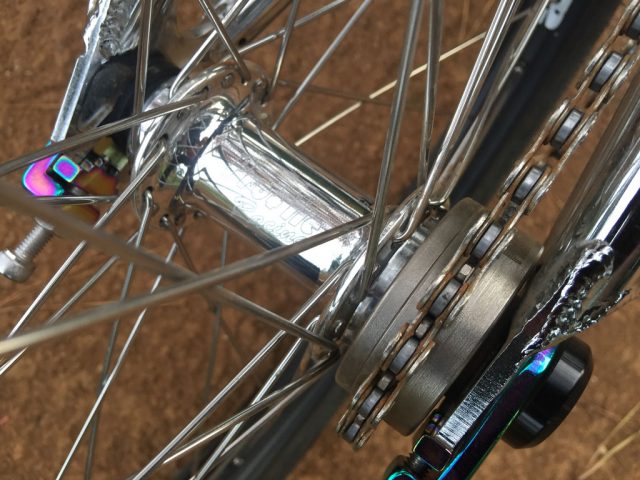 I know a bunch of you would be wondering 'why a new freewheel hub in a modern era?' It isn't that ridiculous when you think of it. There are some distinct benefits with Freewheel options.
They are lighter because they run less bearings

The have a more even distribution of load across the axle.

The bearings have a wider stance since there is no need to allow space for the cassette mechanism inside the hub shell.

It's simpler to change gears – one tool is required over the norm of two that it takes to remove a cassette sprocket (although potentially more expensive to replace a whole freewheel over a cassette cog).

The freewheel is a more universal solution than some of the proprietary cassette driver patterns for the likes of stealth hubs and others.
If that's not enough for you BOX state on their website "Marc Willers, Caroline Buchanan, Kurt Pickard, the Dutch National BMX team and many other of the world's top elite and amateur racers have been winning on … freewheel hubs …".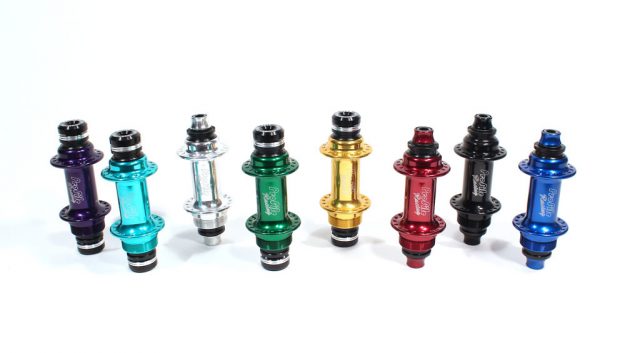 I remember having a conversation with wheel builder extraordinaire John Kovachi about cassette vs freewheel when cassette started to take over the hub market and, at the time his preference was freewheel, he said for cassette to be as reliable as freewheel the hub must be regularly serviced and well looked after.
Over the years I've heard of cassette hubs letting people down when driver lock rings come loose and cause all sorts of issues but never seen a freewheel come loose, that said though cheaper freewheels, like Dicta, should be avoided like the plague, they do have their problems. The only thing I can think of that's likely to go wrong with a freewheel hub is the freewheel, with a cassette you have a number of potential issues. Not that many people carry spare drivers, springs, pawls, lock rings, driver bearings and spacers, ratchet rings, etc. But it's a whole lot easier to carry a spare freewheel.
Weight
Simply put a Profile Nomad/Elite Freewheel combo is a light weight hub option. Check this out.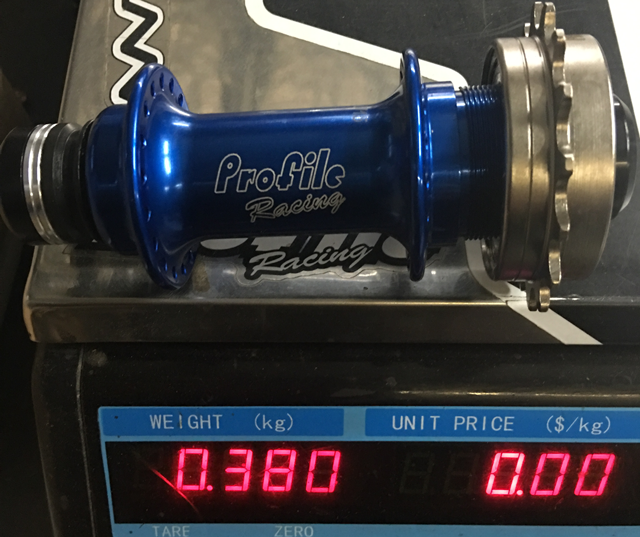 The Profile Nomad Freewheel hub (15mm axle) with Profile Elite Freewheel weighs in at 380 grams, compared to the Profile Elite rear hub with 3/8″ CrMo bolts, Alloy Driver, and 16t CrMo cog which weighs 430 grams.
Price
I like that the Nomad hub can be customised to a budget. If you want a high end hub freewheel combo and must have the higher engagement option but don't have all the cash up front you can build the wheel with a cheaper freewheel and upgrade to the more expensive Profile Elite Freewheel at a later date. This isn't an option for cassette hubs.
The Profile Nomad Freewheel hub is a little better on the budget than the Profile Elite cassette hub, and most other Cassette hubs for that matter.
Features
Available in either 3/8 (10mm) or 15mm
(like the Profile Elite 15/20 Cassette Hubs, inserts are available to convert an existing 15mm to 3/8″ axle size, however, in order to convert an existing 3/8″ to 15mm, you would need a complete axle conversion kit).
36 hole only.
Available in Polished, Black, Blue, Red, Gold, Green, Purple, and Aqua.
Freewheel Not Included.
Sold as a rear hub only, but match perfectly to the Profile Elite Front hub.
3/8″ comes standard with volcano cones, but upgrades (at no charge) are available for CrMo button head and 17mm hex bolts.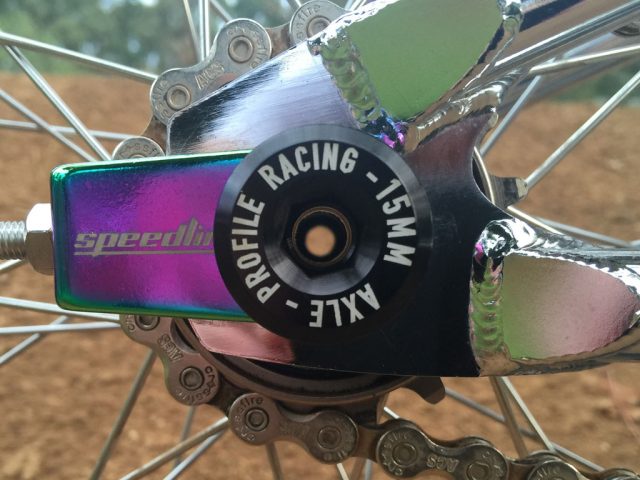 How does it ride?
Firstly I have to say how impressed I am with the look and weight of the wheel set. It was another quality set of BMX wheels from the ECI stable, built with a Profile Nomad Freewheel rear 15mm hub and and Elite Front 20mm hub laced into tubeless ready Alienation Mischief & Malice rims finished off with 14g stainless steel spokes and brass nipples. The total weight including a Profile Elite 16T Freewheel is only 1,650 grams. You would have to agree they look awesome.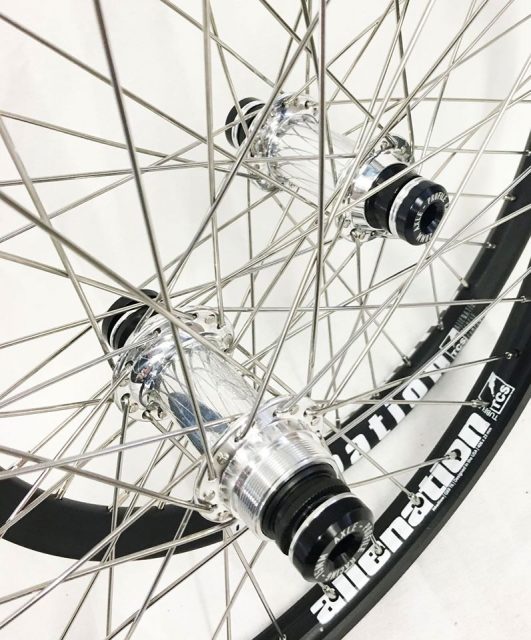 So back to how they ride. I've spent a few months with the hub, riding tracks, jumping, pump tracks and racing and the hub hasn't skipped a beat. While riding I can't tell if I have a cassette or a freewheel on the bike.
One thing I noticed, almost immediately, and that is that it's much quieter with the Profile Elite Freewheel than Profile Elite and Mini cassette hubs when freewheeling, which is perfect in my books.
Oh and if you have read the review of the Profile Elite freewheel you would have picked up that we had issues with the Freewheel being much wider than traditional freewheels so on an older hub it had to be spaced out carefully to clear the spokes and the dropout. Paired up with the Profile Nomad hub though that's not an issue, just screw the Elite freewheel on and you are ready to drop your wheel straight into the bike and hit the track.
Believe it or not, the amazing Nomad Freewheel hub has it's limitations, but nothing that can't be overcome easily. It's threaded only on one side as apposed to the flip-flop variety of freewheel hubs, so it can only take 16T and larger freewheels. If you like your 15 teeth or smaller cogs this isn't for you. But it's not the end of the world there's always the opportunity to change your gearing setup to work with the hub.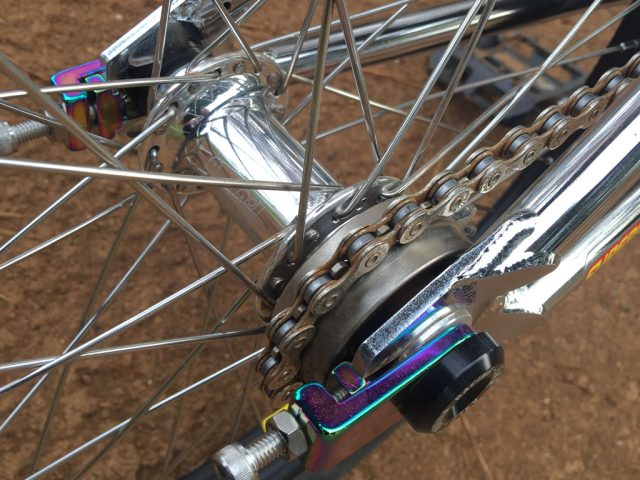 Also there isn't a 20mm step up axle bolt option, but it's likely if you have a 20mm dropout you will have the 10 and 15mm step down drop out adapters already.
Is a freewheel hub still relevant in a modern race era? Absolutely, with the Profile Elite Freewheel it's comparable with some of the best cassette hubs available.
Am I a freewheel convert? That's a tough call. I have been very happy with my Alienation Thrust cassette hub that's been reliable and problem free for over two and a half years. Similar to the Profile Nomad, it's easily converted from 10mm to 15mm and back with only needing to change the axle. It's also free spinning. (Two features I find appealing in a hub.) It's a close race that's for sure, but I'd certainly be happy with the performance of either hub options. Profile's Nomad hub wins out though when it comes to colour options.
Gallery
Rating 20/20
| | |
| --- | --- |
| Value for money: | 5/5 |
| Weight: | 5/5 |
| Functionality: | 5/5 |
| Looks/Finish: | 5/5 |
Comments
The Profile Nomad freewheel hub is great value for money. A high quality freewheel hub that's built for modern frames, and the demands of modern tracks with a full range of replacement parts and support of a company like Profile you will get a whole lot of life out of these hubs.
Comparable to some of the lighter cassette hubs on the market the Profile Nomad hub is going to keep the weight weenies very happy.
Simple, functional and reliable. The Profile Nomad freewheel hub is one of the most free spinning hubs on the market.
At first the shape of the Nomad Hub is a little strange especially when comparing it to a bulbous cassette hub, because it looks a lot more like a front hub than other hubs available. But it grows on you and adds to the simple and classic look, feel and appeal of running  a freewheel hub. The Nomad's wide range of colour options are unbeatable and the finish is second to none. I've gone for the flawless polished option which is awesome right down to the lazer etched logos.
Profile Racing products are distributed across Australia by Elite Cycle Imports (ECI) www.eciimports.com and available through all good local bike shops.
Reviewed by Shane Jenkins/bmxultra.com July 7, 2016