USWE Airborne 9 Hydration Pack
USWE, pronounced you-swee, which apparently means "Kick Ass" in Swedish, is a brand that's long associated with dirt bikes and mountain biking. They have been in the hydration pack market since 2007.
If USWE set out to create the ultimate hydration pack, then they have done it, numerous times actually and they come in a variety of models with varying bladder and storage capacity to suit your requirements. Having so many options is awesome, but it makes choosing a little more difficult. My final decision was based on a coin toss but I went for the Airborne 9 in the end, as fate would have it. After a few months with it I'm very happy with my decision.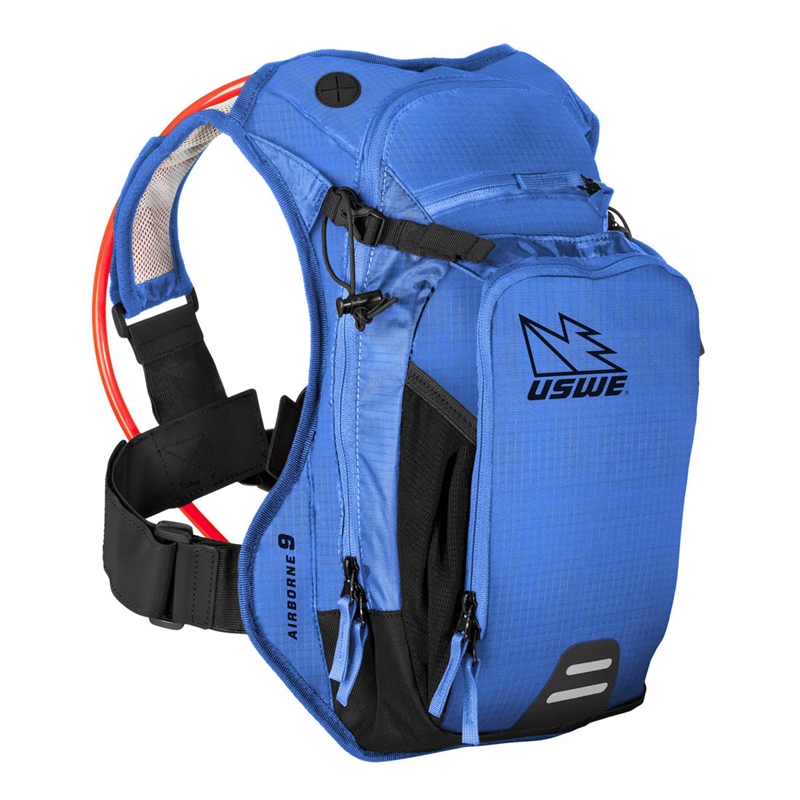 I'm a long time BMXer who's always so focused on getting to the race track with my bike and gear. I often forget the important things, like water – or anything to drink for that matter – and food.  I also often find myself struggling to find the all important items that would get me home at the end of a long day at the track, like car keys, wallet, phone… all the essentials.
The USWE Airborne 9 means I can have it all in one place, no more "senior moments", well that's the theory anyway.
Actually I had a few theories about how the pack could be useful for BMX. (1) Before I had my drivers license I would often ride everywhere using my bike for transport. I'd often ride a 34km round trip to get to and from my local race track. A hydration pack would have been perfect, especially with the helmet attachment system, water, some food, a small towel. (2) Even now, with all the carting of stuff to and from the car at the track, I've now eliminated the need carry an esky or relying on others to scam water from them. On top of that I'm a bit of a "greeny" so the thought of throwing away water bottles on mass always bothers me. (3) Probably the greatest use, for me personally, is for my favourite weekend past-time, just simply digging and riding, this is when I would actually use the pack the most.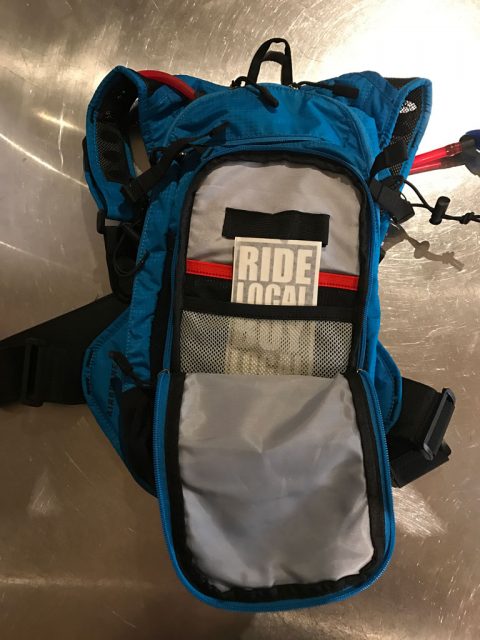 I've found over these past months I have become almost reliant on the Airborne 9. I'm taking it everywhere. To me it's like the Swiss army knife of backpacks, and my friends find it humorous that's I'm organised and self sufficient, well almost.
For BMX I may never use it to it's fullest capacity, but it will be there if I do decide to go for a mountain bike ride, I'd need a mountain bike first, or if I went for a dirt bike ride, I'd also need a dirt bike, but I'm sure you get the picture.
One interesting thing I discovered is I have been drinking at least a liter more water in a day while using the hydration pack.
A lot of USWE's marketing is based around "no more dancing monkey", an awesome concept where instead of the back pack jumping all over your back it sits firmly and comfortably in position. The backpack is highly adjustable and configurable for a comfortable fit.
The Airborne 9 has many compartments to help keep things organised and separated, it even has a water proof smart phone pocket.
The hydration system is very simple to use. To get water out of the valve you simply bite the valve and suck, it took my 2 year old only seconds to figure out how to get water from it. To replace the water, unzip the bladder compartment, remove the drink tube slide the top to access the opening and pour the water straight in.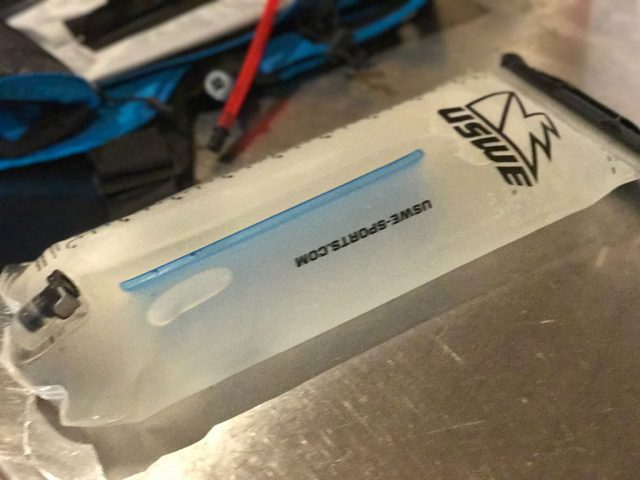 What's important to me is the no mess system, the whole time I have been using it there have been no leaks, no mess. They sure do have a water tight system!
Just like the EZ-UP style shade tents the USWE Airborne 9 is going to make my BMXing a lot simpler and easier, and hopefully eliminate any further "senior moments".
Manufacture's Description
If you are a hard-charging rider who wants to GO light but still needs enough room for extra gear, we suggest the AIRBORNE 9. A tough little daypack with 9L of cargo including a premium Shape-Shift 2,5 liter hydration system to keep you hydrated out there. Multi-size adjustable shoulder straps reduce pressure, provide a custom fit and allow full body movement and breathing capacity when combined with the single-click 4-point harness. Boosting the airflow with Air-Meg back panel featured with anti-slip foam stripes for optimal fit. AIRBORNE 9 supports you with a handy organizer pocket for example tools, food, first-aid kit and the water resistant smartphone pocket provides extra protection from  bad weather conditions. Outside the pack you'll find a the attachment system for a helmet and a superpractical quick stash compartment for a rainjacket or spare tube .
Specifications
Volume: 9L (6+3L)
Weight: 604g *ex. bladder
No More Dancing Monkey harness technology
Air-Meg back panel with anti-slip foam ridges for ventilation
Twin port exit for tube from H2O-compartment
Shape-Shift 2,5L hydration system (*3,0L unzipped baffle)
Attachment system for: helmet (xc and full face)
Organizer compartment (wide opening)
Water resistant smartphone pocket
LED bike light attachment point
Reflective point: front and back
Tube port compatible with HHF kit
Multi size adjustable: M-XL (*Junior: XS-M)
Unisex fit
Colors: Black, Race Blue, Crazy Yellow
Gallery
Rating 20/20
| | |
| --- | --- |
| Value for money: | 5/5 |
| Weight: | 5/5 |
| Functionality: | 5/5 |
| Looks/Finish: | 5/5 |
Comments
The USWE Airborne 9 was perfectly suited to my needs. The price is high, but you aren't buying a cheap backpack, this thing is the ultimate hydration pack, loaded with features and built to last, it's uses are endless. Any way I look at it it's awesome value for money.
The Airborne 9 is light weight and compact, event when it's full to the brim and loaded with water. It's one of the many reasons it's so convenient for me.
I love the thought and innovation in the Airborne 9. It's easy to wear, carry, drink from, stash away, conveniently compact, I could go on and on. Simply put it has everything I could ever want from a backpack and with the massive 2.5 litres of water.
Since I went for the USWE Airborne 9 thinking about function over fashion I was pleasantly surprised to find that the hydration pack looks great. There's not a stitch out of place and at a glance you can tell no corners were cut to create a durable product.
USWE (www.uswe-sports.com) products are distributed in Australia by Steve Cramer Products (www.stevecramerproducts.com).