The Old School BMX craze looks like it's here to stay, and that has to be good for the sport. Older guys returning to their childhood, their roots, to BMX racing and bringing along a whole new generation of BMXers with them, their children.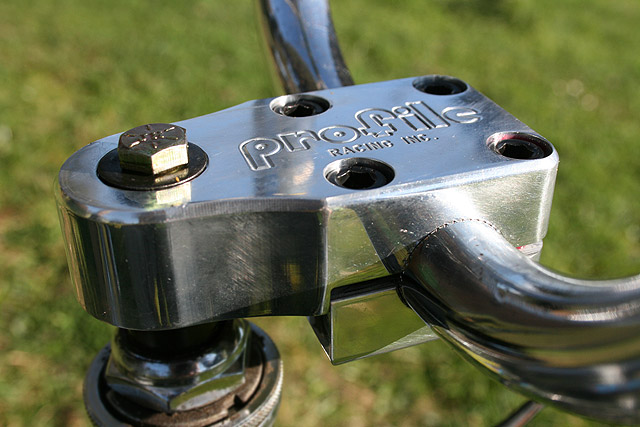 The problem is the 30 or 40 somethings aren't quite the size they once were. I know this because I am one of them. The parts that were available to us back in the day would struggle to cope with the punishment of a modern day BMX track. There have been many wedge (pre a-head) stems that are considered legendary, I've used Suntour, Redline, DK and others and one thing they all had in common was that they all flexed, and they flexed like crazy. I would hate to be using one of them on a race track today. But that's the thing, we have a bunch of big blokes racing around tracks today on their dream machines of yester-year in the Old School classes.
I'm from the old school era but consider myself more of a fan of mid-school and current day products. I picked up a mid-school '91 Supercross from Ebay for a bargain price and thought it would make a nice bike to cruise around on from time to time. It predated a-head and had a whole bunch of garbage parts on it, but the frame and fork were in great condition. I rummaged through my boxes of parts and found a whole lot of things that I have been dragging around for about 20 years that would suit the bike perfectly. That is all except a stem. I had a poke around Ebay for a while trying to find the right stem for the bike, but they wanted more for the stems than I paid for the bike and were beyond my budget for this project. After hunting around a little more I stumbled across the Profile Wedge Stem. It was perfect.
Let me get this straight, the Profile Wedge Stem is not old-school, nor is it mid-school. Profile would have to be the only company that I can think of that are still making a race quality wedge style stem. Or as they call it BMX stems for old school technology.
Does it flex? Hell no! Does it look great? It sure does, and I can tell you if Profile made a similar style stem for a-head it would be very popular, or at least I think I would have a couple of them.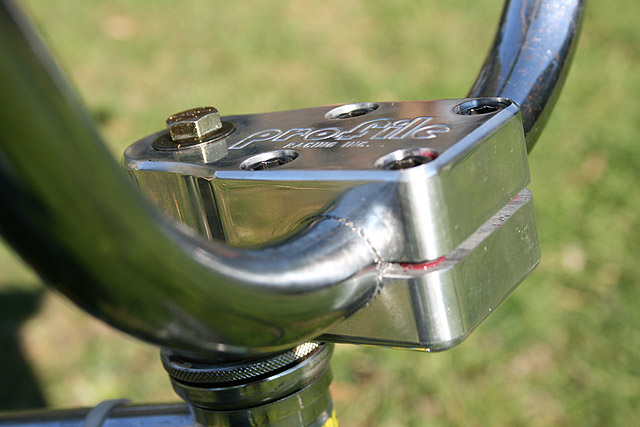 Knowing that this stem is on the market why would you put anything else on your bike if you were going to have a serious ride around the track? Sure you wouldn't put one on a show bike, but is your old school wedge stem really going to support you when you most need it? With a Profile wedge stem you can be confident that it's stiff and strong enough to cope and not break the bank.
As you can see in the photo the stems are reversed or upside down, this is how they are made. But since it's a wedge stem you can just raise it to get the height you need, or slam it down if you want to get your bars as low as possible.
Available in Mini, Pro (45mm), Pro XL (50mm) and Pro XXL (60mm) sizes to fit 1-inch steer tube.
It's easy to find the Profile Wedge Stems in Black or Polished, but it's also possible to have them made to order in the standard range of profile annodized colours if you are willing to wait.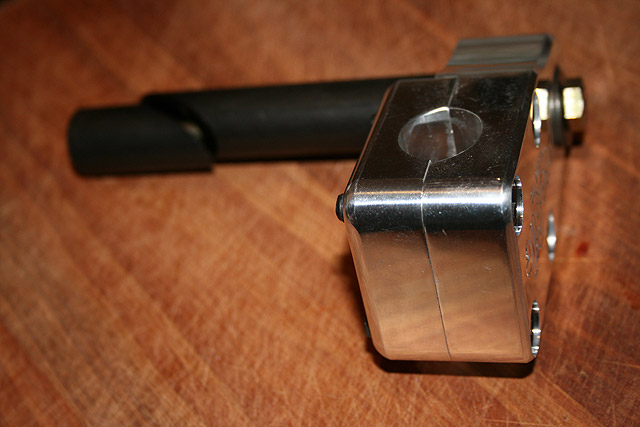 Rating
20/20:
| | |
| --- | --- |
| Value for money: | 5/5 |
| Weight: | 5/5 |
| Functionality: | 5/5 |
| Looks/Finish: | 5/5 |
Comments:
Stiff, strong, sexy and safe! That's great value for money don't you think?
Weight is probably not really a consideration for a wedge stem, but this thing ain't bad at all.
I wouldn't trust anything else!
It does look a little modern compared to some of the bikes it will go on, but it's more about function than than being era correct. Very well finished though. I love the mirror polished!
Profile Racing products are distributed in Australia by Elite Cycle Imports
Reviewed by Shane Jenkins/bmxultra.com August 5, 2011