Sinz hollow pin racing chain
While in the market for a new chain I stumbled across the Sinz hollow pin racing chain. It's not surprising really that they would have chains in their massive but continually evolving product range. To tell you the truth I had no idea that they even offered chains, and there are a couple of other brands I would normally go for before I tried something new. After using and reviewing a bunch of other products from the Sinz range I knew this chain was well and truly worthy of a shot.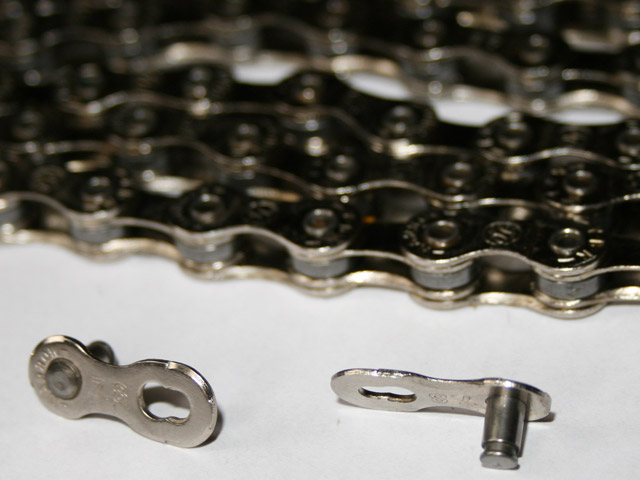 It's said that the Sinz hollow pin racing chain weighs in at 100 grams less than a standard chain. If you are looking for ways to shave grams of your bike the chain might be something you have overlooked. It doesn't matter if you are 5 years old, a gym junkie pro rider or 35 years old this chain will suit your needs. The hollow pins save weight, but don't appear to sacrifice any strength as proven by David Herman, Arielle Martin and dozens of other top professional and amateur racers that use them.
I know I have said this many times I am old school, I'm used to either running no joiner link or running the old "C" clip style joiner link, usually the later because it's quicker and much easier to work with. The Sinz hollow pin chain comes with a different type of quick release joiner link that's commonly found on multi-speed chains. Totally new to me, I had thought of reaching for a joiner link I was used to, but stuck with it and it didn't take much to figure out how it works. It was a nice touch that it didn't require any tools at all to install. After a little Googling it was also apparent that it's removed easily with a pair of pliers.
After racking up some time on the road and some track time, including a gates session I'd found the chain to work as good as any other that I had used. I was happy the joiner link stayed joined and the chain continues to run smoothly.
Specs:
3/32″ comes with 106 links
Chrome plated for good looks and long life.
Weight: 240 grams 96 links /
275 grams 106 links
The more I look at this chain the better it gets. I think I have just found myself a new favourite chain.
Rating
20/20:
| | |
| --- | --- |
| Value for money: | 5/5 |
| Weight: | 5/5 |
| Functionality: | 5/5 |
| Looks/Finish: | 5/5 |
Comments:
The Sinz hollow pin racing chain is a great quality chain for a reasonable price, that said there are cheaper, and more well known, chains with hollow pins and hollow plates as well. The thing is the Sinz hollow pin is the lightest of all that I compared against.
Of all the chains I checked out the Sinz hollow pin racing chain was the lightest!
The Sinz chain worked perfectly. I think this chain will be at the top of my list for future reference.
A nice chrome plate finish on this very neat looking chain.
Sinz products are distributed in Australia by Elite Cycle Imports
Reviewed by Shane Jenkins/bmxultra.com August 12, 2011
Posted in: Reviews