Troy Lee Designs BP7605 Protective Shorts
A while ago Troy Lee Designs announced a collaboration with Shock Doctor and the introduction of whole new range of protective gear. I'm not talking about new elbow and knee/shin guards, however they are in the range. I'm talking about everything from Leatt Neck Braces, to chest protection, to wrist protection, to protective shorts and pants.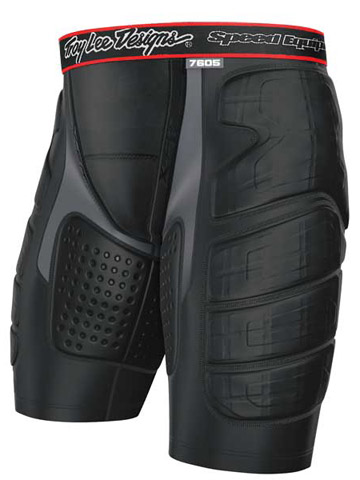 In thirty years of BMX racing I have taken some heavy falls, the problem is they seem to get heavier as I get older, and I just don't seem to bounce back as quickly as I used to. Some of the injuries have stayed with me for months, or even years, to constantly remind me of the inherent risk of BMX, and as the sport progresses the risk factor increases along with it. Some of my worst injuries have been avoidable, most of them are around my thigh, waist and hip area. Nothing major like a break, just very heavy impact, deep bruising, that sort of thing.
For years I have played inline hockey, it's something I do when I'm not racing my bike. It's a sport where you are padded up top to toe. I have some padded shorts which have saved me from big injuries a number of times, and often I wondered how they could be used for BMX. The problem with them is that they are fine for inline hockey but very loose fitting and just wouldn't work under race pants.
I had hunted around for some time for some cycling specific protective shorts but hadn't found anything I liked that would provide protection and not become a hindrance. But then the TLD Protective Shorts were announced and my hunt was over.
When I was finally able to get my hands on the shorts it worked out that I had the BP7605. The top of the range protective short the Troy Lee Designs offer. The shorts are constructed from Lycra which makes them very comfortable. Normally Lycra under race pants would mean that you would be spending all your time pulling your pants up, but I haven't had that problem at all.
What I like most about the shorts is they provide massive amounts of protection. They have harder padding on the hip, outer thigh (which is actually removable) and tail bone area and softer padding on the inner thigh and crotch areas. Despite the large amounts of padding they are still very close fitting to the body, so much so no one would even know you were wearing them. They feel more like wearing a compression short than a padded short. Right from the get-go they are very comfortable on, light weight and provide plenty of airflow and a full range of movement.
After a number of gates and casual track riding sessions I can happily say that these would have to have been my best investment this year. Each time I hit a track from now on I will do it with my BP7605's! I love riding and am sick of avoidable injuries keeping me off my bike for extended periods, now I'm prepared for my next big crash, are you?
Features:
Shock Doctor technology
X-FIT™ integrates a wraparound external supporter for unparalleled comfort and fit
Lightweight 4-way stretch material breathes for maximum ventilation in hot weather
Outer thigh pads offer low profile protection
Inner thigh pads enhance seat comfort and protection from chafing
Integrated crotch chamois pad sized specifically for motorcycle seats
PATENTS: D548,928 (USA), 115952 (CAN) & 6,161,222. Additional patents pending.
The PB7605 are available in the following sizes
Youth: M, L
Adult: XS, S, M, L, XL
A note to our Aussie readers: Remember to buy local and support the Australian BMX industry. We do! Thanks to the Australian distributor, Steve Cramer Products, the price of Troy Lee Designs products is very competitive. Support those who support you.
Rating
20/20:
| | |
| --- | --- |
| Value for money: | 5/5 |
| Weight: | 5/5 |
| Functionality: | 5/5 |
| Looks/Finish: | 5/5 |
Comments:
Affordable and practical, these shorts are likely to out last your race pants and provide a whole lot more protection
So light you won't even know you are wearing them
Extremely comfortable, protective and provide a full range of moment
Like all TLD products they are designed to look great and function just as well. There's not a loose thread on them, they are built to last.
Troy Lee Designs is Distributed in Australia by Steve Cramer Products (www.stevecramerproducts.com.au). For more information about Troy Lee Designs check out www.troyleedesigns.com
Reviewed by Shane Jenkins/bmxultra.com August 19, 2011
Posted in: Race Clothing · Reviews