Troy Lee Designs wrist support
A while ago Troy Lee Designs announced a collaboration with Shock Doctor and the introduction of a whole new range of protective gear. The range covers everything from Leatt Neck Braces, to chest protection, to wrist protection, to protective shorts and pants, to elbow and knee guards. We recently reviewed some of the Troy Lee Designs protective shorts.
Setting the scene
In 2008, while training for the World Championships I went over my handlebars twice in one night when a gate continued to fail. Both times I landed with most of my weight on my left wrist. It was close to the World Championships and I didn't want to be told that I couldn't ride so I didn't go see a doctor until after the event. When I did see the doctor I was told I had a suspected broken wrist but I didn't bother with x-rays and continued to ignore it. Three years later and I am suffering because of my lack of action. It's fine if I can restrict the movement, so I went in search of a wrist guard.
I had seen that 661 made wrist guards, but wasn't able to find any. That was until Troy Lee Designs released theirs. They have two on offer. The WS5205 and the WS3205, I couldn't work out which one would be best for my needs so I picked up both.
WS3205
Constructed of vented neoprene with reinforced binding. A close-fitting micro-fiber synthetic leather palm gives it a glove-like feel.
Features:
Shock Doctor technology
Stability system supports wrist with an adjustable internal stay system for customized support & protection
Short wrist support with easy pull-on neoprene compression sleeve
Adjustable single-strap closure ensures personal fit and multi-zone compression
Glove compatible design for unobstructed grip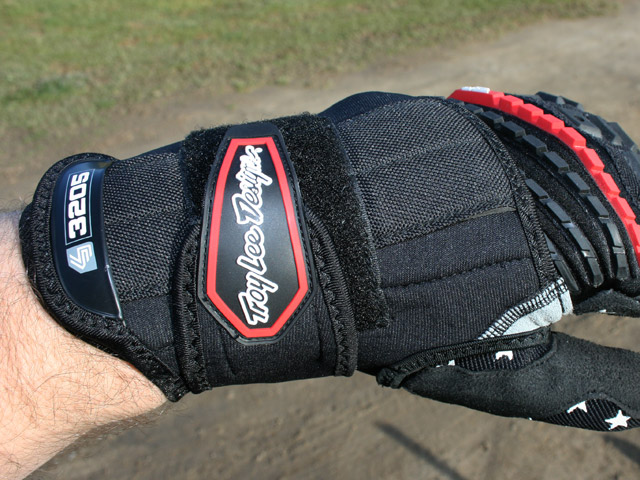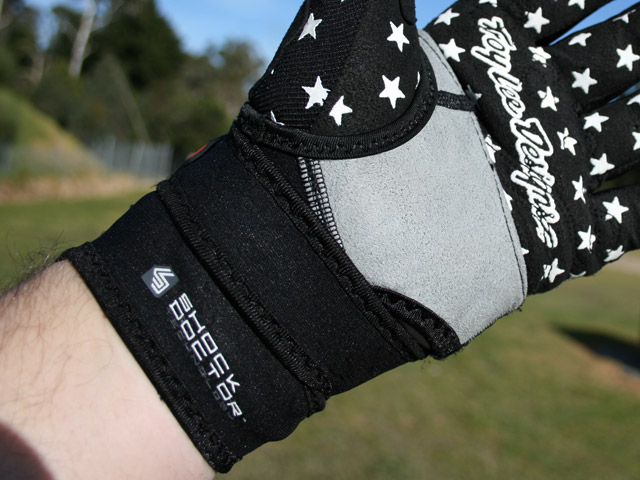 The 3205 does a great job in providing support, the simple "sock" style pull on with the single wrist strap can be a pain to pull on over gloves, but once it's in place it's fine. I'd used it riding and doing weights and couldn't fault it. Comfortable and supportive, what more could you ask for.
WS5205
Same as the WS3205 but with the following features:
Extended wrist support enhances flex limits and load dispersion zone for increased protection and control
Adjustable 3-strap closure ensures personal fit and multi-zone compression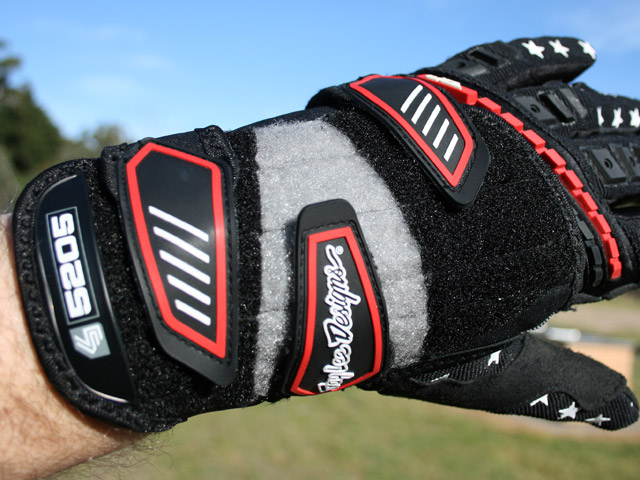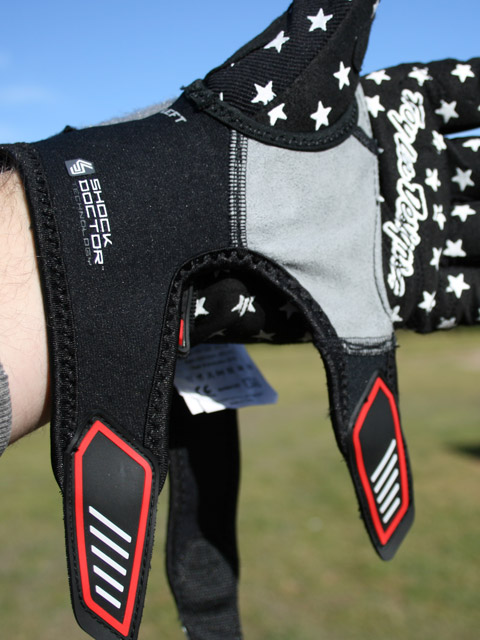 The 5205 is my preferred wrist support of the two. It's much simpler to put on over gloves and with the three straps is totally customisable. It feels like it provides that little bit more support than the 3205 but is still comfortable to wear.
Adjusting the support
Completely by accident I discovered that the stiffness of both wrist supports is customisable for each users needs. The top of the wrist support, where you see the model number, folds back exposing 4 very stiff plastic icy pole stick like stays. Each is removable. With all four in I found the wrist supports to be far too rigid for riding. So I took 3 out and still have the support I need with a little bit of flex.
How do they feel to ride in?
I'll admit, at first, the wrist supports did feel a bit weird, but once I got used to them I found them very comfortable. Most importantly I was finally getting the wrist support that I needed to enjoy my ride that little bit more.
While they look bulky and hot they don't feel it. There is very little weight in the wrist supports. The bulk at the top is what provides the support, but they are still breathe well and allow as much of a range of movement as you configure them to.
My real concern was how the palm would feel on my grips, because you basically have another half a glove on. But there wasn't any issues. There is still plenty of grip and no bunching up in the palm.
The Troy Lee Designs Wrist Supports are sold individually as left or right and come in Small, Medium and Large sizes.
If you are looking for some wrist support we highly recommend you check out the Troy Lee Designs options.
A note to our Aussie readers: Remember to buy local and support the Australian BMX industry. We do! Thanks to the Australian distributor, Steve Cramer Products, the price of Troy Lee Designs products is very competitive. Support those who support you.
Rating
20/20:
| | |
| --- | --- |
| Value for money: | 5/5 |
| Weight: | 5/5 |
| Functionality: | 5/5 |
| Looks/Finish: | 5/5 |
Comments:
Affordable, customisable and practical
You won't notice you are wearing the wrist supports they weigh nothing
Extremely comfortable, and provide great support
TLD wrist protection looks great and is constructed at the high standard that you would expect from TLD.
Troy Lee Designs is Distributed in Australia by Steve Cramer Products (www.stevecramerproducts.com.au). For more information about Troy Lee Designs check out www.troyleedesigns.com
Reviewed by Shane Jenkins/bmxultra.com September 2, 2011
Posted in: Race Clothing · Reviews